Dr. Owusu Afriyie Akoto, Minister of Food and Agriculture (MoFA), has disclosed that there is no food shortage in Ghana. Instead, Ghana has a healthy, robust agriculture system.
"There is no food shortage in Ghana as is being speculated; the food situations in the regions are enough evidence. However, we recognize that food is relatively expensive due to external factors."

Owusu Afriyie Akoto
The Minister said the increase in prices of food commodities is not because of the Ghana government's policies but external factors such as the increment of imported chemicals and other external factors beyond its control.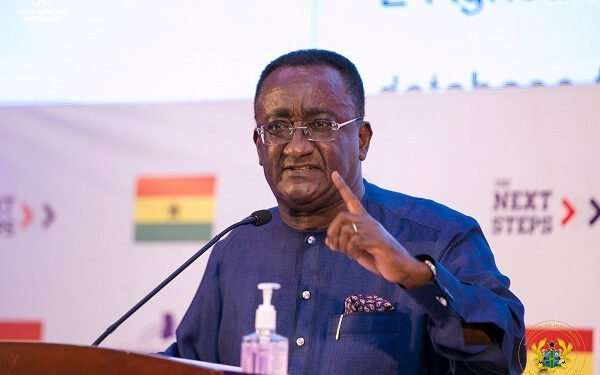 Addressing staff of MOFA and farmers in the Eastern Region as part of his official tour, he assured that despite the external factors beyond control, the government is instituting measures to bring down the cost of production to mitigate the effect on consumers.
"We are encouraging farmers to switch to organic fertilizers produced locally to reduce the impact of fertilizer shortage on food production."

Owusu Afriyie Akoto
Banks don't want to loan monies to farmers
On financing from the banks, Dr. Afriyie Akoto hinted that the government is looking for alternatives to compel banks to lend a portion of their loans to farmers to improve production.
As part of the tour, he addressed farmers' inability to acquire loans from the banks, adding that several efforts to the banks had proven futile over the years, and the banks preferred to give loans to business people than farmers.
Mr. Henry Crentsil, Eastern Regional Director of MOFA, earlier disclosed that despite the shortage of fertilizers and cost of production, there are indications of high yields due to the planting for food and jobs, and other interventions.
"For instance, the farmers' adoption rate of improved seeds had shot up drastically, particularly in maize, and that it is a sign of abundance of food and that the current soaring prices were seasonal."

Mr. Henry Crentsil
Agric Minister visit other commercial farms
As part of the tour, the Minister visited some private commercial farms, including the Legacy Crop Improvement Center (LCIC), a seed production hub at Otareso in the Akuapem North District, and inspected the facility's warehouse embedded with a code room.
The team ended the tour at the Total Quality (TQ) farms owned by a female Caterer at Akim Krodua, Adeiso, in the Upper West Akim Municipality.
The Agric Minister noted that his visit to some farms during his tour of the Regions observed that the country is well stocked with food, and the data that are presented by the regional directorates of Agriculture support the view that Ghana has a healthy, robust agriculture system that has been sparked by Planting for Food and Jobs.
Meanwhile, many agri-stakeholders believe that Ghana is food insecure and pleaded with the Ministry of Food and Agriculture to address the shortages urgently. According to these agri-stakeholders, the ability to purchase food is a food security component, which is currently lacking in Ghana.
"Availability of food does not mean food security. Technically the Agric Minister is managing the problem with English. To some extent we have food insecurity-food shortage. What everyone is saying is actually food insecurity."

Agri-stakeholder
READ ALSO: Macron to Meet Opposition Leaders for Talks Over Humbling Elections Outcome