The Peasant Farmers Association Ghana (PFAG), in partnership with the Women in Agricultural Development Directorate (WIAD), and the International Budget Partnership (IBP), is currently engaging smallholder women farmers on the best ways to access government fertilizers.
The project dubbed "Efficient Fertilizer Subsidy Programme for Enhanced Food Production by Smallholder Farmers in Ghana" aims at ensuring that smallholder farmers in Ghana get access to subsidized fertilizer in the right quantities and quality and at affordable prices.
This year, the project, which commenced in 2020, shifted its strategy and is more directly focused on access by marginalized groups, particularly: women, youth, and persons living with a disability. Women farmers and WIAD officers from the nine project district (Pusiga, Kassena Nankana East, Kassena Nankana West, West Mamprusi, Sissala East, Gushegu, Mamprugu Maodguri, Shai Osudoku, and Hohoe), the Upper East and Ashanti Regional WIAD officers, as well as the National WIAD Director, participated in the event.
Reason for the fertilizer subsidy training for women
Speaking to Vaultz News, the Facilitator Ms. Adedolapo Alabi said the three days event, which started on Monday, March 28, 2022, aims at explaining the project concept and expected collaboration between PFAG and WIAD to support WIAD to provide increased technical support and outreach to women farmers; Strengthen the role of WIAD to give a voice and agency to women farmers and facilitate engagement between women farmers and the various district agric structures; and build WIAD capacity to facilitate direct distribution of subsidized fertilizer to women farmers.
Ms. Adedolapo Alabi disclosed that the outcome of this ongoing event would help the PFAG and WIAD work together to ensure PFAG women farmers can access subsidized fertilizer while building the capacity of WIAD for improved support to farmers. The project will help enhance PFAG women's access to government support, including subsidized fertilizer, other inputs, and mechanization services to boost their production, she added.
During the open group discussion forum, some women farmers revealed that they are marginalized. "We are denied access to the government fertilizer when we visit the retailers' shops to buy fertilizer because we are women and sometimes, when you go to buy fertilizer, the men will use force and push you out and you cannot even get one bag to buy," said some participants.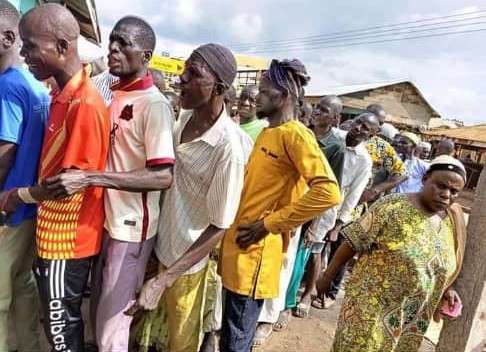 Speaking at the event's opening session, Mr. Patrick Kwabena Stephenson, the Senior Programme Officer at the International Budget Partnership, iterated that most smallholder farmers in the agriculture value chain are women and that stakeholders must support them with the needed inputs.
"Fifty-Two percent of smallholder farmers are women and are important in the agricultural value chain. We are responsible for ensuring that subsidized fertilizer is not expensive for them. With our support, the PFAG recently organized the maiden gender sensitization workshop on the fertilizer subsidy programme in Bolgatanga, Upper East Region, in partnership with MoFA. We aim at sharing IBP's action plan with WIAD and PFAG to ensure women have access to fertilizer ahead of 2022 planting season while ensuring compliance with the 30% quota allocation of fertilizer to women."

Patrick Kwabena Stephenson
This initiative is a good step in the right direction as 'Ghana wants to break the BIAS' by empowering women in all sectors.
READ ALSO: Gross International Reserves Down By 1.5% In First Two Months Of 2022