Investment in renewable power and fuels rose for the fourth consecutive year, reaching US$ 366 billion, according to the global status report (GSR) on renewable energy by REN21.
This also demonstrates an increase in growth in the areas of power capacity, despite aftershocks from the pandemic and a rise in global commodity prices that upset renewable energy supply chains and delayed projects.
"Strong market rebounds for solar thermal and biofuels, following declines in 2020, improved the outlook for renewables in heating and transport. Similarly, strengthened political commitments and rapid growth in sales of heat pumps and electric vehicles also led to increased renewable electricity use in these sectors."

REN21
Similar to past years, the highest share of renewable energy use (28%) was in the electricity sector; however, electrical end-uses accounted for only 17 per cent of total final energy consumption (TFEC). The transport sector, meanwhile, accounted for an estimated 32 per cent of TFEC and had the lowest share of renewables (3.7%).
The GSR annually takes stock of renewable energy deployment worldwide. The 2022 report, released on Wednesday, June 16th, 2022, is the 17th consecutive edition and provides proof of what experts have been warning about: the overall share of renewables in the world's final energy consumption has stagnated- rising only marginally.
During 2021, China became the first country to exceed 1 terawatt of installed renewable energy capacity. Its total installed capacity of renewables increased 136 GW during the year, accounting for around 43% of global additions, with China leading in all technologies except concentrating solar power (CSP).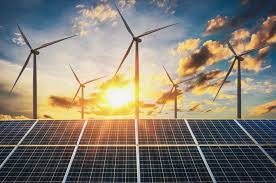 More countries Adding to Renewable Energy Capacity
In 2021, at least 22 countries had more than 10 GW of non-hydropower renewable capacity, up from 9 countries in 2011. The share of renewables in net power additions continued to increase, reaching a record 84% of newly installed capacity.

In the electricity sector, record additions in renewable power capacity (314.5 gigawatts, up 17 per cent from 2020) and generation (7,793 tetrawatt-hours) were unable to meet the overall increase in electricity consumption of six per cent.
In heating and cooling, the renewable share in final energy consumption increased from 8.9 per cent in 2009 to 11.2 per cent in 2019. In the transport sector, where the renewable share went from 2.4 per cent in 2009 to 3.7 per cent in 2019, the lack of progress is particularly worrying, as the sector accounts for nearly a third of global energy consumption.
For the first time, the GSR 2022 provides a world map of renewable energy share by country and highlights progress in some of the leading countries.
Despite many new commitments to net zero, political momentum has not translated into action. In the lead-up to the United Nations Climate Change Conference (COP26) in November 2021, a record of 135 countries pledged to achieve net zero greenhouse gas emissions by 2050. However, only 84 of these countries had economy-wide targets for renewable energy, and only 36 had targets for 100 per cent renewables.
Despite important green recovery measures in many countries, the strong economic rebound in 2021- with global real gross domestic product (GDP) growing 5.9 per cent- contributed to a four per cent rise in final energy consumption, offsetting the growth of renewables.
In China alone, final energy consumption rose 36 per cent between 2009 and 2019. Most of the increase in global energy use in 2021 was met by fossil fuels, resulting in the largest surge in carbon dioxide emissions in history, up more than 2 billion tonnes worldwide.
READ ALSO: Mercedes Benz Recalls Close to 1 Million Cars Globally