The Mo Ibrahim Foundation has released the 2020 Ibrahim Index of African Governance (IIAG) today and the most striking highlight of the report is that African governance performance experiences first decline since 2010.
According to the report, governance progress, the gains in economic opportunities and human development in Africa has slowed down since 2015 and the main threats have been the deterioration of three of IIAG performance criteria: participation, rights & inclusion, rule of law & security and human development. With an upgraded and comprehensive assessment of governance in 54 African countries, this year's IIAG incorporates three other important dimensions: an expanded governance scope including (environment and inequality); better indicators, and a section for the voice of Africans.
In 2019, the African average for Overall Governance contracted by 0.2 percentage points below that of 2018 (49.0%), thus indicating the first year-on-year score decline since 2010. This notwithstanding, over the decade, the Overall Governance performance has inched up slightly, and the 2019 statistic finds 61.2% of Africa's population living in countries where Overall Governance is relatively better as compared to the 2010 value.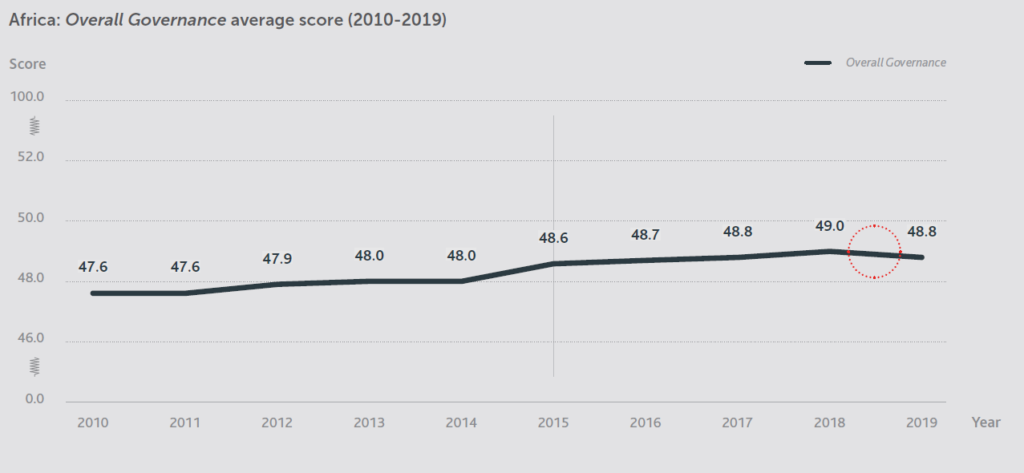 Performance in Overall Governance of Some Selected African Countries (emphasis on Ghana)
With an African average score of 48.8% over the last decade, Overall Governance has improved by 1.2 percentage points. However, this trajectory has been at a slow pace since 2019, with an average trend between 2015 and 2019 (+0.05%) being less than half that for the decade (+0.13%). This being said, the 2019 overall Governance performance raises a cause for concern, as earlier noted. It is encouraging to note, however, that 36 African countries have seen improvements in their Overall Governance scores since 2010 with the remaining 18 countries at tragic levels.
Based on the report, Ghana scored an Overall Governance performance of 64.3% showing an improvement of only 0.1 percentage points between 2010 and 2019. Ghana ranked eighth (8th) among the 54 countries, outperforming its West African peers. Concerned with Overall governance performance per the individual categories, Ghana had divergent scores.
This trend is not peculiar to Ghana alone, "of all the 54 countries, only eight are on a path of increasing improvement in all four categories; Angola, Chad, Cote d'Ivoire, Ethiopia, Madagascar, Seychelles, Sudan and Togo with progress over the decade accelerating in the most recent five years." Although, on a 16 sub-categorical level, only Ethiopia improved over the decade.
Regards Participation, Rights & Inclusion and Gender, Ghana ranked 5th with a score of 69.7%, this indicates a decline of 2.9% between 2010 and 2019. Encouragingly, Ghana falls within the five highest scoring countries in 2019, with the five lowest scoring countries being Somalia, Sudan, South Sudan, Eritrea and Equatorial Guinea.
For Security & Rule of Law, Ghana ranked 11th with a score of 66.0%, this also indicates a 5.4 percentage decrease over the decade. According to the report, Ghana scored a 0.8 percentage increase in both Rule of Law and Accountability & Transparency and a 1.1 percentage increase in Anti-corruption. Especially, the anti-corruption score is attributed to reduced levels of corruption in all branches of government with the greatest commitments made on corruption within the executive powers, followed by corruption within judicial powers, the report says.
With regards to the Human Development category, Ghana ranked 13th scoring 60.7%. This shows an improvement of 2.4 percentage points in the human capital development of the Ghanaian populace between 2010 and 2019. Cote d'Ivoire experiences the largest improvement with a percentage increase of 12.1 and Libya scores the lowest, deteriorating at a percent change of 12.7 for the period between 2010 and 2019.
More specifically, over the period, Ghana experienced high improvements in sub-categories such as health (+7.4%), Education (+4.9%) and Sustainable Environment (+1.3%) but recorded negative growth in social protection (-4.0%).
On the basis of foundations for economic opportunity, Ghana ranked 12th with a score of 60.9%. This translates into a 6.3 percentage increase between 2010 and 2019. This indicates that Ghana has seen some improvements over the ten year period in areas such as increase in infrastructural development (+18.1%), improvement in business environment (+5.6%), improvement in the rural sector (+0.5%).
Threats posed by Covid-19 on Economic Progress
Whilst the report is limited to the full shock of the Covid-19 pandemic on African economies, it however, paints a vivid picture of the continent pre-Covid. According to the report, the Overall Governance performance of the continent has been abysmal in the last ten years, hence it anticipates that this trajectory is only going to worsen due to the pandemic. Conversely, economic opportunity progressed significantly, but the incidence of the Covid-19 shock is now threatening this heard-earned result.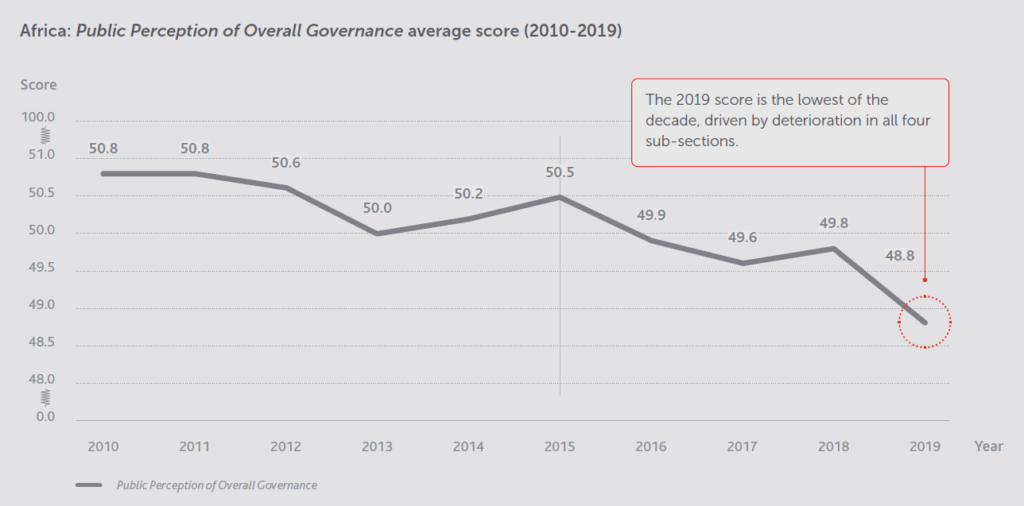 General dissatisfaction of the African Populace
The inclusion of the citizen's voices section in the 2020 IIAG, reveals that Public Perception of the Overall Governance records the lowest score over the decade, with the trajectory of deterioration almost doubling within the last five years. At a score of 50.8% in 2010, the score has further ebbed to 48.8% in 2019. This has been the case due to the decline in public perception of the four categories (Security & Rule of Law, Participation, Rights & Inclusion, Economic opportunity foundations and Human development).
"This is a testing time for Africa. Pre-existing weaknesses and challenges in African governance, as uncovered by the 2020 IIAG, are exacerbated by COVID-19, which also threatens economic progress. Citizens' dissatisfaction and mistrust with governance delivery are growing. African States have an opportunity to demonstrate both their resolve to safeguard democracy and their ability to drive a new growth model that is more resilient, more equitable, more sustainable, and more self-reliant," says Mo Ibrahim, chair of the Mo Ibrahim Foundation.