Ghana's debt accumulation, which showed signs of decline in Q3 2021, accelerated in the last quarter of the year as the country added GH¢10 billion to its debt compared to the previous quarter.
 According to data from the Bank of Ghana, public debt ended 2021 at GH¢351.8 billion, up from GH¢341.8 billion in October 2021.  Debt accumulation in the last and final quarter of last year, therefore, translated to a quarter-on-quarter growth of 2.9 percent, thus, between October and December 2021.
The debt level as of December last year, accounted for 80.1 percent of the country's Gross Domestic Product compared to 76 percent in December 2020. This means the country's debt has moved deeper into distress just as Bloomberg earlier warned in an article.
The country's debt experienced the highest quarterly rise in the second quarter of 2021, when a total of GH¢30.2 billion was added to the debt stock between April and June last year. The pace of growth of public debt however, reduced significantly in the third quarter as Ghana only borrowed a net amount of GH¢7 billion between July and September 2021. If the rise in the last quarter is anything to go by, then it's a signal that Ghana's debt has started its upward growth trajectory again.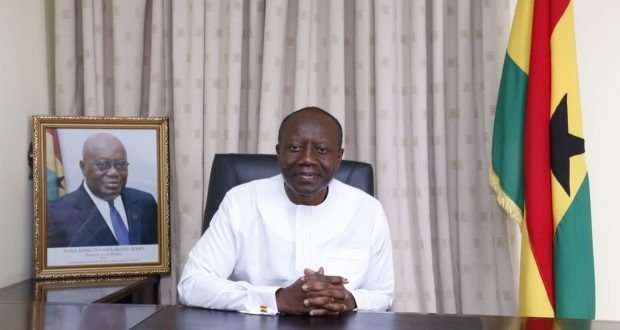 A further analysis of Bank of Ghana's recent data, revealed that from January to December 2021, the country's debt increased by GH¢52.7 billion, up from GH¢299.1 billion in January 2021. Also, a year-on-year review showed that the West African nation added GH¢60 billion to its gross public debt between December 2020 and December 2021.  This, in percentage terms, represents a growth rate of 20.6% as the country's debt stock was GH¢291.6 billion in December 2020.  
Composition of public debt
A critical look at the composition of the debt showed the same pattern as domestic debt holdings accounted for the larger portion of the country's debt last year. As of December 2021, the country's external debt stood at GH¢170.0 billion, representing 38.7 percent of GDP. On the other hand, domestic debt accounted for 41.4 percent of GDP and stood at GH¢181.8 billion.
Bank of Ghana's data showed that a chunk of the domestic debt is held by the banking sector and the percentage showed a rising trend. This phenomenon is worrying as it may limit credit to the private sector which is needed to undertake investment that will open up the economy and create jobs for the teeming unemployed youths.
Credit downgrades
In February this year, Standards & Poor's (S&P), a global rating agency, affirmed Ghana's long and short-term foreign and local currency ratings at B- with a stable outlook. This followed downgrades by two other major international rating agencies, Fitch and Moody's, amid rising debt and debt servicing challenges.
Meanwhile, government announced a policy to cut expenditure by 20% to reinforce the fiscal consolidation process. Even though Moody's assessed the policy measure as "politically difficult to implement", S&P believes it will help to ensure fiscal sustainability and stabilize debt but may slow down growth in the short term.
In its own assessment, S&P is confident that the fiscal measures planned for 2022 and beyond will result in a faster consolidation of the fiscal metrics than previously envisaged, including stabilization of the public debt trajectory.
Amid the rising debt challenges, there are calls by experts that Ghana should seek a bailout from the IMF as the government struggles to pass the e-levy bill which, it believes, will contribute significantly to the government meeting its overall revenue target of GH¢100.5 billion this year.
READ ALSO: Bulgarian Embassy Demolition An Attack- Richard Gomado