Interest payments on government debt continue to rise, reflecting the government's growing appetite for borrowing. This is forcing the country to use a chunk of its revenues to service its debt over the years.
Data from the Finance Ministry show that the overall spending on interest payments amounted to GH¢84.52 billion between 2016 and 2020. This amount constitutes 36.6 percent of the country's cumulative revenues of GH¢230.92 billion including grants in the past five years.
Even before the outbreak of the pandemic, the country's debt servicing obligations was alarming but was intensified as more resources were needed to meet pandemic-induced expenditures since last year. This has put pressure on the government to increase its borrowing as revenue mobilization remains low.
It is therefore, not surprising that the government paid its highest interest on debt in the past five years in 2020. Data from the Ministry of Finance, cited by the Bank of Ghana, show that total interest payments last year amounted to GH¢24.60 billion, representing 44.6 percent of the country's total revenues and grants of GH¢55.1 billion.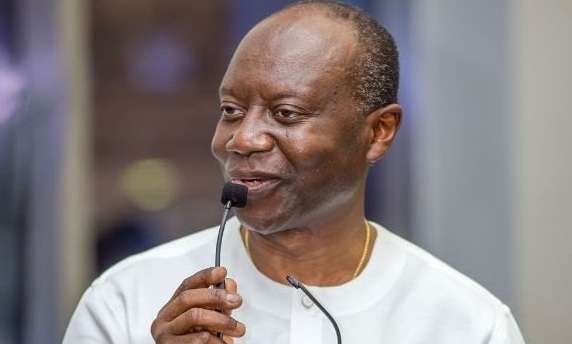 In 2016, government spent GH¢10.77 billion to pay interest on loans. This rose by GH¢2.8 billion to stand at GH¢13.6 billion in 2017, a year-on-year growth of 26.0 percent. In 2018, it increased to GH¢15.82 billion, GH¢2.25 billion higher than the amount paid in the previous year. It further rose to GH¢19.76 billion in 2019, a year-on-year increase of 24.87 percent over the amount paid in 2018.
More recently, thus between 2019 and 2020, interest payment expenses amounted to GH¢24.87 billion. Overall, expenditure on interest payments rose by GH¢13. 83 billion in the past five years.
Decreasing revenue growth
A critical look at the data revealed a worrying trend that suggest that if revenue growth remains low, it is likely that the country maybe spending more than 50 percent of its revenues to pay interest on debts. In the review period, it was observed that whilst interest payments show a consistent rising trend, growth in the country's revenues continue to decline, even though in nominal terms, revenues are increasing.
Revenues rose by GH¢7.82 billion to GH¢41.50 billion in 2017, 23.23 percent higher than the GH¢33.68 billion recorded in 2016. Even though nominal revenues increased to GH¢47.64 billion in 2018, it was 14.79 percent higher than what the government mobilized in 2017. This growth rate is lower than the 23.23 percent recorded between 2016 and 2017.
In 2019, total revenues including grants amounted to GH¢52.97 billion. This was GH¢5.34 billion or 11.20 percent higher than the revenues collected in 2018. The lowest revenue growth in the past five years was recorded in 2020 as total revenues and grants rose by 4.07 percent or GH¢2.16 billion. This means that the country's ability to raise revenues is gradually declining over the years.
Need to focus in revenue growth
The current growth trends of revenue and interest payments show that conversations on government debt should begin to shift from the nominal values to the amount of revenues that are used to service the country's debt. Whilst interest payments continue to increase at a faster rate, revenue growth is steadily declining.
If deliberate efforts are not made to improve revenue growth, all the meagre resources of the government will soon go into servicing debts. Should this trend continue, the country will soon use all its revenues to pay interest on loans with no monies left to undertake other developmental projects. It's also a wake-up call on the government to reduce its appetite for borrowing going forward to limit the burden of debt serving on future generations.
READ ASLO: HFFG advocates prioritization of mental health in Ghana