The Minister of Finance, Ken Ofori-Atta, is expected to appear before Parliament on Wednesday, October 28, 2020, to present Ghana's Budget, which covers government sources of income and spending for 2021 quarter one.
The much-anticipated budget reading, captioned "Expenditure in Advance of Appropriation" is a normal practice rolled out during election year to ensure smooth running of the transitional government after the first quarter of coming into office.
The Majority Leader and Minister for Parliamentary Affairs, Osei Kyei Mensah-Bonsu gave this information when briefing Parliament on its up-coming activities for the week.
"The Finance Minister will present to the House on Wednesday 28, 2020, an Expenditure in Advance of Appropriation that is for January 1, 2021 to March 31, 2021. The House is also expected to consider the report by the Finance Committee and take the consequential parliamentary actions," the Majority leader opined.
The presentation of an advance appropriation in the last quarter of the year, as is the case when it's an election year, is done in lieu of a conventional budget presentation in November.
The Finance Minister on behalf of the government of Ghana presented a mid-year budget review to parliament at the beginning of the second half of this year i.e. July 2020 requesting for the approval of an additional GHS11.8 billion to support the government's expenditure for the rest of the year 2020, specifically due to the huge expenditure demands of the coronavirus pandemic that entered the shores of Ghana in early March this year.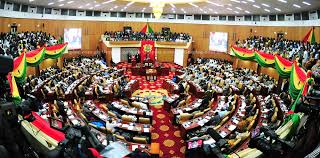 Hon. Ken Ofori-Atta announced early on this year that the government's projections for the 2020 financial year were unfortunately affected by the economic implications of the Coronavirus pandemic and as such the government will require approximately GHS9.5 billion to enable it tackle the crises which is expected to move the 2020 budget into deficit.
This will be 2.5 percent of Ghana's revised GDP, and there will be a "fiscal gap of GHS11.4 billion," the Finance Minister added.
It should be noted that the budget presentation is intended to inform the general public of the governments expected revenue sources and expenditure for next year, the first quarter of 2021. As it stands now the Ghanaian economy contracted by 3.2 percent and debt stock stands at 68.3 percent of GDP.
The International Monetary Fund has forecast Ghana's debt stock to be 76.7 of the country's GDP and the economy to grow by 0.9 percent. Also, fitch, a rating agency projected Ghana's stock of public debt to hit 72.8 percent of GDP
"We forecast debt at 72.8% of GDP by end-2020, which includes the outstanding stock of GHS7.6 billion (2.1% of GDP) in Energy Sector Levy Act bonds. We expect debt to continue rising through 2022, although at a slower pace".