Managing director (MD) of Prudential Bank limited, Mr. John Addo has urged Ghanaian businesses especially banks to strategically position themselves to take advantage of the numerous opportunities that are inherent in the African Continental Free Trade Area Agreement (AfCFTA).
Mr. John Addo made this commendation in a recent virtual summit on AfCFTA, organised by Prudential Bank limited where he posited that, the bank was impelled to organise this summit with the purpose of elucidating the various benefits and challenges that comes with AfCFTA by bringing on board key players in the industry.
The MD first and foremost touted the key role Prudential Bank limited has played over the past years in financing international trade transactions for businesses.
"As an indigenous bank that has supported and financed international trade transactions throughout 25 years of existence, Prudential Bank finds it necessary to educate its customers and the general public on the opportunities and challenges that the Continental Free Trade Area Agreement presents as well as the roles and responsibilities of all stakeholders in the new economic bloc."
"The Bank itself is proactively equipping staff to fully understand the details and implications of this agreement as well as deploying the relevant digital platforms that will support and facilitate payments and collections in this area."
"We are actively engaging all stakeholders in the AfCFTA eco-system to ensure that the Bank is well prepared to provide advisory services in relation to AfCFTA issues."

Mr. John Addo
The AfCFTA was created to deepen economic integration of the African continent, liberali market through multiple rounds of negotiations, aid the movement of capital and people, facilitating investment, a step to creating a single market and a future continental customs union, achieve sustainable and inclusive socioeconomic development, gender equality and structural transformations within member states, enhance competitiveness of member states within Africa and in the global market, encourage industrial development through diversification and regional value chain development, agricultural development and food security. Though AfCFTA was founded in 2018, its operations commenced on January 2021. The concept of free trade within the African continent has generated so much interest as various sectors, and leaders in each sector are informing their members on how to capitalize on the opportunities that comes with free trade and simultaneously brace themselves with the challenges that come with it.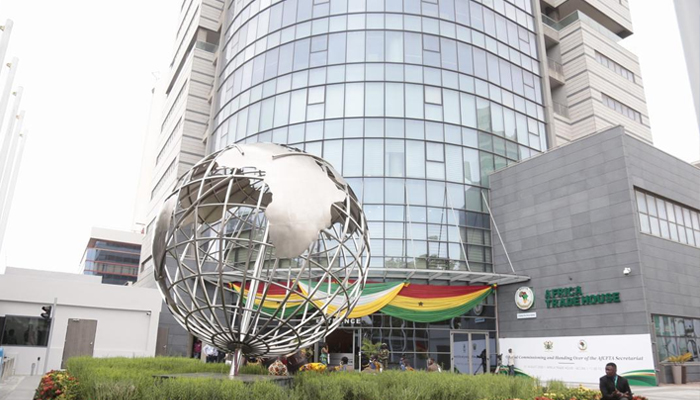 During the virtual summit, other industry leaders admonished banks and other enterprises on the fundamentals of AfCFTA and how banks and businesses alike can harness benefits thereof by being competitive.
Trade expert, Mr. Samuel Ato Yeboah aired his views by intimating that:
"Free trade integration on the continent presents a unique platform to make Africa a business hub. AfCFTA, which came into effect on January 1, 2021, brought together 1.3 billion people on a continent with a Gross Domestic Product of US$3.4 trillion."

Mr. Samuel Ato Yeboah
Furthermore, Mr. Samuel Ato Yeboah stressed on the need for immense private sector participation in actualizing the objectives of AfCFTA and urged participating countries to implement policies which would make private businesses thrive under the trade system.
Other speakers on the virtual summit are; the Chief Executive Officer (CEO) of the Ghana Investment Promotion Centre (GIPC), Mr Yofi Grant, CEO of the Food and Drugs Authority (FDA), Mrs Delese Mimi Darko, Director General of the Ghana Standards Authority (GSA), Prof. Alexander Dodoo, the Commissioner of the Customs Division of the Ghana Revenue Authority (GRA), Colonel (Rtd) Kwadwo Damoah, and the Head of Services, Manufacturers and Petrochemicals Department (Ghana Export Promotion Authority, GEPA), Mr Zakaria Banda.
The rest were the President of the Ghana Union of Traders Association (GUTA), Dr Joseph Obeng, Vice-President of the Association of Ghana Industries (AGI), Humphrey Ayim-Darke, the AfCFTA Implementation Lead (Integrated Customs Management System, ICUMS), Mr Akwasi Seinti, Chief Head of AfCFTA Negotiations Support Unit (AU Commission), Mr Prudence Sebahzi.
Essentially, all the aforementioned industry players gave their perspectives on what Ghanaian businesses should do on the regulatory side as well as how they should position themselves to effectively tap into the large market place.
Read also: Free Trade in Africa; Should single currency agenda be pursued?