The government of Ghana has been cautioned ahead of the upcoming budget presentation by the Minister of Finance for the first quarter of 2021, slated to take place on Wednesday, October 28, 2020, to ensure that expenditure projections are commensurate with estimated revenue sources.
An Economist and Lecturer at the University of Ghana Business School, Dr. Lord Mensah, urged the government to be conservative with its expenditure projections for January to March next year.
The much-anticipated budget reading, captioned "Expenditure in Advance of Appropriation" is a regular practice rolled out during election year to ensure smooth running of the transitional government after the first three months of coming into office.
The presentation of an advance appropriation in the last quarter of the year, as is the case when it's an election year, is done in lieu of a conventional budget presentation in November.
Speaking on the upcoming budget presentation for 2021, Dr. Mensah intimated that the expenditure projections should correspond with government's revenue projections as this would go a long way to control the already existing debt stock owing to heightened levels of spending amidst the coronavirus pandemic.
"I don't expect government to expend more, a year after an election, especially the first quarter after an election. The reason being that already before the election, the budget review that we had, the intention to spend more was clear, for which the Finance Minister even proposed a review of the Fiscal Responsibility Act. So, going forward I think we need to tone down. I prefer that we adopt that conserved nature. If I say conserved nature what I mean is that we should cut our expenditure according to the revenue that we generate."
After the Government revised its total revenue and grants target downwards in the year 2020 from 67 billion Ghana Cedis to 53.6 billion Ghana Cedis, representing a decline of about 25 percent, it has been hard pressed for revenue. This requires government to devise various means of raising revenue to meet rising expenditure levels.
There is a need for the government to raise revenue by leveraging the digital investments it has made in the past three years to rope-in more Ghanaians into the tax net instead of introducing new taxes, Dr. Lord Mensah opined.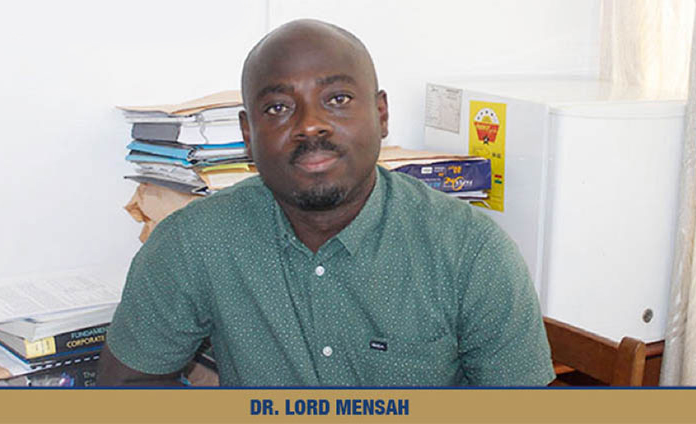 "Now, remember we're just gradually creeping out of this COVID-19 pandemic and businesses have just started picking up. I don't think it'll be prudent for the government to introduce taxes at this time especially when you introduce tax and the taxes are mainly on already existing people or businesses that are already in the tax net. But rather if the government will find innovative ways to leverage on the digital investment that we've done to ensure that new businesses or new people are brought into the tax net, then fine, we'll appreciate that. But then I don't foresee a situation where government will introduce new taxes."
It should be noted that the budget presentation is intended to inform the general public of the governments expected revenue sources and expenditure for next year, the first quarter of 2021. As it stands now the Ghanaian economy contracted by 3.2 percent and debt stock stands at 68.3 percent of GDP.
The International Monetary Fund has forecast Ghana's debt stock to be 76.7 percent of the country's GDP and the economy to grow by 0.9 percent. Also, fitch, a rating agency projected Ghana's stock of public debt to hit 72.8 percent of GDP
"We forecast debt at 72.8% of GDP by end-2020, which includes the outstanding stock of GHS7.6 billion (2.1% of GDP) in Energy Sector Levy Act bonds. We expect debt to continue rising through 2022, although at a slower pace".