Ghanaian musician, born Belinda Nana Ekua Amoah but popularly known as Mzbel has revealed that most of the negative news about her online are not true.
She explained that people frame up lies about her and make it look believable and it is not all the time they can be debunked even though it hurts so much.
She recounted:
"90% of negative news about Mzbel online are not even true.I can't talk about a particular one and leave the others. And when it happens that way, I ask myself why will somebody sit down and come up with something that will ruin somebody's life and make it believable. It really hurts. If you can debunk it, that's okay but if you can't debunk it, you leave it just like that".

Mzbel
The artist added that it really hurts to the extent that even if she is to talk about them, she might make headlines and she doesn't want that to happen.
She disclosed:
"They will bring issues if I talk about them. There are a lot of them but I'm afraid. Off late I don't want to make headlines that Mzbel said this or that. It's better not to say. But 90% of negative news trending about me are untrue".

Mzbel
Mzbel reveals getting new schools to feature, hard to get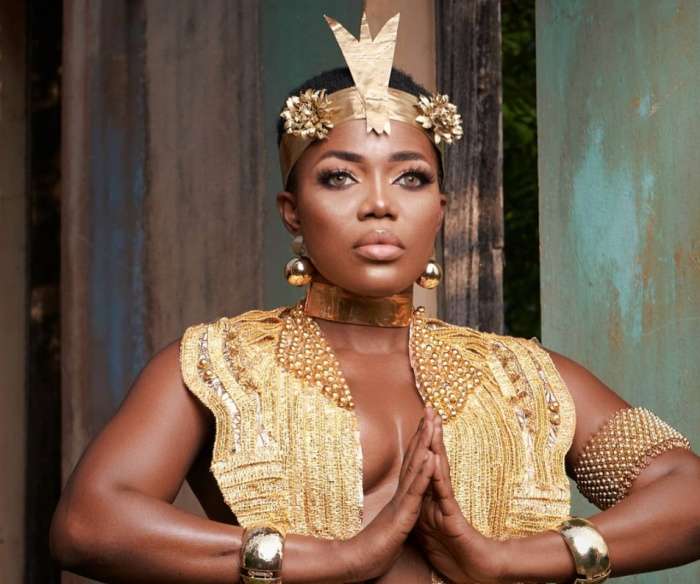 Mzbel revealed that it is very hard to get the new schools to feature in a song even though she gets requests on features.
She added that during the time of the request for collaborations from other artists, she was heavily pregnant so she had to explain her situation to them and also recalled artists she had collaborations with.
She recounted:
"I usually get it and during my pregnancy I got people who wanted to collaborate with me, so I explained to them that this is the situation. I need rest so I can't work at the moment. I get it all the time. But I have not really collaborated with any artist apart from Castro. I was very comfortable around him. Apart from Castro, I think Skrewface and Shilo.
"With the new ones, It's very hard getting them on board. It's a whole lot of process and I feel like we are all in the industry, so if one needs the other, they have to make themselves available or explain their schedules but it's not like that. So far the people I have had collaborations with are Skrewface, Shilo, and Castro. I think Kofi Kinaata too. Aside these four, I haven't accepted other collaborations so far".

Mzbel
Also, she said that she had tried reaching out to other artists but hadn't gottten any.
She recalled in the past when she wanted to collaborate with Kwabena Kwabena on her song 'Awoso Me' remix but gave her an excuse, adding that she was surprised when he released a song that was in line with hers.
She said:
"I remember in the past, I wanted to have a collaboration with Kwabena Kwabena. I went to his home with the lyrics of 'Awoso Me' remix and he told me the lyrics of the song will not help him. And then few months later, he released 'Fatwi Fabewoso'. So it is weird. When it happens this way, it is hard to get people to work with because they can't tell you they won't. Because with the excuse he gave me and the kind of song he released months after, I was really in shock".

Mzbel
Mzbel explained that it is really hard getting the new artists on board because they would agree to collaborate with her and then later refuse to even pick up her calls.
She said the reasons and excuses they even give are not sound because other people pick up the calls and toss her when she calls even after they have accepted to collaborate with her.
She said:
"It's hard reaching out to the new ones to work with. I haven't done any collaborations yet with them".

Mzbel
READ ALSO: I Have Not Dropped 'Ayitey' Remix Because Black Sherif Is Busy -Adane Best