A black photographer and an activist has installed more than 200 portraits of black Britons at Bluewater shopping Centre in Kent, four months after he was falsely accused of shoplifting there.
In June, Cephas Williams was wrongly accused by security staff of Bluewater for stealing from House of Fraser, an incident which the owner of the Dartford shopping centre, Landsec, later apologized.
Williams who returned today, 1st November 2021, to launch his Portrait of Black Britain exhibition said:
"The photos are designed to show the humanity in blackness and that we are human beings too".
According to reports, the crowd that gathered for the exhibition's launch was in marked contrast to what happened when the original incident happened.
"When I was going through what I was going through at Bluewater, I was very much alone. You had a bunch of people looking over the balcony watching. Today I've got a similar effect, where people are watching me. But they're watching me not to scrutinize, not to stereotype, not to leave with a skewed narrative of black people. They're watching to stand with me".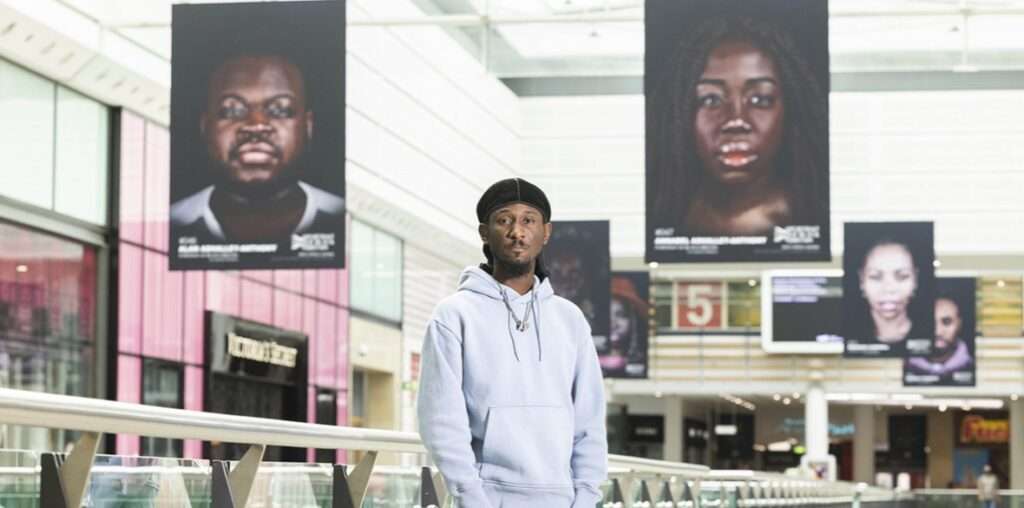 Williams noted that the incident sends such a powerful message in the same space where nobody helped.
"To be standing here with people that are supporting what I'm doing, I feel extremely safe, I feel extremely calm".
After being confronted by security guards outside the House of Fraser in June, Williams requested to meet the Chief Executive of Bluewater Landsec, Mark Allan. William said:
"Me and Mark sat down for a very long time and discussed many things and Mark really came to listen. Portrait of Black Britain is a drop in the ocean for what we need to do. Portrait of Black Britain is not the problem solved. It's a door opening into a wider, a much broader conversation that I and Mark also had".
The photos, which were displayed at Manchester's Arndale Centre as part of the Manchester International Festival earlier this year, show people from all walks of life. Williams, who also runs the Black British Network said:
"Our contribution to the society is bigger than you used to see in mainstream media, which is very often either what they call the very, very best of us or what they call the very, very worst. So, if you're not really rich, or a rapper, or an entertainer, or a football player, the perception I've been raised to see myself in is as a drug dealer, a criminal, or a kid with flies on his face".
The artist and activist described the photos as "a gift" instead of taking action against the shopping centre or the shop.
"I could have done a lot of different things because I was harassed. So, me not doing those things and saying, 'How do we come together?' is not justice, it's a gift".
In a statement, Mark Allan who is the Chief Executive of the shop said his company placed "great importance on inclusivity" and "reflecting the diversity of our customers and guests".
"Working with Cephas and his team has given us the opportunity to listen, learn and importantly take action".
A spokesperson for Landsec said: "Since the incident, we have reviewed our role in it and discussed as a business how we could do better, including the training we provide our staff and more widely share with our brand partners".
Read also: Claims That MPs Cannot be Arrested is Fallacy- Barrister Darko