Talented Ghanaian artiste, Mohammed Ismail Sherif Kwaku Frimpong, professionally known as Black Sherif, has revealed that his musical journey was deeply fused with his parent's shared love for music.
Black Sherif fondly reminisced about the pivotal role his parents played in introducing him to the world of music.
The young artiste behind the chart-topping hit "Second Sermon", and "The Villian I Never Was", opened up about the influences that shaped his career and his unique take on modern highlife with reggae influences.
He revealed that his mum and dad love music, adding that the first time he met his dad, he put him on reggae music, and he felt different.
According to him, his mother's musical choice further enriched his musical palette.  These influences he revealed, not only shaped his taste in music but also sowed the seeds of his own creative journey.
The blend of original music and reggae that he was exposed to early on, laid the groundwork for his distinctive approach to creating music.
Black Sherif Shared:
"My mum loves 'Alpha Blondie' and 'Adane Best', which built my interest in music and taste and stuff. It was very indigenous music and reggae as well as highlife music".

Black Sherif
He described his relationship with highlife as inherent, stating:
"I think I am highlife whatever I do, even most of the rhythms and melodies I use are straight highlife but I didn't grow back then so this is a modern highlife with reggae influences and stuff".

Black Sherif
Black Sherif's music is characterized by a contemporary take on highlife, a genre deeply rooted in West African culture.
Black Sherif on why he only featured Burna Boy on his Album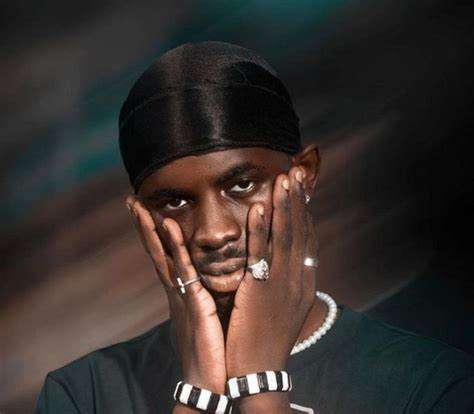 VGMA Artiste of the Year, Black Sherif offered insight into his decision to feature only Burna Boy on his debut album, "The Villain I Never Was".
According to the 'Kwaku Frimpong' hitmaker who is known for his emotive storytelling and thoughtful harmony, he initially had plans to collaborate with multiple artists on his debut album.
The album, which made an impressive debut at number 12 on the Billboard World Albums Chart, has been making waves not only for its chart success but also for the unique creative choices made by the 21-year-old.
However, he ultimately decided against it in order to fully express his individual perspective.
He said:
"I think that came during the process of making the album. It was very intense for me at that time when I was in my head. I had the studio right in front of my bed. So when I wake up that's my studio. I made so many songs at that time and I felt like, the story I was going to tell I could tell it alone. I had plans of getting features in the album, but making the album and getting to like 70% of the album, I felt I could do it solo because I had a lot to talk about".

Black Sherif
Black Sherif explained that his connection and notable collaboration with the Nigerian Afro-fusion sensation, Burna Boy, extended beyond the music; it was about mutual appreciation and shared creativity.
He revealed:
"It doesn't even feel real. The first interaction with him wasn't about the music. It was the appreciation he made about my sound and it was the thing I do with no filter. It made me feel different about what I do".

Black Sherif
Speaking on the impact of his music, the hitmaker who was raised in rural Konongo Zongo disclosed that he is still in shock over the reach of his songs across the world.
He recounted:
"It's shocking because even in my neighborhood in Konongo Zongo, it was only people in my home that knew I could sing and make music".

Black Sherif
READ ALSO: Bobrisky Flaunts Mystery Man Ahead Of His Birthday