Professor Jane Naana Opoku-Agyemang, the Running Mate of the National Democratic Congress (NDC), has expressed the resolve of the party to roll out programs to support the growth of the film, music, and creative industry, to drive job creation and economic growth.
Emphasizing on the need for the country to make the creative industry a more viable venture, she noted that, throughout history, nations across the world have drawn their identity from writers, singers, poets, filmmakers, artists, and other creatives, whose work has marked the growth of their respective cultures, countries, and even continents.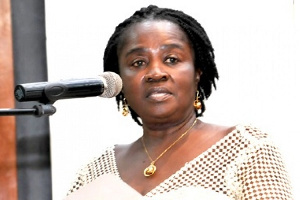 "The stories that are told through the arts often become the prism through which others perceive and interact with culture and society. Therefore, we cannot underestimate or downplay the role that the arts play in developing a country."
Speaking at an engagement with stakeholders in the creative sector on Thursday, November 26, 2020, the opposition party's running mate harped on the relevance of creative arts; being heavily dependent on audio and visual material from copywriters, influencers, poets, and video and animation producers, has become an integral part of Ghana's digital economy
"We must harness the potential of this industry as part of our march into the future. The arts contribute more than $800 billion to the American economy; this is more than 4% of GDP. Even if we cannot do this here in Ghana immediately, we can make this sector more productive through pragmatic and innovative measures. If we do this right, we can provide decent and sustainable employment to so many young creative people who generate content through such fascinating ways".
She also added that the NDC's People's Manifesto has made provisions for the Ghana Association of Writers to enter into a National Writing Contest to support the promotion of the best literary works.
"Additionally, we shall promote the district, regional and national competitions in the creatives among the youth in tertiary institutions. We have talented writers, musicians, and poets who are present here and elsewhere; they possess all the skill and potential to highlight Ghana's place on the literary map to follow the trail made possible by the likes many giants of the industry. Support from the government will be key in this regard".
Coupled with other promises made in the manifesto, she said they will partner with the Ghana Union of Visual Arts (GUVA) and other fine art associations to purchase their finished works to furnish and decorate public offices to support the fine art businesses.
This simple idea, according to her, will not only provide a ready market to these associations; it will more critically make their work more visible and help to strengthen the Ghanaian identity.
With plans to facilitate the enrollment of creative artists into an informal pension scheme to cushion creatives especially as they get older, she revealed that NDC will upgrade NAFTI into a fully-fledged multimedia university for film, arts, theatre, and music. Read also: The WTO launches Handbook on TRIPS Agreement