Nigerian singer, Davido, who is known for his expensive and flashy lifestyle, has responded to those shaming him and suggesting that he can't afford Drake's $3Milliom necklace.
Drake recently demonstrated his taste for the finer things when he attended a basketball game between the Toronto Raptors and the Los Angeles Laker in Canada wearing one of the most expensive pieces of necklaces in the world right now. Paired with a black leather jacket, jeans, and his new, neatly-braided cornrows, Drake hung an 'iced-out', diamond-heavy necklace around his neck, from Frank Ocean's jewelry brand Homer.
Davido, who was astounded by the necklace revealed that he wanted the same necklace. However, the following day, Davido made a u-turn as he took to his Instagram stories to disclose that he was "drunk" the day he said he wanted the same chain. Some Instagram users reacted to Davido's post by mocking him. According to them, Davido obviously cannot afford the necklace.
In response, Davido noted that he can buy it but he just thinks it's a "dumb investment," and further noted that though he is not as rich as Drake, he knows where to get such an amount from.
Drake's Jewelry that Brought About the Controversy
Launched in August last year, Homer focuses on producing ultra-fine bracelets, necklaces, and rings made with lab-grown diamonds, each of which has monstrous price tags. Drake's Sphere Legs High Jewelry Necklace costs a staggering $3 million and was handcrafted in Italy by an artisanal jeweler. Each orb on the pendant boasts a 0.33-inch brilliant-cut white diamond with an average weight of 2.326 carats, while the centerpiece of the pendant – a dazzling cut VSS diamond, takes the necklace up to a gargantuan 127.5 carats.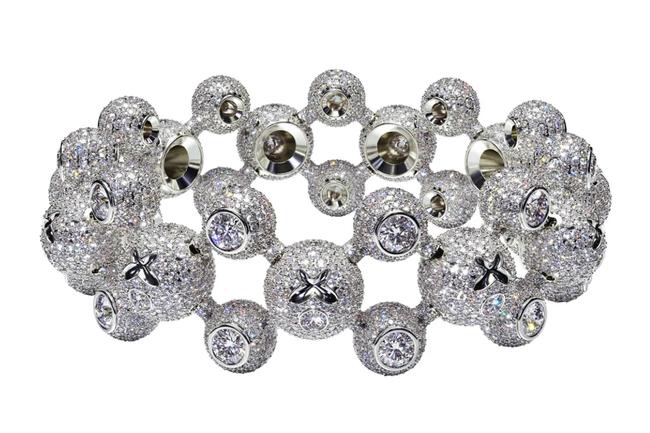 Davido and Drake Alike?
Fashion is an important aspect of people's lives, especially for those in the showbiz industry who have to appear in front of an audience from time to time. The entertainment industry has an array of celebrities who have a different sense of style and one person who is worthy of note is Davido. The DMW boss no doubt loves his expensive and flashy designer labels. However, one thing he seems to love the most is expensive, flashy, and heavy jewelry.
Davido takes to social media from time to time to showcase his heavy 'blings' that are sure to cost thousands of dollars. He has paid several visits to celebrity jewel maker, Ice Box, to have items customized to his taste. The singer's jeweler once revealed that Davido spends between $120,000 to $240,000 on each visit to his store.
Once in an interview, Davido explained that on a day when he is wearing most of his jewelry, he is rocking about $2 million at once. This indicates that the singer owns pieces of jewelry that could cost close to a billion Naira if they are all put together.
Well, one could say that Davido and Drake are close to being the same as they both have expensive taste when it comes to their fashion. However, Drake could be on the extreme side of this kind of living.
Drake has appeared on Forbes' 'Hip Hop Cash Kings' list every year for the past decade. In addition, the 'God's Plan' rapper consistently shows off a penchant for one-of-a-kind pieces of jewelry, including a custom $140,000 Stone Island pendant that boasts a combination of black, green, and canary-yellow diamonds with 880 grams of gold.
Read also:  Measures to Halt Depreciation of Currency, Short-termed- Dr. Patrick Assuming