Brit singer, Ed Sheeran, has submitted plans to build a burial chamber under the floor of the new boat-shaped church which is being erected on the grounds of his vast £3.7million Suffolk 'mini-village', Sheeranville.
New photographs show that the place of worship which is currently under construction could soon be joined by a burial zone. According to reports, the latest plans suggests that the 30-year-old pop star could be buried underground of his home in the village of Framlingham if the plan that has been submitted for the tomb gets the approval from council officers.
Sheeran's private place of retreat has been modelled with curved walls on the plan and in elevation, which gives it a sweeping boat-shaped feel. The burial chamber, which according to the plans would be at the back of the building, would measure 8.9ft (2.71m) by 5.9ft (1.8m) which is around the size of a double grave plot, per reports.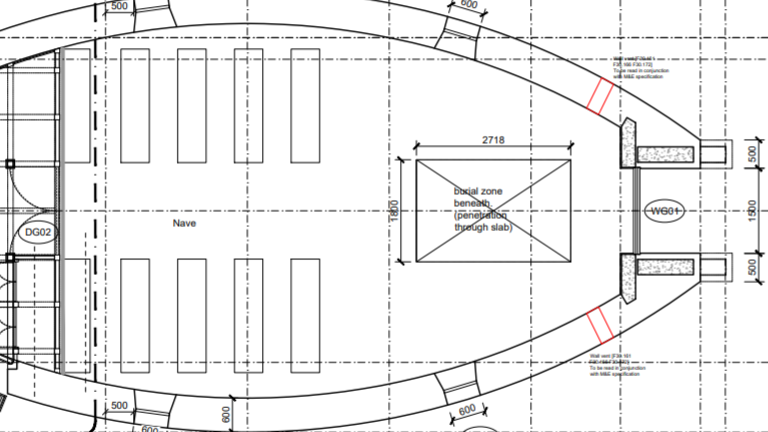 Sheeran, who has a net worth of £220 million, originally failed to get permission for a chapel in his garden but in 2019 he submitted scaled down plans which were approved by his neighbors as well as the parish council.
Construction has just started on the new building for contemplation and prayer. According to the plan of the building, it will have a lobby and a main hall downstairs, with a spiral staircase to a small gallery, and a main space for activity. The place of worship will have a lead roof, flint walls and stained-glass windows.
The roof is leaf-shaped and the original plan notes that the design is "reflective of shapes and forms that are familiar to everyone, allowing each person to interpret its symbolism in their own way, which reflects the principle of it being multi-use and non-denominational".
The plan also stated that the building would be a private place of retreat for contemplation and prayer, for celebration of key life and family milestones, family and social gatherings, marriages, christenings and so forth. The Plan further suggests Sheeran has guests who will be visiting from around the world, who all have different faiths and customs and he wanted to provide a space in which he, his family and these visitors could retreat to for contemplation, prayer and relaxation, celebrate and meditate in peace and safety from disturbance.
According to Sheeran, "Many of these people are from many countries, faiths and customs, including for example the USA, Ireland, Ghana, Nigeria, Asia and Australia".
Sheeran has spent £4million buying five houses to create his country estate, Sheeranville, and an additional £3million on extensive renovations, including a pub, tree house, underground music room and tunnels. He has also added a £500,000 wildlife pond, an outdoor kitchen and a football pitch.
According to reports, Sheeran has spent months landscaping the huge estate which includes a walled kitchen garden, an orchard, a mini paddock for chickens, goats and sheep and an entertainment area with a hot tub and fire pit.
In November 2019 it was reported that he may have to open his church to the public following a ruckus with his local council. The music star lodged plans to open the boat-shaped prayer retreat to be used as a private venue, but his local parish council then claimed that the venue would need to be publicly accessible for at least three years in order to be licensed. The council also stressed that the current plans were not legal.
Sheeran later came to an agreement with the Parish council to make the place of worship public for the three years period.
Read also: Dr. Bawumia Charges Central Banks in Africa to Connect to PAPSS