Today Muslims all around the world are celebrating their revered festival, Eid- al Fitr- the Festival of Fast-breaking. This festival marks the end of Ramadan, the Islamic holy month of fasting. The holiday marks the conclusion of the 29 or 30 days of dawn-to-sunset fasting during the entire month of Ramadan.
In Ghana, the festival is met with so much jubilation and some Ghanaian media personalities have taken this opportunity to serve the internet with some modest looks. Check them out!
On our first list is Ghanaian media personality, Berla Mundi. Known for her great fashion sense, Berla didn't fail to serve us some great pictures of her Eid look. Berla with bright smiles and striking poses wore a long-layered full dress. She didn't forget to uphold the religious tradition of the Muslim ladies, as she covered her hair with a GTP African print as well as the same material as the dress she wore. See Berla Mundi's Eid look:
Next on the fashion list is also media personality and fashionista, Serwaa Amihere. Serwaa was beautifully clothed in a black top and black loose pants. She also wore a brightly colored kimono which complimented her black-themed dress. That notwithstanding, she also covered her hair with a black scarf while having some minimal accessories on. Check out Serwaa's Eid look:
The next person on this fashion train is the veteran actor and media personality, Abeiku Santana. Abeiku Santana should have his name changed to probably, Alhaji Santana, since he didn't fail to serve the internet with a very religious, and typical Muslim look for men. He wore a white 'jalabiya' and layered a black see-through apparel over the 'jalabiya'. It didn't end there, the radio presenter also wore the famous 'Kaffiyeh'- a headdress worn by Arab men. He also fastened the headdress with a band around the crown of his head. He accessorized this look with a staff and a Muslim 'tasbih'. See Abeiku Santana's Eid look:
Another Ghanaian media personality who brought out the Eid in her is, Anita Akuffo. Anita was beautifully clothed in a long burgundy velvet dress with beading all over. She completed the look with a headdress which was the same color as her dress. She accessorized her beautiful look with a necklace and rings as well as some sunglasses. See Anita's look: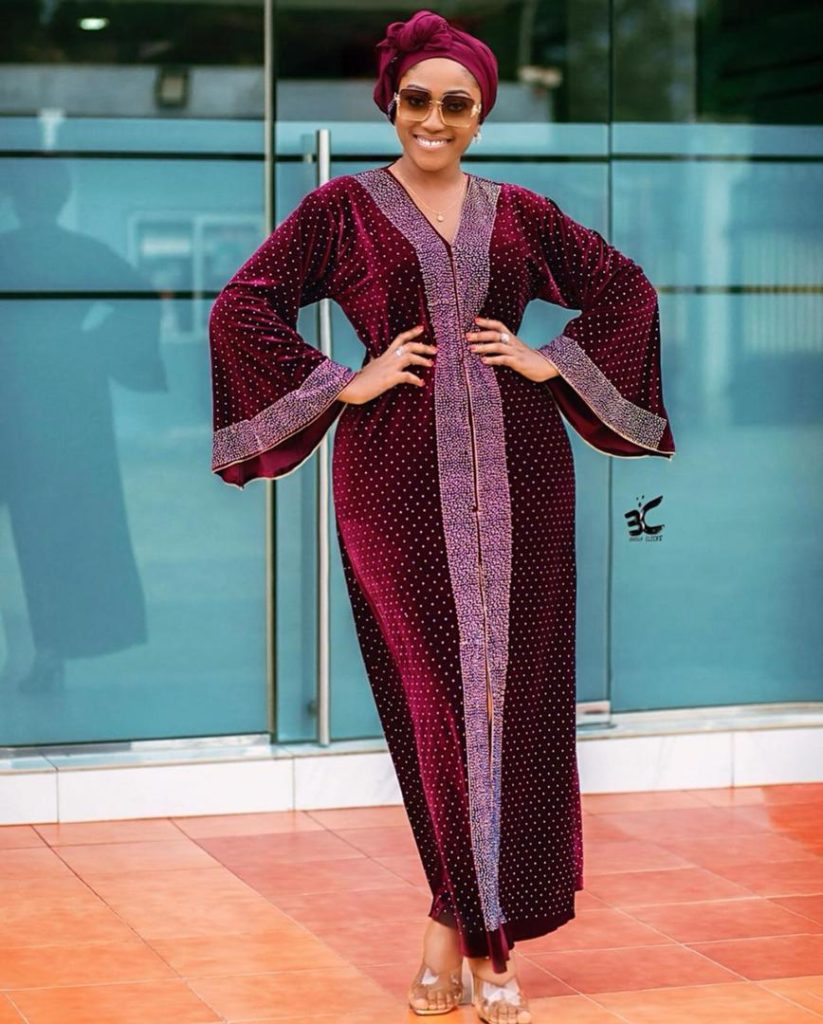 Hopefully, these media personalities and other celebrities don't forget the key element of the Eid celebrations- giving money to the poor known as 'Zakat al-Fitr'. Eid Mubarak to all Muslims.
Read also: AFF set to embark on maiden creative industry retreat