Prof. Ama Atta Aidoo was a Ghanaian playwright whose demise on May 31, 2023, hit many Ghanaians, especially people in academia and the art industry who encountered her one way or the other.
The late Ama Ata Aidoo commenced and projected her writing craft at the age of 15.
Her passion for writing started at a tender age when she discovered her prowess and molded the foundation to be exceptional and impactful with her craft.
Ama Ata Aidoo wrote influential plays, novels, and poetry that explored the role of women, and the impact of Western influences on women in Africa. She also drew attention to African Oral Tradition.
The late Mrs. Aidoo has written fiction, much of which deals with the tension between Western and African worldviews, and the relationship between the oppressor and the oppressed.
Notable of some of her books are; 'The Dilemma Of A Ghost', 'No Sweetness Here', 'The Girl Who Can', and other stories.
The late Ama Ata Aidoo was a lecturer who taught at the University of Cape Coast, Ghana, for over ten years. She was also a visiting professor in Kenya, Eastern Africa, and the United States.
She was appointed as Ghana's Minister of Education in 1982 but lasted only 18 months, resigning in disappointment when she knew that she would not be able to make education freely accessible to everyone.
She then founded the Mbaasem Foundation in 2000 to support and promote the work of African woman writers.
The astute playwright has won many literary prizes, including the 1992 Commonwealth Writer's Prize for Best Book (Africa) for her novel Changes.
In 1983, she moved to live in Zimbabwe, where she continued her work in education, including as a curriculum developer for the Zimbabwe Ministry of Education, as well as writing.
In London, England, in 1986, she delivered the Walter Rodney Visions of Africa lecture organized by the support group for Bogle-L'Ouverture publishing house.
Her first novel, Our Sister Killjoy, was published in 1977 and remains one of her most popular works.
It is notable for portraying a dissenting perspective on sexuality in Africa and especially LGBT in Africa.
Aidoo is the editor of the 2006 anthology African Love Stories.
In 2012, she launched Diplomatic Pounds & Other Stories a compilation of short stories, and another which is a collection of essays by renowned writers in Ghana, Africa, and the African Diaspora.
Your books were a joy to read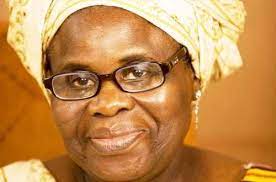 The death of the academic, poet, and playwright was announced by the family in a press statement on Wednesday.
She died aged 81.
According to the family, Prof Ama Ata Aidoo born March 23, 1942, died peacefully at home after a short illness.
The family head, Kwamena Essandoh Aidoo said:
"Funeral arrangements would be announced in due course".

Kwamena Essandoh
The family requests of the general public privacy in its difficult moments of grief.
Lovers of the academic are slumped in deep dejection following the news and expressed their condolence to the family.
Some of the tributes read:
"Ama Atta Aidoo passed away this morning?May her soul Rest In Peace. She was an inspiration, made young people fall in love with books and her legacy will forever live on".

Jaynhi Allen
"Rest well Prof. Ama Ata Aidoo. Your books were a joy to read".

Elvis
"No sweetness here ampa Rest In Peace Mrs Ama Ata Aidoo".

Drayyy
"Unfortunately, the greatest of people must die too. Rest in Peace Prof. Ama Ata Aidoo and condolences to her family. A real icon!".

Nat G Tetteh
"An icon of storytelling in this country. Changes(the novel) meant more to me than many other books written by Ghanaian authors. Rest in peace, my legend. Ama Ata Aidoo".

Yaw
READ ALSO: Dance Challenges Have Become Part And Parcel Of My Songs – Mr. Drew