The Country Director for the United Nations Educational, Scientific and Cultural Organization (UNESCO), Mr. Abdourahamane Diallo, has described Highlife music as a heritage of the country that needs to be preserved.
According to Mr. Diallo, highlife music should be included to the Intangible Culture Heritage initiative, as enshrined in the organization's 2003 Convention.
Speaking at a Highlife Stakeholders Conference, organized by the National Folklore Board in partnership with the Ghana Culture Forum, to discuss an action plan by which Highlife can be enlisted, Mr. Diallo explained that preserving Highlife will ensure that it is safeguarded, projected, and passed on to other generations.
"Traditions that we have that are not tangible but are very precious are that which need to be preserved. Music has always played a role in society. It is the universal language of communication and an excellent example of living heritage and the Ghanaian highlife is a perfect example.

"The intangible aspect of our cultural heritage is important to continuously create and evolve as communities adapt to the practices and traditions in response to the environment".

Mr. Diallo
According to Mr. Diallo, highlife music is an integral part of the intangible cultural heritage in Ghana and a genre of music that is loved all over Ghana. He noted that it talks about the country's history and politics, and to this day, it contributes to dialogue and issues of injustice, resistance, love, and humanity among others. Therefore, there is a need to uphold and safeguard it.
Apart from Highlife, nominations are also open for other cultures to be listed provided the culture is in urgent need of safeguarding because its visibility is at risk, or it is facing grave threats as a result of which it cannot be expected to survive without immediate safeguarding.
The program officer of the Ghana Commission for UNESCO, Mr. Christopher Wetcher, encouraged stakeholders to ensure that cultures are respected.
"It is common knowledge that any community that loses its culture will soon enter into an identity crisis. This conference I believe is going to rally national support for safeguarding intangible heritage because we know the challenges we are having".

Mr. Christopher Wetcher
Mr. Christopher Wetcher further noted that there are issues of modernization and globalization that are making most of the intangible cultural heritage go into extinct. He therefore, encouraged all stakeholders to come up with ideas and best practices on how they can safeguard Ghana's heritage.
The conference was attended by Deputy Minister for Tourism, Arts and Culture, Mr. Mark Okraku Mantey, and some Highlife players including Gyedu Blay Ambolley, Smart Nkansah, Amandzeba, Bessa Simons, and many more.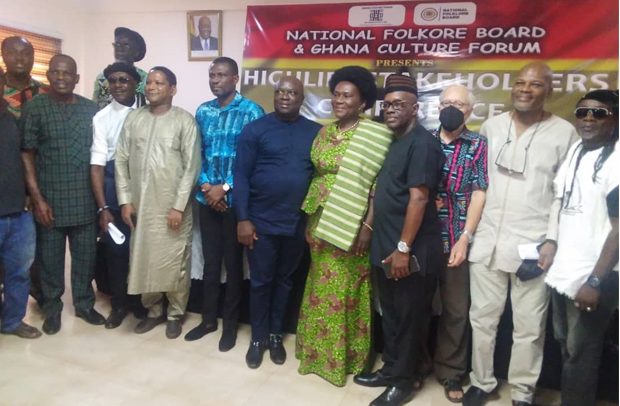 Speaking at the opening ceremony, the Deputy Minister of Tourism, Arts and Culture, Mark Okraku Mantey, emphasized that highlife music represents the second flag of the country with regard to identity.
According to the Deputy Minister, Ghana is known as the originator of highlife around the world, and urged stakeholders to come on board and concretize the agenda of it being enlisted as an "intangible cultural heritage of humanity". He also announced the government's intentions to establish a Creative Arts Fund for the stakeholder in Ghana's creative arts industry.
According to the Minister, the establishment of the Creative Arts Fund is going to support the industry stakeholders who are using their works to support the national agenda to promote Ghana.
The Executive Director of the National Folklore Board, Bernice Dei-Kumah, noted that it is part of the National Folklore Board's mandate to protect and safeguard the intangible cultural heritage, hence its role in this project.
"We are to protect, preserve, and promote them and pass them onto the next generation. In view of that, folklore music like highlife music falls within our mandate to promote it".

Bernice Dei-Kumah
The Chairman of the Ghana Culture Forum, Mr. Asare Yamoah, posited that Ghanaians need to celebrate highlife music as part of our national life.
Read also: Encourage People To Go Cashless- Techiman North MP To Government