Ghanaian socialite, Afia Schwarzeneggar, has thanked God for sparing her from becoming a laughing stock for her adversaries after surviving an accident.
She said in a live video she uploaded to TikTok that, rather than risking her life, the car damage was something material that could be fixed with money.
"I thank God for not making me the laughing stock of my enemies. I thank you, God. The Bible asks us to thank God in all things, so I stand here at noon today. I thank the God of Bishop Oyedepo, I thank the God of Mogpa, and I commit my children and properties into the hands of God in Jesus's name.
"This is just a cost, but God is a true God. It wasn't just my car that got damaged, but there was another car involved that was far more damaged than mine, and I am still going to pay for it but I thank God because no one died and blood didn't pour".

Afia Schwarzeneggar
According to Afia, she purchased the damaged car with the intention of selling it after fixing a few problems, but she can no longer do so because of the damage.
"These are material things. In His infinite mercy, the same God who prevented things from happening will make way for me to sort this mess out. I went to buy the car so I could fix and sell it off, but look at the car now. Look at the end of it. This is the end of the car.
"It's a covenant highway 2023 for us, and the devil will not win. The devil will not win this one. Look at the back of the car, nothing works not even the door. He is a faithful God. God said he will not give us battles we couldn't fight".

Afia Schwarzeneggar
She also articulated that if God hadn't spared her life, she would have passed away, leaving her children to be cared for by the rest of the world.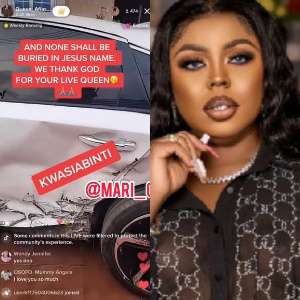 "I thank God for my children. By this time it would have been their mother lying down dead and the world would have come and taken care of them. God is faithful, God is so real, and God is honest. He said, call upon me and I shall answer you".

Afia Schwarzeneggar
Afia Schwarzenegger survives gory accident
The Ghanaian comedian, Afia Schwarzeneggar has narrowly escaped death after a narrow collision.
The socialite spoke about how the car left her unharmed and in excellent health, but her car was significantly damaged. She later displayed the damage to viewers online.
She said that while her car could be fixed and is a tangible asset, a person's life couldn't, hence her thanksgiving.
Somewhere last week, a video of Afia Schwarzeneggar in a church was captured and circulated on social media.
What made the video stand out for many was the prophecy she received from a man of God called Ogyaba. He prophesied that the socialite was going to be involved in an accident that will lead to her death.
According to the prophet, Afia's enemies had teamed up with her mechanic and planned her unfortunate death through a gory accident.
From inside the chapel, Afia was seen requesting her technician to finish working on her car.