Nigerian Dancehall sensation Ruger has recently opened up about his spiritual life, shedding light on his deep-rooted faith.
Ruger, one of the artists whose music is defining Nigerian Dancehall and whose talent has rocketed him to mainstream success, discussed his belief in God.
The artist, who recently dropped his debut album 'Ru The World', revealed that he is a spiritual individual who doesn't shy away from expressing his devotion.
According to Ruger, he firmly believes that wholehearted service to the church brings abundant blessings. He shared a touching story from his past, recounting how he used to wake up at 5 a.m. to diligently clean the church compound as an expression of his faith.
In September 2022, Ruger surprised his fans by announcing on his Instagram story that he had committed his life to Christ.
This revelation delighted his followers, as it confirmed the Dancehall sensation's status as a born-again Christian. His past actions, such as cleaning the church, serve as a testament to his unchanging Christian faith.
Ruger also revealed that he maintains a spiritual connection through prayer and self-observation. The opening track of his debut album, "Tour", offers further insights into his spirituality.
While fans may find it challenging to reconcile Ruger's music and sensual performances with his newfound born-again lifestyle, the versatile artist appears to have successfully struck a harmonious balance between his faith and artistic expression.
Ruger is known for songs like 'Asiwaju', 'Snapchat', 'Bounce', 'Jonzing Boy', and 'Bun Bun', among others.
Ruger reacts to a fan impersonating him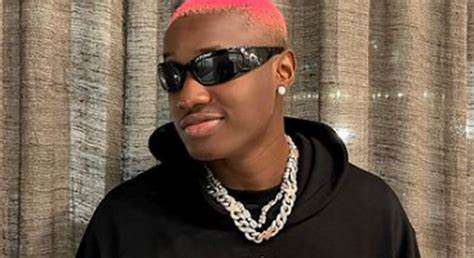 Michael Adebayo, who goes by the stage name Ruger, disclosed his thoughts on a fan in Kenya who has been exploiting his image and songs to generate income and gather followers.
In a viral video online, a man who would easily be mistaken for the singer was seen wearing the same eye patch and pink hair, performing to an eager and excited crowd.
The fake Ruger was also singing the Nigerian singer's songs all through his shows. He also seemed to have studied Ruger's method of performance and had dancers on stage with an entire team at his back and call.
Ruger acknowledged that he had been alerted to the situation through messages from concerned individuals, who urged him to put a halt to the imposter's acts.
However, Ruger expressed that he doesn't view the imposter's performances negatively, instead, he considered it a means of promoting his music. He emphasized that he genuinely wishes the imposter success in his endeavors.
This is coming a few days after Ruger was recently caught unaware on camera without his famous eye patch. The music star trends online after a clip of him hanging out with his sisters and a video of them leaked online.
In the clip, the Jonzing World artist was caught without his black eye patch but quickly tried to cover it up once he noticed he was being recorded.
This choice led many to speculate that the artist might be concealing an eye ailment. However, the video has challenged this prevailing misconception. The video lays to rest any false narratives surrounding his eye condition, as it clearly showcases that Ruger possesses no eye defect and can see perfectly with both eyes.
This revelation has sent shockwaves through the internet, causing Ruger's fans and admirers to express their astonishment and newfound admiration for the singer's unmasked appearance.
Jonzing World recently unveiled a new artist, 'Gdzilla', as the latest addition to its talented roster of artists who was seen with a Dinosaur mask on, and it led to a major conversation online.
READ ALSO: Mr. Drew Speaks On 'Eat' Saga