Actor, John Okafor, popularly known as Mr. Ibu, has revealed he is currently in the hospital after being poisoned for the third time in about three years.
Mr. Ibu, giving details about what happened disclosed that he was poisoned in Abuja, unlike the last time when he was poisoned in his village. According to him, he doesn't know exactly how he got poisoned, however, he attended an event that wasn't so huge and suggested that was where he might have been poisoned.
"I just got poisoned again. It seems my enemies are using me to rehearse (their powers). This time, I wasn't poisoned in the village. I was poisoned in Abuja last week at an entertainment event. I really cannot explain how I was poisoned because it was a gathering of people, though it was not a big event".

Mr. Ibu
Even though Mr. Ibu sounded weak, the actor noted that he was getting better.
"I am recuperating, although I have neither worked out nor driven since I got ill. However, I intend to take a walk, because I am hopeful that I would get better. I am eating well now, and I'm prepared to go back on set any moment from now".

Mr. Ibu
Mr. Ibu further lambasted those soliciting for funds on his behalf without his consent. According to him, "some people have sold me".
"They have not heard from me and all they want to do is 'sell me'. But, their plans won't work because God has raised me up. I am not begging anybody for money", Mr. Ibu said.
Mr. Ibu noted that his condition is not as critical as some people are making it seem. Therefore, anybody who has made it a point of duty to talk about his sickness and has taken advantage of it should stop.
"I am here (hospital) with my wife. I am not saying all my friends that are supposed to visit me and bring me money cannot do that. But, I have never asked anyone to beg people for money on my behalf. They should stop. If I want to die, I would let them know, since they seem to be so interested".

Mr. Ibu
Meanwhile, leaders of the Actors Guild of Nigeria, paid a visit to Ibu at the Zenith Medical Centre, Abuja. In a video shared by Monalisa Chinda-Coker, Director of Communications Actors Guild of Nigeria on her Instagram page, the ailing actor was in a cheerful mood, as the actress stood beside him.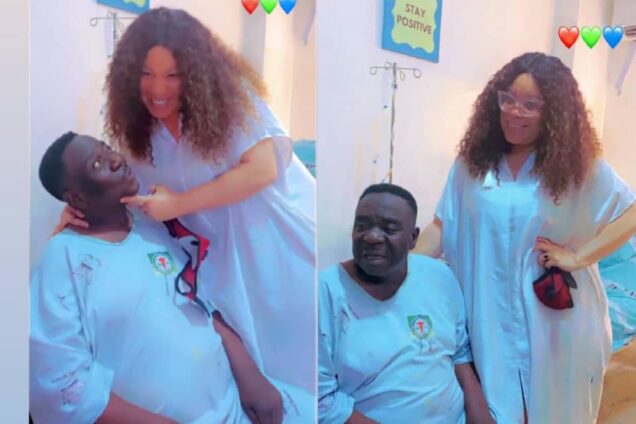 She wrote: "Mr. Ibu is doing well and responding to treatment at the Zenith Medical and Kidney Centre, Abuja".
Mr. Ibu's wife also has called on Nigerians to pray for her husband. She lamented that her account had been hacked, and the suspect has been extorting money from some of the actor's friends and colleagues. She also disclosed that her husband has also lost his bank account details, and anyone who wishes to offer help to the ailing actor should contact her or come to the hospital where he is receiving treatment.
Ibu has had health issues in the past, which according to him almost sent him to an early grave. In 2020 during an interview, the actor recounted how his staff members were paid by his kinsmen to eliminate him because of his successful career.
Read also: Measures to Halt Depreciation of Currency, Short-termed- Dr. Patrick Assuming