Esteemed Nollywood icon, Kanayo O. Kanayo, has expressed his strong disapproval of the film industry being overrun by Brazilian Butt Lifts ladies, corporate sex workers, and individuals of diverse sexual orientations.
The legendary actor emphasized that the Nigerian cinematic realm should exclusively serve as a projection for artistic brilliance.
Over the past few years, female film celebrities, including the likes of Tonto Dikeh and Ini Edo, have grabbed headlines due to reports of undergoing Brazilian Butt lift procedures. When addressing this growing trend, Kanayo strongly voiced his disapproval, sharply criticizing the irresponsible lifestyles of some of his colleagues, while also delving into various facets of the Nollywood scene.
"Nollywood should not be a ground for BBL; bum bum enlargement. Nollywood should not be a ground for people doing runs. Nollywood should not be a ground where people's dollars are stolen in hotels", Kanayo O. Kanayo said.
"All these Nollywood girls, it is not a ground for lesbianism. People are bragging about the industry because some want to sell sex, some want to sell their bodies, some want to do this, and so on. And it's not healthy for the industry. But everyone is welcome. But Instagram Stars are the ones who are giving the industry a bad name. And I don't want anybody to join them because they have a little time and they'll fade out".

Kanayo O. Kanayo
He further asserted that the movie domain should not serve as a breeding ground for beginners, firmly highlighting its purpose as a place for nurturing and refining talents.
"It is a ground for creativity. Nollywood is not a ground for learning how to act. Many people come to Nollywood to learn how to act. You are supposed to come to the industry to better and hone your talent. Many girls after hearing Genevieve [Nnaji] is a millionaire, Omatola [Akande] is a billionaire, would go and borrow wigs and come [to the movie industry] deceiving themselves".

Kanayo O. Kanayo
However, he also mentioned that the movie industry should remain open to all, provided that those who join possess a genuine calling for acting.
"We all have different sectors. Everybody is welcome but the fact is, find out whether you have a calling for acting. That your neighbor says you know how to act, doesn't mean you are an actor. You need some element of education to come to Nollywood", he said.
"It doesn't really matter if you studied medicine and you want to act. But for goodness sake, don't come to it because you are struggling; your business stopped booming. Because most people, once their businesses crumble, they join acting. No na. For you to be a medical doctor, you need to have put in seven years. I put in six years to become a lawyer. So, why do you think you would just come and say you want to act?".

Kanayo O. Kanayo
Claiming of seniority in Nollywood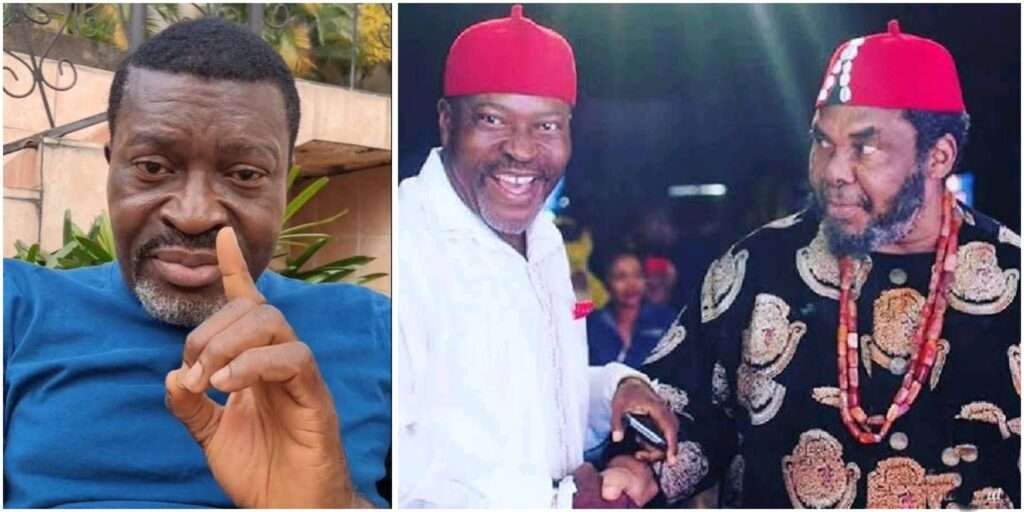 Kanayo O. Kanayo, a venerable figure in the Nigerian movie industry, has set social media abuzz with his bold claims of seniority over esteemed colleague, Pete Edochie.
He launched his claims with a resounding assertion that individuals of his caliber, including Pete Edochie and others, must not be omitted from the annals of Nollywood history.
Researching into the archives, the 61-year-old actor firmly asserted that the groundbreaking achievements of legendary filmmaker Kenneth Nnebue in the 1990s cannot be undermined. He emphasized Nnebue's pivotal role as the first filmmaker to professionally produce home videos in 1992.
Expanding on his argument, Kanayo highlighted that he and fellow actors who graced the screens in the 1992/93 Nigerian two-part drama thriller film, "Living in Bondage", were among the pioneers who ventured into Nollywood as true professionals before anyone else.
Kanayo firmly contended that the renowned 1971 Nigerian movie, "Things Fall Apart", featuring the esteemed Pete Edochie, was indeed a cinematic project and not a home video production.
The iconic actor asserted that if anyone, including his colleagues, posits that Pete Edochie preceded him in starting Nollywood, he is prepared to challenge such a notion.
Kanayo clarified that while Pete Edochie may have initiated his journey in cinema before him, Edochie officially joined Nollywood four years after he did, emphasizing that this distinction is not based on biological age.
He revealed with the assertion that, in the realm of Nollywood, he holds seniority over Pete Edochie.
READ ALSO: I Never Liked Gospel Songs – Perez Musik