'Made-In-Ghana' Ambassador and gospel musician, Ms. Emelia Arthur and her management team, AdFirst Consult, have paid a courtesy call on the current Speaker of Parliament, Mr. Alban Sumana Kingsford Bagbin, to commend him on his bold made-in-Ghana dress sense.
The gospel musician and her delegation assured the Speaker of their support for the direction he has opted to take in terms of wearing locally-made clothes to work.
"My team and I are very grateful to you[Alban Bagbin] for supporting the 'Wear made-in-Ghana' agenda. We are also ready to be with you and support you especially as you keep wearing the made-in Ghana clothes".

Emelia Arthur
The AdFirst Consult officials that accompanied Emelia Arthur comprised its Director, Gabriel Arko; Mr. Timothy Antwi-Otoo, Mrs. Paulina Ofori Agyapong, and Kwabena Gyakye Nyarko.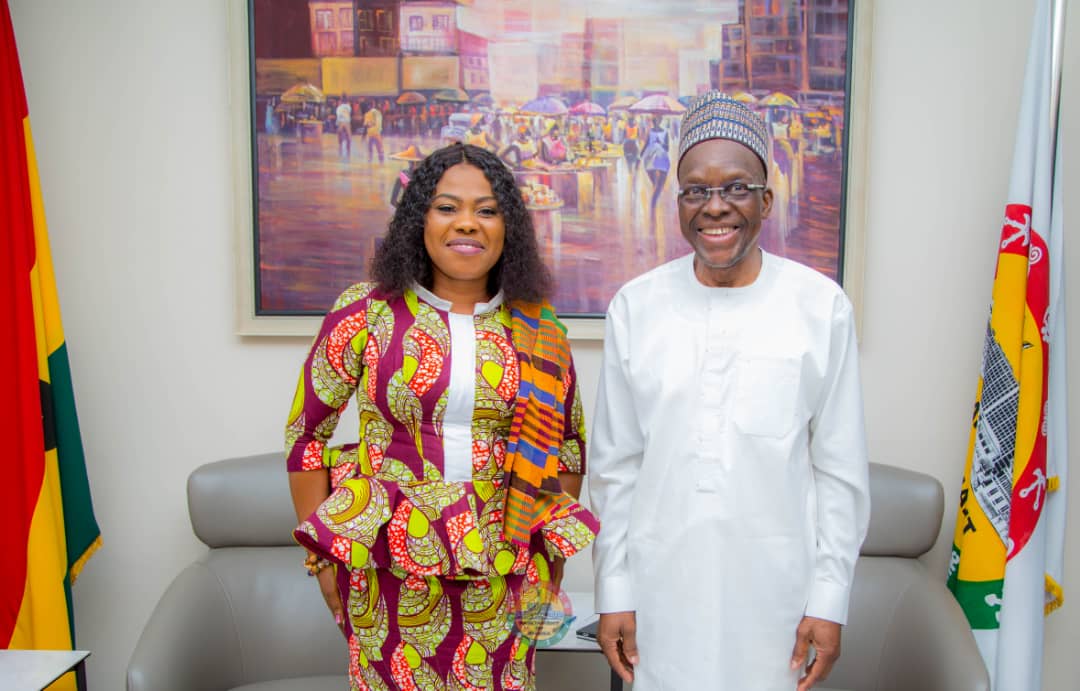 Speaking to the delegation during the visit to Parliament House, Speaker Bagbin noted that Ghana could enhance her fortunes in several ways with the creation of a strong national identity.
According to him, no nation can develop without its own identity, and it was important for Ghana to mold an identity for itself through areas like language, dressing, and food, to help accelerate her march toward development.
"We also need to have an identity as individuals to be able to develop, and that is why I decided to change my style of dressing as the Speaker of Parliament, but some people do not understand that move," Mr. Bagbin said.
The Speaker of Parliament caught wide attention when in late January this year when he ditched the usual Speaker's ceremonial outfit for a colorful Kente cloth over a white jumper and a gold-studded headgear to match.
Mr. Bagbin stated at the time that the Parliament of Ghana should be able to do more at branding, showcasing, and marketing Ghana to the world. He has continually worn made-in-Ghana clothes to work since then. He has said that he would use the official Speaker's cloak only for ceremonial occasions.
Mr. Bagbin told the AdFirst Consult delegation that he was very much in favor of Parliamentary staff and Members of Parliament adopting a more made-in-Ghana approach to dressing for their official duties.
Commenting on the consumption of local food, Mr. Bagbin emphasized that Ghana has several nutritious foods which her people have abandoned for foreign tastes.
"Anytime I travel from the North to Accra, I bring Dawadawa because it has lots of useful nutrients," Mr. Bagbin said.
Mr. Bagbin urged corporate bodies to support Ms. Emelia Arthur and her made-in-Ghana team to make more strides in their campaign. He said companies support beauty pageants and football in this country, and it would be worthwhile for them to also extend sponsorship to the made-in-Ghana campaign.
The made-in-Ghana ambassador expressed gratitude to the Speaker and assured him of their determination to carry on with the campaign for more people to patronize made-in-Ghana goods and services.
Read also: We Are Trying To Apprehend Perpetrators- Abdul Daud On Flogging Of Two Lovers