Ghana's reputation as the gateway to Africa continues to soar as more international celebrities make the country their first point of call when they are on the continent.
For some time now, Dream Chasers boss, Meek Mill has been considering the idea to visit Ghana, however, in his latest move to connect with the country, the rapper has revealed that he is considering buying a property in Ghana.
The Philadelphia-born superstar has also previously stated his desire to come to Ghana and perform.
In a post on Twitter, he revealed that he wants to buy a house in Ghana to have the experience of living the African way. He made this known, owing to the fact that he doesn't want to live all his life the American way.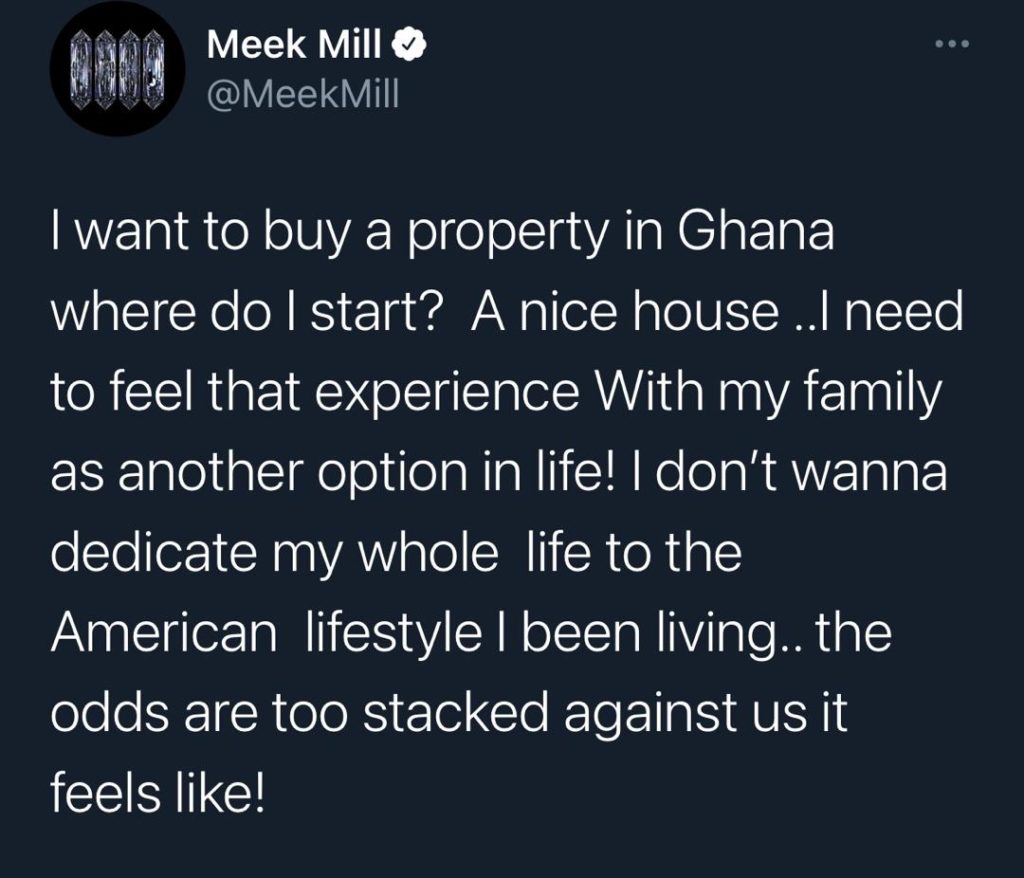 With a widely-acclaimed reputation of being warm hosts, the social media users proffered suggestions ranging from hospitality to cities in the country best-suited for the rapper among others.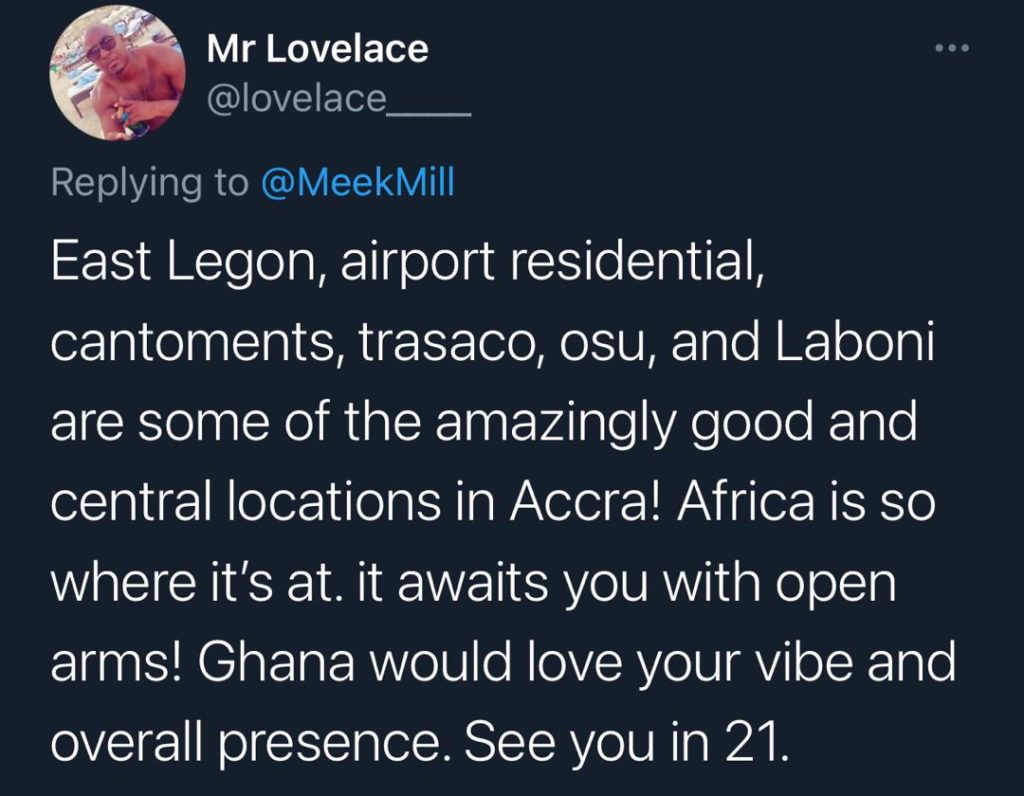 In July, the government of Ghana welcomed Blacks from the U.S. seeking to get away from the racial turmoil in the country.
In 2019, the government of Ghana launched a campaign called "The Year of the Return" to mark 400 years since the first enslaved African arrived in Jamestown Virginia.
Due to its coastal location, Ghana housed over 75% of the slave dungeons – many of which still stand today – before Africans were shipped off to the "New World" and enslaved.
The government even linked up with local chiefs to set aside 500 acres of land, which will accommodate about 1,500 new families.
The promotion attracted A-listers like Beyonce, Jay-Z, Cardi B., Ludacris, T.I., and Samuel L. Jackson, and Meek Mill might just be one of them.
That aside, Meek Mill has his eye on Silicon Valley as he and other top-tier rappers look to develop their own Digital Service Provider and platform that they can own and control.
The Dream Chaser CEO, knocked on the tech capital of the country's door via Twitter saying that he, Lil Baby, and Lil Durk are looking for someone connected in Silicon Valley to help them.
"Me, Lil baby Durkio tryna get somebody in Silicon Valley to build us our own music platform we can be the majority owner in, We will pay!! We need top Silicon Valley steppers please!"
Meek added that 21 Savage would be in the mix as well to help with the endeavor.
Artists like Meek have often voiced the plight of Digital Service Providers giving them only a small portion of earnings from millions of streams and there have been several conversations over the last few years regarding how they can reclaim more ownership over their music.
Meek's current plans might mirror what Jay-Z did with his TIDAL imprint, which is a streaming service that he acquired back in 2014.
Meek has experience in the business of launching platforms from the ground-up, most notably working with Jay-Z, Michael Rubin, and more to create their Reform Alliance that is geared towards helping fix the deeply flawed criminal justice system.
Launched in January of last year, the Reform Alliance organization has since made major strides in criminal justice reform.
 In fact, in October they got a new law passed in California that will limit probation sentence maximums for misdemeanors and felonies.
Read also: MEEK MILL, THE SANTA CLAUS OF PHILADELPHIA