Ebony Life Studios CEO, Mo Abudu, is teaming up with American rapper Curtis '50 Cent' Jackson, to co-executive produce a new African drama titled, 'Queen Nzinga'.
American premium cable network, Starz confirmed the production of a new drama project in collaboration with 50 Cent's G-Unit films and Television and Mo Abudu's EbonyLife Studio.
The project which will be shot in a 17th century Angola setting, follows the coming of age story of fearless warrior queen Nzinga. According to history, "Nzinga who became the first female ruler waged a 40-year guerrilla war against the kingdom's formidable enemies and the cruel subjugation of her people by Portuguese slavers".
In the lead role as Nzinga is star actress, Yetide Badaki, who doubles as the show' co-executive producer alongside 50 Cent, Abudu and Steven A. DeKnight.
Confirming the production on Instagram, Mo Abudu wrote: "The continent of Africa has a treasure trove of stories that are yet to be told. Queen Nzinga is a story that I have wanted to tell for a long time, so when EbonyLife Studios finally found a home for this project at Starz and Lionsgate, it was a dream come true.
"We are happy to be at the forefront of forging these new partnerships with such an incredible team of creatives, because it is truly about sharing our local stories with a global audience — stories that are historical, authentic and progressive".

Mo Abudu
Mo Abudu further noted that it has been a long held dream of hers to bring the story of Nzinga to the screen.
"Her [Nzinga] courage, determination and passion resonated from the moment I laid eyes on historical depictions of the legendary queen. I am thrilled by Starz's continued commitment to much-needed stories about and by historically excluded voices and the deeply talented team being built to share this epic narrative with the world".

Mo Abudu
Ace rapper, 50 Cent also confirming the series wrote: "If you liked the movie '300', you are going to love this".
Abudu's latest international deal comes in the wake of another deal between BBC and EbonyLife.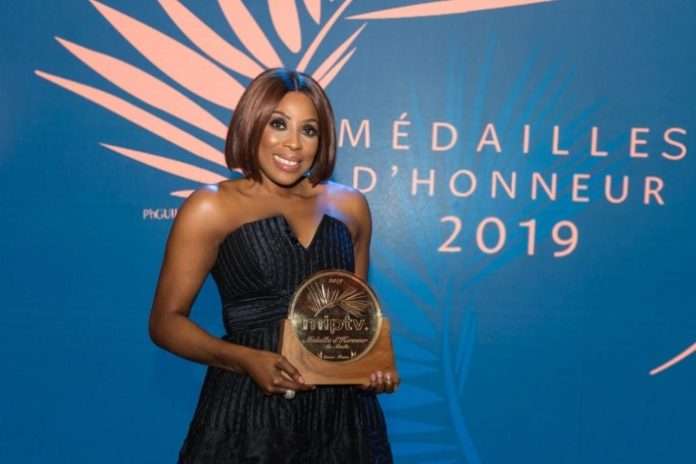 In August, Mo Abudu revealed that her Ebony Life Studios is teaming up with Will Packer Productions to develop an untitled project based on Evan Ratliff's Bloomberg article, 'The Fall of the Billionaire Gucci Master'.
The companies won the rights in a highly competitive bid and have set up the project at Universal Pictures.
Ratliff's article digs into the story of Nigerian Instagram influencer Ramon Abbas. The man who is popularly known as Ray Hushpuppi, or the 'Billionaire Gucci Master', is alleged to have perfected a simple internet scam that allowed him to launder millions of dollars.
Abudu founded EbonyLife as a pan-African TV channel in 2013, and the company has grown into a content studio with credits that include features 'Chief Daddy', 'The Wedding Party' and 'Fifty'. In 2020, EbonyLife signed a slate deal with Netflix and launched its first Netflix Original, human-trafficking story, 'Òlòturé'.
Abudu has also formed a partnership with Sony Pictures for a three-series deal and an initiative targeted at African writers. EbonyLife is also working on Afrofuturist sci-fi series Nigeria 2099 with AMC.
Read also: NDC not Against Taxation, Levy Will Burden Citizens- Aseidu Nketia