Ghanaian musical songstress, Fantana, has disclosed that her mother, Honorable Dorcas Affo-Toffey, Member of Parliament for the Joromo constituency, who doubles as her manager, is able to juggle between political duties and managing her.
Speaking on Hitz Fm's Daybreak Hitz, monitored by The Vaultz Media (TVM), she averred that, Mrs. Affo-Toffey was the head manager of her management team and she sees to it that things don't go wrong especially since they are both in the limelight.
"My mum can balance work supporting me and managing me as well. She joggles between doing her political work and managing me very well. I have my management team, and she is the head. I also have my road manager and general manager. I have three managers".

Fantana
Speaking of her mother's victory during the 2020 elections, she mentioned that, just as her mother supports her in everything she does, it was only right for her to throw her weight behind her mother even though she [Fantana] is not politically affiliated to any party. The 'Rich Gyal Anthem' crooner further posited that, she knew it wasn't going to be easy however, she was "confident" her mother was going to win.
Fantana who has been away from the musical scene for close to eight months said the reason for the break was for her to relax and take a step back while putting herself together to come back strong.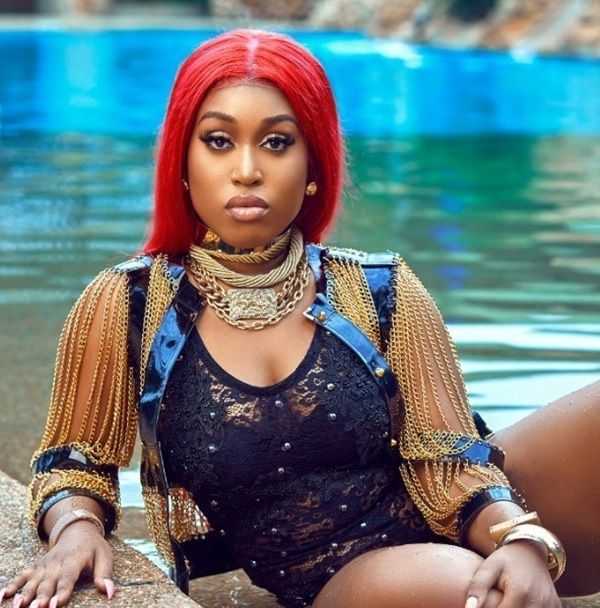 "I didn't go to sleep. At the time when COVID came and there was lockdown, I took time to learn more about the music industry in general and perfect my skill and craft. I did more vocal training, and learn to become more confident because at the time when I first started, I was shy and naïve; I didn't know that much. So, I just took the time to learn and make sure this is what I want to do and be passionate about it"

Fantana
Speaking on her contract termination with 'Rufftown records', she mentioned that she didn't regret leaving the record label since it allowed her to become an independent artist now. She said: "it made me learn certain things that I didn't know then. It also made me stronger and it brought out the confidence in me. It didn't affect me negatively".
When asked what her relationship was with her former manager, Bullet, she said they are "cool" and "everything is fine". She further disclosed that the last time she met him was somewhere last year and it was about business.
Touching on criticisms especially on social media, Fanatana emphasized that she is someone who takes criticisms very well. She mentioned that, she tries to look at the positive aspect of that critique and if possible, work on it to become a better person.
"Obviously you care enough to criticize me, so I just take time out to see what I am doing wrong and work on myself".

Fanatana
Fantana who will be releasing her latest song titled 'No dulling' was asked if she isn't worried about facing future issues with the music group, Keche since, they also have a song with the same title. She said that she doesn't think it would be much of a problem since they have a different following.
Read also: CONGRATULATIONS MAMA- FANTANA TO HER MOTHER