International supermodel, Naomi Campbell has finally become a mother as she has welcomed her first child at age 50.
The supermodel, who is believed to be single, surprised her Instagram followers;as she shared a picture of the feet of her baby girl in her hands and stated;she has never felt a "greater love".
Sharing the first look at her new arrival, whose name has;not been revealed, Naomi wrote: "A beautiful little blessing has chosen me to be her mother. So honored to have this gentle soul in my life there are no words;to describe the lifelong bond that I now share with you, my angel. There is no greater love".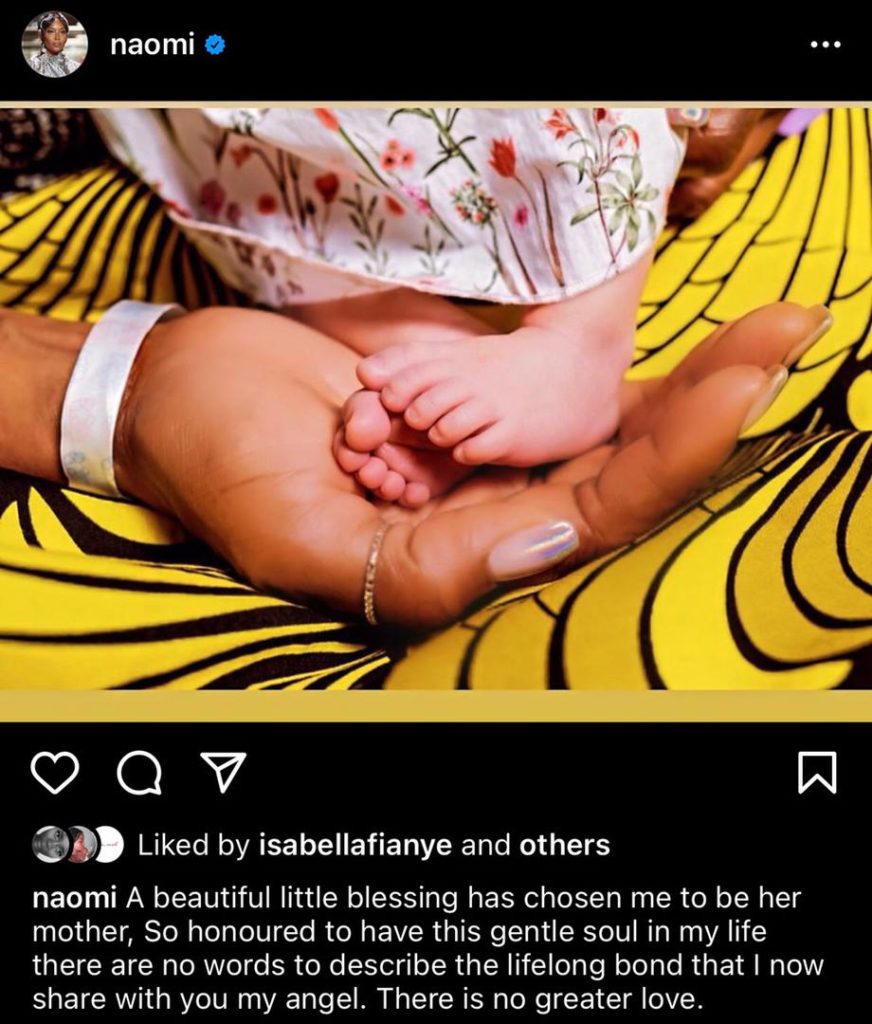 The model gave no further details in the post. However, her fans and other colleagues per their comments were amazed by this disclosure. Most netizens in excitement congratulated her and noted;that this is an inspiration for them never to give up in life. Some reactions to her post: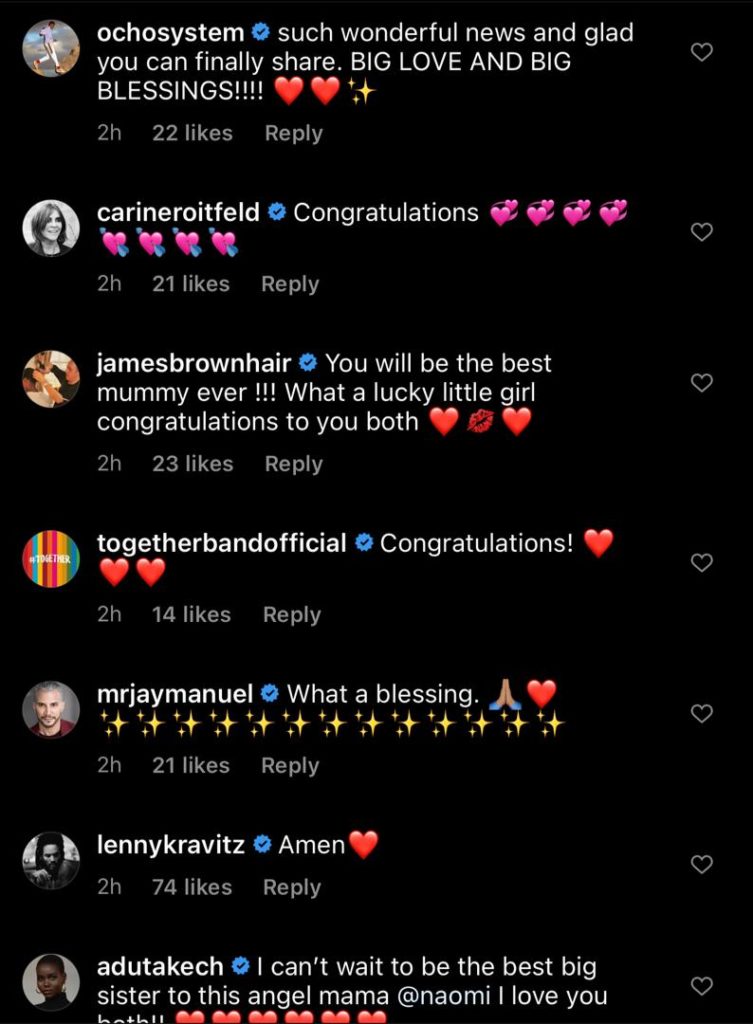 That notwithstanding, the mother of Naomi Campbell, Valerie Morris-Campbell shared her thoughts on the arrival, saying she was "beyond thrilled". 
Sharing the same picture as her daughter, she wrote: "Congratulations to my daughter Naomi on the birth of her daughter, I'm beyond thrilled as I've waited a long time to be a grandmother. @naomi #proud #mother #grandmother #love #family".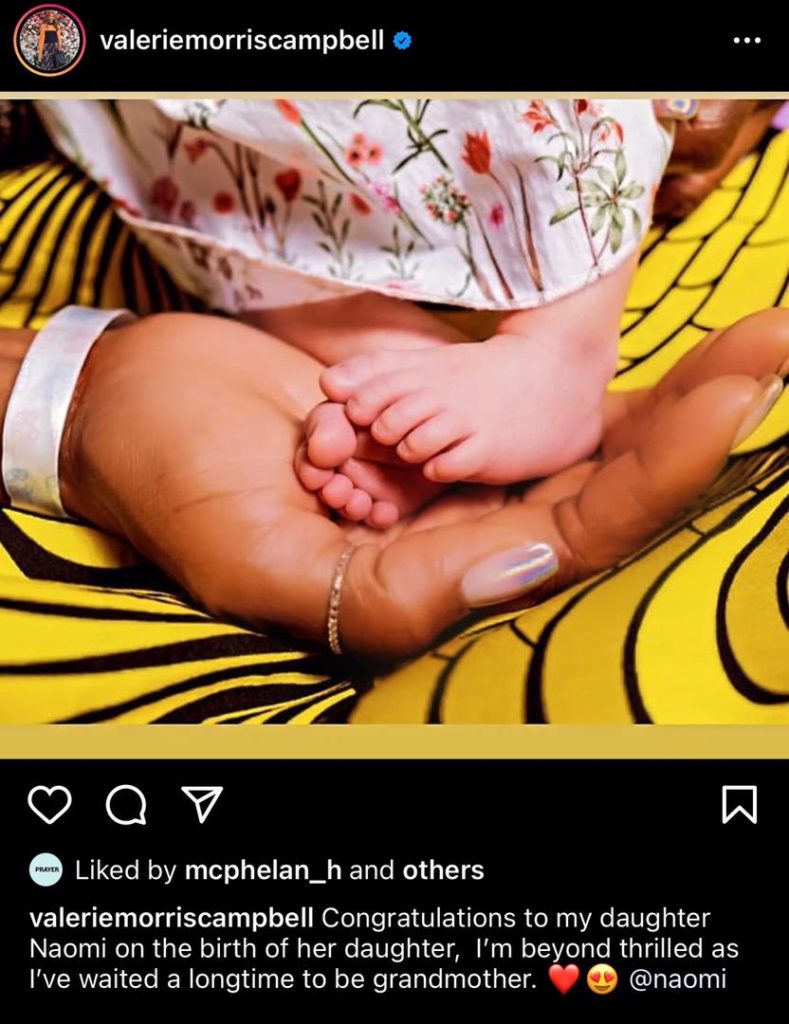 Naomi then commented on the post with some love emoji: "We love you Mum".
Speculations about |Naomi's method of birth to be surrogate
Naomi's baby announcement comes after she admitted that she would "think about having children all the time" but wasn't planning to rush herself to start a family.
It is worth mentioning that Naomi didn't disclose the method in which she welcomed her daughter. However, it can be recalled that in an earlier interview in 2017, Naomi Campbell credited science with giving her an opportunity to start a family "whenever she wants". Her statement suggested that she was leaning towards using a surrogate.
"I think about having children all the time. But now with the way science is, I think I can do it when I want".
When asked if she would have the child herself rather than adopt, she replied saying, "Maybe".
However, the Vogue cover girl insisted that she didn't want to be a single parent so would find a suitable partner first.
"I do want a father figure. I think it's important. It's the way I feel today, sitting here talking to you".
Meanwhile, Naomi was last in a relationship with rapper Skepta in 2018 but enjoyed a fling with Liam Payne the following year. She has also enjoyed high-profile relationships with the likes of Diddy, Robert De Niro, Mike Tyson, and Russian billionaire Vladislav Doronin over the years.
Although she is notoriously private about her love life, she has previously stated she is "on good terms" with her exes and is not believed to be dating anyone new currently.   
Read also: NAOMI CAMPBELL ASSERTS 2021 TO BE AN AMAZING YEAR