Joseph Aloba, the father of late Nigerian rapper, Ilerioluwa Olademeji Aloba, also known as Mohbad has said that Nigerians keep seeing visions of the late singer because he has not been buried.
Mohbad's father lamented over the delay in the release of the deceased's autopsy result.
It can be recalled that Mohbad died on September 12, 2023, and was buried the next day.
His body was, however, exhumed for autopsy to aid the investigation into the cause of his death.
After the autopsy, he was deposited in a morgue.
The late rapper's father disclosed that some people were claiming that Mohbad was appearing to them because his body had not been buried.
He revealed that he would reach out to the police for the body to be released to him so that the burial could be done.
"This autopsy is taking time. I wasn't aware it'll take this much time, because Mohbad's corpse shouldn't be suffering. But we are not more powerful than the government since Nigerians said that is what they want. I'll call the senior police officer after this interview and ask if they've taken all they need from Mohbad so the burial can be done," Aloba said.
"A lot of people are saying he's appearing to them, and it's because he hasn't been buried. We have to make preparations on how he'll be buried as soon as possible," he further stated.
Insisting DNA Test To Be Done In Presence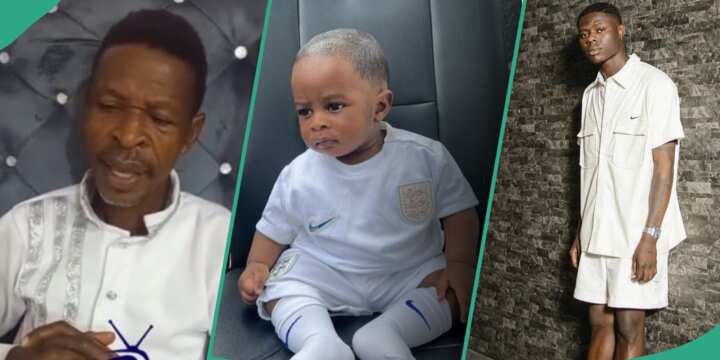 The father of the late Nigerian musician Mohbad insisted the DNA of the deceased's son, Liam, must be done in his presence.
Recall that the need for a DNA test to determine the genuine paternity of the late singer's kid has sparked heated controversy among Nigerians.
MohBad's father emphasized the importance of a DNA test for his grandson citing it as a matter of national concern.
He insisted that he must be physically present or appoint a representative on his behalf during the DNA test.
He also proposed that the test be conducted at two different hospitals to ensure the accuracy of the results.
"Concerning the DNA test, it's a must they do it. Nigerians are demanding for it. I heard rumors that they did it but no matter what, I'm Mohbad's father so I'll give consent to the DNA test or send anyone who can represent me during the test if I'm not there to know how they'll do it. And even when they want to do it, it should be done in two different places so we can be very sure and know the truth."

Joseph Aloba
Joseph Aloba revealed that where he comes from in Ikere Ekiti, they do not accept bastards but it will be a thing of joy for him if Liam is Mohbad's child because it is the only child he left for him.
He further stated that three days before his [Mohbad's] death, he was with him, and Mohbad even served him food and placed Liam on his hands while Mohbad was taking pictures.
"So I'll be very happy if Liam is Mohbad's son because I love the child. But if it turns out that Liam is not his son, it won't be good if we don't find out now because of the future so that even late MohBad shouldn't be blaming me that I accepted something like this. So the DNA is very necessary," he said.
Nigerians shared different opinions about Mohbad's father's comment about Liam's DNA test.
"They're obviously hiding something cause why the sudden lie that the DNA was done? I don't know ooo but I believe if wifey is clean it should have been done since with full chest and make doubters look stupid."

@kingg_david__
"You said this is the child he left for you yet you're asking for a DNA test again? And not just one but 2 DNA tests? There's something wrong with this man. SMH."

@graciehabiba
"This man is the weapon fashioned against Mohbad and Wunmi. I'm sure he would wish Liam was not Mohbad's so all the properties could be his… Poverty is a disease."

@realtor_kenthorpe
"After DNA that girl should go far far away from this man."

@ameeenah_12
"His father is insisting on DNA just because of properties…"

@rashy_babs
READ ALSO: Mr. Ibu Given A Tip-Off