Ghanaian artist, Black Sherif is driving social media crazy upon the release of his latest EP titled, 'Take Care Of Yourself' which has left fans buzzing over his talent and style.
The tracks, produced by his two in-house collaborators, Samsney and Joker Nharnah, were teased to fans during his acceptance speech for "Artiste of the Year" at the 24th Vodafone Ghana Music Awards in Accra.
The project showcases the development of the 21-year-old award-winning singer as he overcomes challenges faced on the tough streets of fame while remaining loyal to himself.
The EP which was released on Thursday, August 10, 2023, is made up of two impressive tracks, 'YAYA' and 'Simmer Down' that highlight the Ghanaian artiste's sensational musical qualities, having none of the songs being featured.
While "YAYA" follows the lens of his alter ego, a rebel who gave fate a chance and is in search of healing, "Simmer Down" is a highlife, soul and drilled infused anthem about keeping a winning mentality and practicing patience to downplay opposition.
Just like 'Kwaku The Traveller' and 'Soja', 'Take Care of Yourself', Blacko's EP has become an instant hit as fans are excited and rated it as another masterpiece.
Moving on, some social media users opined that:
"There's a certain magic to his craft. His storytelling reaches its pinnacle, instantly striking a chord when you stumble upon it. You don't have to be his absolute biggest fan, but in some way or another, his work will undeniably get under your skin. Keep sailing ahead, Yaya KK".

A social media user
"Herh! Masa creativity paaaa nie. As3 Jesus film. Bro, this is the Grammy standard!".

Second user
"What makes Black Sherif unique, special, different and above all the BEST. YAYA KK".

Third user
Also, other tweets shared in relation to his EP include:
"Are you kidding me?!!!!!!! No one!! Absolutely no one in the Ghanaian music space does it better than BLACKO!!! No one!!!!! Look at the roll out?? The timing! Branding!! BLACKO is LEARNING and I'm here for it!!!!".

@Kwesi_Brandel
"Let me clean my speakers cause Blacko no dey disappoint".

@Korsogyimi
Black Sherif receives new Boomplay plaque ahead of EP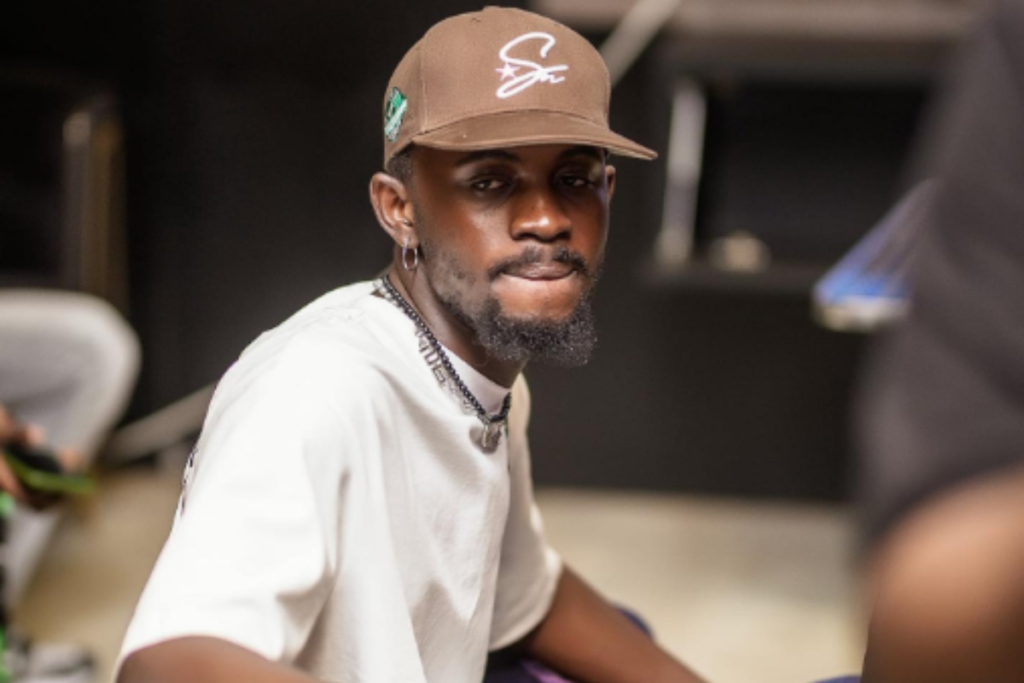 Black Sherif received another enviable plaque from Africa's premier music streaming and download platform, Boomplay, for amassing a record total of streams for his catalog and a historic feat for his debut album.
This makes Black Sherif the most streamed Ghanaian artiste on Boomplay currently and, the most streamed Ghanaian album.
On receiving the plaque from Oliver Ameyedowo, Artist Relations Manager at Boomplay Ghana, Black Sherif said:
"300M+ streams on Boomplay in a few years, it takes a village and everyone's effort. I am very grateful to you guys – for your energy, support, and streaming. I do appreciate this so much. I used to make music not knowing what would come of it.
"From that to the accolades and receiving this new plaque have been nothing but mind-blowing. I love and appreciate the fans for being there for me and the music I create. This one is for them. My gratitude also goes to Boomplay for continuously supporting my journey".

Black Sherif
The 21-year-old talented artist has been on a sensational run since the release of his viral hit, "First Sermon" which gave him mainstream attention.
Single after single, Black Sherif's career has soared. He released the likes of 'Second Sermon' (plus its remix with Burna Boy), 'Kwaku the Traveller', and 'Soja', leading to his debut album, "The Villain I Never Was" which was dropped on October 6, 2022.
Blacko has broken many records and won many awards.
READ ALSO: Kofi Peprah's Strong Case For Gospel Musicians Charging For Their Service