Chidinma Ojukwu, who is the prime suspect in the murder of Super TV boss, Uwaifo Ataga, has pleaded not guilty to the murder charge filed against her by the Lagos state government.
She pleaded not guilty when she appeared before Justice Yetunde Adesanya of the Lagos state high court sitting in Tafawa Balewa Square on Lagos Island on Tuesday, October 12.
Chidinma and one Adedapo Quadri, who are the key suspects in the murder case, pleaded not guilty to nine count charges bordering on the offenses of murder, forgery, and stealing.
They are currently being arraigned alongside Chidinma's sister, Egbuchu Chioma from whom the late Ataga's iPhone 7, was said to have been recovered.
The murder case was formerly handled by a lower court presided over by Chief Magistrate Adeola Adedayo until a legal advice from the DPP demanded that the case should be handed over to the High Court.
Also, based on the legal advice issued by DPP Director, Mrs. Olayinka Adeyemi, 11 suspects have been cleared of complicity in the murder of the Super TV boss while Chidinma and the two others were to be tried in the High court.
The DPP's statement read in part, "After careful consideration of facts available in the case, this office is of the firm view that a prima facie case of conspiring to murder, murder, conspiracy to commit felony to wit; forgery, forgery and making documents without authority contrary to sections 233, 222, 411, 363 and 370 respectively of the Criminal Law of Lagos State, exists against Ojukwu Chindinma Adaora and Adedapo Quadri".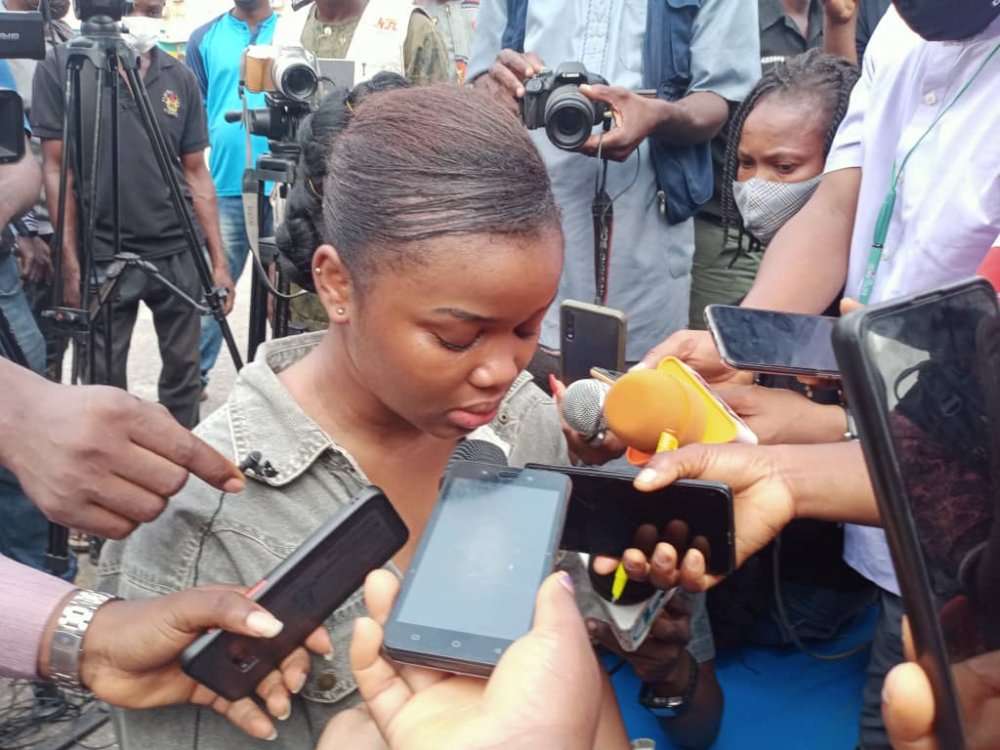 9-Count offenses
The 9-count charges dated the 31st of August were filed by the Lagos State Director of Public Prosecution (DPP), Mrs. Olayinka Adeyemi.
In count one, Chidinma and Adedapo were charged with conspiring to murder Usifo Ataga contrary to Section 233 of the Criminal Laws of Lagos 2015.
In count two, Chidinma and Adedapo were charged with the murder of Usifo Ataga, an offense said to have been committed by stabbing him several times in the neck and chest with a knife.
In counts 3, 4, 5, 6, and 7, Chidinma and Adedapo were charged with conspiracy to commit forgery, forgery, and making documents without authority. They were specifically alleged to have procured false Access and UBA bank account statements of Usifo Ataga. They also allegedly forged an international passport and a driver's license In Chidinma's name.
In count eight, Chidinma was charged alone with stealing of two iPhones, an iPhone 7 and an iPhone 11, one Apple MacBook Laptop, and ATM cards of Access and GT Banks belonging to the late Usifo Ataga from which the sum of 380,000 Niara was subsequently withdrawn.
In count nine, Chidinma's sister, Chioma Egbuchu was charged with being in possession of the stolen property, the iPhone 7 belonging to the late Usifo Ataga.
The 21-year-old Mass Communication student of the University of Lagos was arrested on June 23 after Ataga who she claimed was her boyfriend, was found dead at a Service apartment in the Lekki area of Lagos State with multiple wounds on June 16.
Read also: Gov't to borrow over GH¢1.0 billion via fresh bonds in Q4 2021