The Trinity International University of Ambassadors (TIUA) has confirmed Dr. Sonnie Badu's alleged "fake" educational qualifications.
The statement by the TIUA comes on the back of the backlash Sonnie Badu received;after he claim that he has been awarded three degrees in a space of four months.
The University in a press release stated that since they are not affiliated with the U.S. Department of Education, they are allowed to award certificates to those who are in the Christian Service. Therefore, per the statement, the certificate earned by Dr. Sonnie Badu is in alignment with the State of Georgia religious exemption authority which allows;those in the Christian Service to obtain degrees from associates to doctoral degrees. The release further notes that "no student cannot obtain any degrees including a Ph.D. in four months".
 The school in the statement also explained that they don't issue out;"earned degrees" to students within four months as every degree earned is obtained;through hard work and the prescribed time given by the University.
"TIUA makes no claims, implied or otherwise, that our educational;programs, courses, or curricular are the same as offered by secular state colleges and universities. TIUA is not affiliated with the U.S Department of Education. Credits and Degrees earned at TIUA are for those in Christian service.
"Therefore, any degree that has been earned by our students (including Sonnie Badu), is;in alignment with the State of Georgia religious exemption authority to receive degrees from associate to doctoral degrees. Our institution prides itself in the quality of education tailored for each of our students i.e. including;their extensive body of work in ministry. Therefore, no student cannot obtain any major degrees including a Ph.D. in four months. TIUA did not issue any earned degrees to a student in four months. Every earned degree acquired, must be obtained through hard work and with the time prescribed by the university."
See Below the full statement: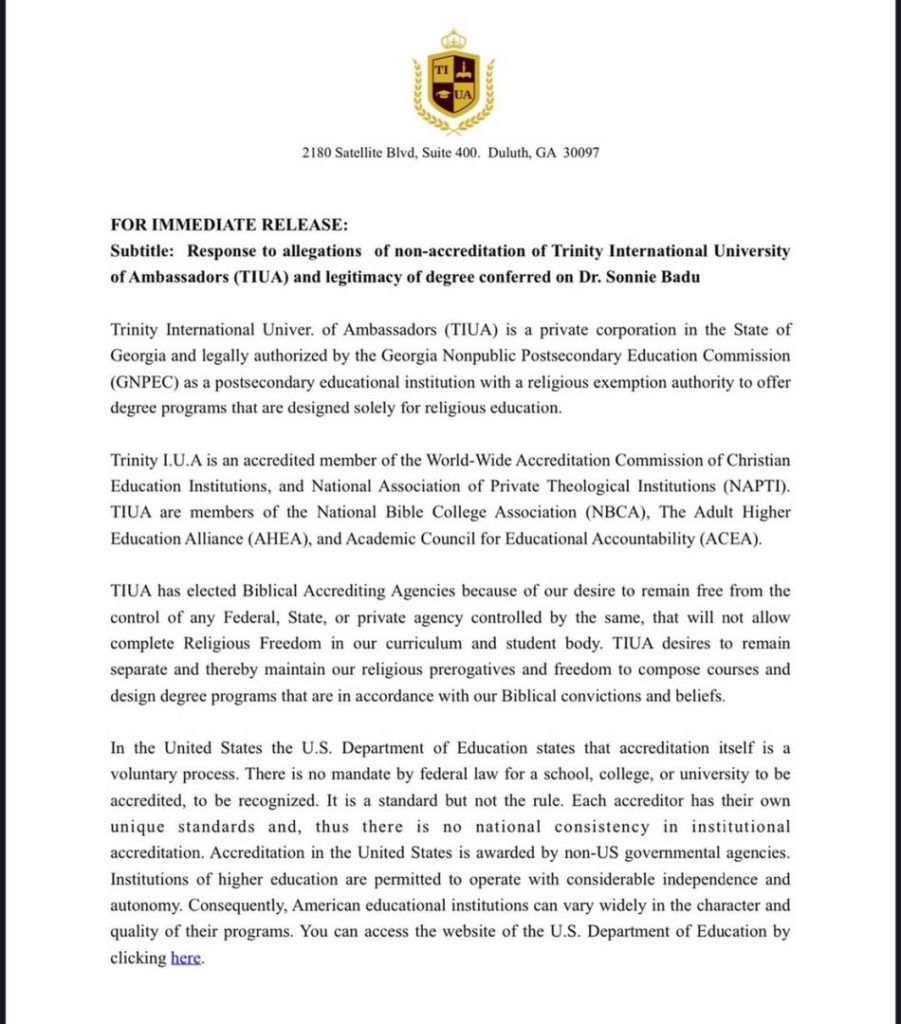 Sonnie Badu and netizens reacts
Sonnie Badu who also posted the statement on his Instagram page to prove his authenticity seems very glad about it. He wrote: "God bless you all… be blessed… please do not skip a sentence… I love you and appreciate you all…"

Several netizens who sight his post have react to it. Most of them were glad that the gospel artist can finally have peace . Some even backlash Ghanaian blogger and;entertainer Kwadwo Sheldon and media personality Bridget Otoo that they get their facts right before they ridicule others. However, some few still not satisfied with the development. In their opinion, the school is just like "any other Bible school scattered across Ghana". Therefore, Sonnie Badu has no right to be using the titles Doctor, Dean, or a Professor. Some reactions to his post read: