Ghanaian hip-hop rapper and musician, Kwame Dame has disclosed that the reason why most artists terminate their contracts with management before the deal is due is because of the failure of the management to fulfill the terms of the contract.
Speaking with The Vaultz Media (TVM), he emphasized that it is the dream of every artist to progress in their music career. Therefore, they [artists], can't afford to have anything blocking them from achieving their goals, and that sometimes ends on a sour note with their management.
"Well, it is about communication. Both artists and managers sometimes misunderstand each other. Artists want to move, we want to progress and we want our managers to make resources that will progress us available. But, some managers or record labels are not able to provide these things and that brings about the conflict or misunderstanding between artists and managers and at the end, they just break off".

Kwame Dame
Having experienced such an ordeal, Kwame Dame told TVM that he couldn't sit and allow himself to be tied down by management that will not align with his vision, and so, he had to cut off several people who served as managers in his music career.
"It's been a long journey for me and I have worked with a lot of people. Once upon a time, I was working with some people as my mangers. It was a management deal and they didn't fulfill their promises in the contract. So, we ended up breaking up because I can't allow myself to be tied down.  It hasn't been the first time. There have been others too, whom due to miscommunication and not doing their work, I had to stop working with".

Kwame Dame
Kwame Dame who also doubles as an art painter and a photographer revealed that his music is mostly based on the life experiences of others and himself, to make his fans and audience able to easily relate to the song. He also mentioned that to show off his versatility in the music industry, he doesn't limit himself to only rapping, even though that is what he feels most comfortable doing.
Speaking on why he changed his name from Frequency to Kwame Dame he disclosed that several people were using that name and it didn't make him comfortable since it could have been already registered.
"When I wanted to drop my debut album, I wanted a name that everyone will know me for. So, I searched Frequency on google and I saw a lot of results. There are a lot of people with the same name. Not two or three or five, like a lot about 20 plus. I felt like someone had registered the name. So, if I had continued to use that name, I might be faced with legal issues later.  So to avoid doing so, I just have to use my name, Kwame Dame".

Kwame Dame
The 'State of the Nation Affairs' crooner posited that the challenges that musicians are faced with including the A-list artists alike are quite similar. Listing some of the challenges he said: "Every industry player sometimes gets blank. Like there is no inspiration. Another challenge is most times monetary issues". He, however, noted that "if you're in love with the art, it won't be a lot of problems. You will find your way around".
Speaking on his year in retrospect, Kwame Dame made a shocking revelation that in 2020 he got depressed to the extent that he nearly gave up on his dream as a musician. He accounted for his depression to one unfortunate situation that happened to him. According to him, he lost most of his music and that meant he had to start all over re-recording all his songs.
"2020 May, I was, I was really depressed. I was just there, I wasn't talking to anyone. And I didn't want to release music. I didn't even want to do music anymore. There was no energy anymore. I was trying to find it, but it wasn't there. But right now I am fine I have bounced back… I lost most of my records. So, I had to acquire everything. It was one of the reasons why I got depressed because I didn't see a reason to start again. I had so many songs and plans to execute".

Kwame Dame
Recounting the moments he was featured on Sarkodie's 'Biibiba', he said it was an exciting experience and further noted that it was great.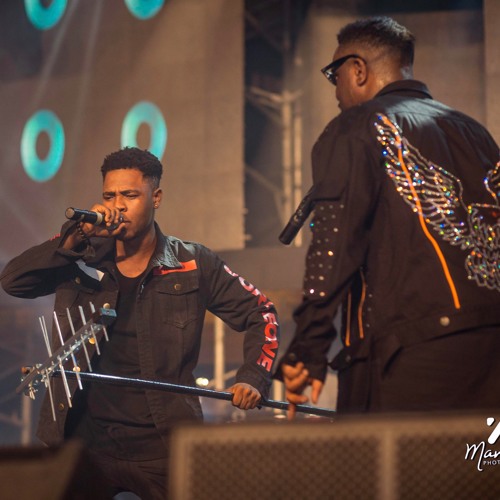 "Sarkodie is the reason I started rap music. So, it was nice, being on a song with him. It was a great feeling. He's like one of the artists that I see and get starstruck. I met him and I become dumbfounded. So yeah, it was great".

Kwame Dame
When asked if he deemed that feature as the pinnacle of his music career, he mentioned that it was only a stepping stone for him to reach greater heights, and assured his fans that there is still more to come.
Following E.L's advice when E.L asked Ghanaian artists to diversify, especially during the COVID-19 period, Kwame Dame revealed that he was into other businesses to help sustain himself, whiles putting structures in place so that the pandemic doesn't greatly affect him as it did the last year 2020.
"I am interested in the clothing market. I will start my clothing brand. I will be designing my clothes, not for just me but clothes to sell. I am also looking at going into the transport and food business. So, I'm definitely going to do this".

Kwame Dame
To sum up everything, he mentioned that he is currently working on some projects which will feature some A-list artists and therefore asked his fans and the general public to anticipate it. Kwame Dame also asserted that his last album he released, 'Hill Street', has several genres of music on it including afrobeat, grime, and highlife. He, therefore, urged everyone to listen to it as it is life-inspiring.