Ghanaian actor, Bill Asamoah, has averred that Ghana should have had its own streaming network already.
According to Bill Asamoah, one of the most daunting obstacles facing the movie industry at the moment is how industry players find it difficult to make their movies easily available to movie fanatics.
Although some existing distributing outlets may be willing to help promote Ghanaian movies, the actor strongly believes that these are foreign distributors, who movie producers will not be able to easily access; therefore, the need to have a movie streaming platform established in the country.
"One of the challenges that we are having now is how to get the final product to the consumer, which is by way of getting a particular streaming network. We cannot look at Netflix alone, we cannot look at YouTube and then we cannot look at some of the other networks that are well established. The reason is that it's outside. It's being controlled by somebody who you don't even have access to".

Bill Asamoah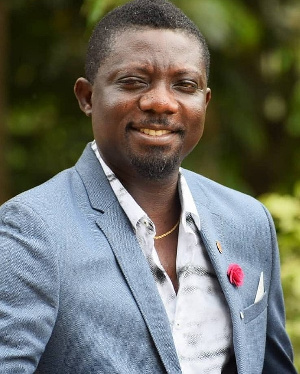 Bill Asamoah further claimed that YouTube is not a lucrative distribution outlet as many people make it seem, because of what he perceives to be a lack of transparency.
"You sit here and they will go like, go on YouTube; upload your movies and all that. Whatever that YouTube generates for you, whether you like that or not, you take it".

Bill Asamoah
According to the actor, it's about time the Ghana Tourism Authority (GTA) joined forces with the central government to provide such a platform.
"If we should have GTA coming to support us, in collaboration with the government and they get us one particular network that we can wholly own as Ghanaian, that we have access to and the head-office is here in Ghana, you go there, whatever you need, you talk to them. I think that is where we should be by now".

Bill Asamoah
Bill Asamoah's comments came after movie director and producer, Emmanuel Sarpong, revealed that his movie, 'Galamsey: Enemies Are Not God', was not accepted by Netflix.
Movie Producers Struggle to Get Movies on Popular Streaming Platforms
Well, Emmanuel Sarpong isn't the only producer to face this challenge. Filmmaker, Peter Sedufia, recently opened up on the challenges he and his colleagues go through to secure their movies on streaming platforms like Amazon and Netflix.
According to Peter, although filmmakers make quality content, having their films placed on streaming platforms is the sole discretion of the decision-makers at the companies.
In a post on Instagram, Mr. Sedufia shared a portion of an email he received from his distributor informing him about Amazon's decision not to put his film, 'Aloe Vera', on their platform even though they loved the film.
Per the information shared by Peter, the streaming platform's focus is on Nigeria, South Africa, and Kenya. The 'Away Bus' director disclosed that these business owners have their own priorities.
Mr. Sedufia, posting an image of the email wrote: "This is a private email from my distributor; it doesn't concern anyone. But, I'm selectively sharing this portion for the good of our industry, so we understand the hurdle our film industry has to cross. And also, to let the many Ghanaians who keep stressing and insulting us (Ghanaian filmmakers) for not getting our films on Netflix or Amazon.
"We make quality films in Ghana, as I keep saying, but to land on these platforms, is entirely the decisions of the owners. They are business people, they have priorities, and they have their strategies to ensure maximum revenue. They go where the money is".

Peter Sedufia
The 'Keteke' director stated that even though Netflix seemed to have broadened their acquisition of content across the continent, their format is no different from Amazon's.
This, he noted, influences Ghanaian producers and filmmakers to cast Nigerian actors and use a Nigerian distributor who'll market their films as Nollywood films.
Read also: UTAG Resolves To Indefinitely Suspend Strike Action