Hyundai, a South Korean multinational automotive manufacturer headquartered in Seoul, South Korea, has fully unveiled the designs and engine details.
Hyundai initially unveiled the second-generation Kona at the end of last year by sharing a few images without going into too much detail. Thankfully, an extended photo gallery is now available and comes along with additional technical specifications.
Hyundai fanatics can finally take a good look inside and out to discover how much the crossover has changed in a relatively short timeframe since the original model went on sale less than six years ago.
Bigger than its predecessor, the 2024 Kona has its wheelbase stretched by 60 millimeters (2.3 inches) to 2,660 mm (104.7 in). Its overall length has increased by 145 mm (5.7 in) to 4,350 mm (171.2 in) while its width is now at 1,825 mm (71.9 in).
When fitted with 17-inch tires, the subcompact crossover stands 1,580 mm (62.2 in) tall. These dimensions are for the ICE and hybrid models. That said, the EV's proportions should be quite similar since it'll use the same platform.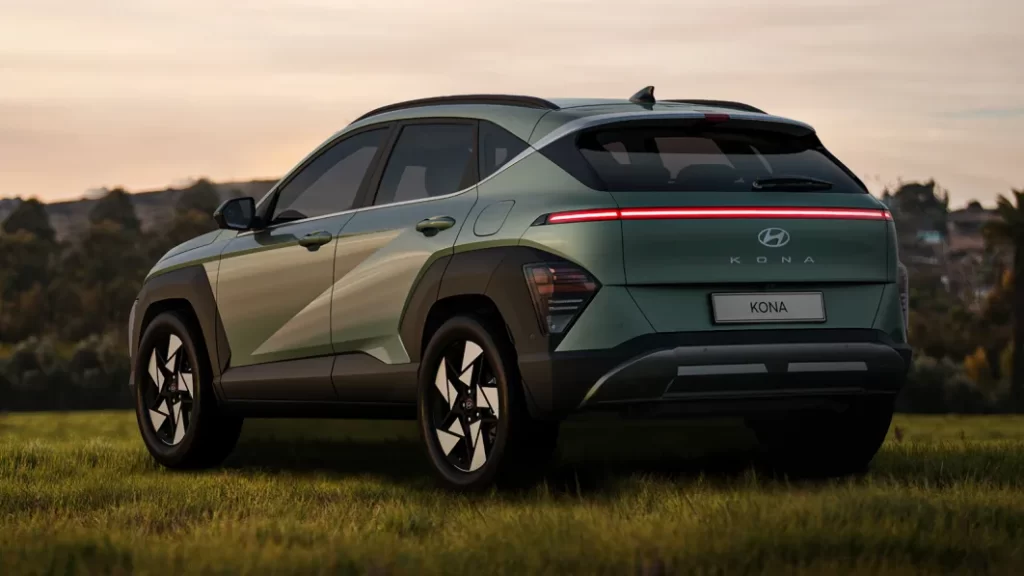 At home in South Korea, Hyundai intends to sell the new Kona with a naturally aspirated 2.0-liter gasoline engine making 147 horsepower and 180 Newton-meters (132 pound-feet) of torque delivered to the wheels via a CVT. Step up to the turbocharged 1.6-liter mill and you get 195 hp and 265 Nm (195 lb-ft) together with an eight-speed automatic.
As far as the hybrid is concerned, it uses a bespoke 1.6-liter unit that works together with an electric motor to provide impressive acceleration and high efficiency. Combined output has been rated at 139 hp and 265 Nm (195 lb-ft) sent to the road through a six-speed, dual-clutch automatic.
In terms of practicality, cargo volume with the rear seats folded is 723 liters (25.5 cubic feet) while the shift-by-wire gear selector has created a more spacious front compartment with enough space to store big bags.
Hyundai also touts best-in-class shoulder room for rear passengers and a programmable electric tailgate allowing owners to choose the opening height and even the speed at which it opens and closes.
While the Kona hybrid is a new addition, the powertrain doesn't seem to be. It's a naturally aspirated 1.6-liter four-cylinder paired with an electric motor and six-speed automatic. With 139 horsepower and 195 pound-feet of torque, it's pretty clearly the same unit as the Hyundai Elantra hybrid and the Kia Niro hybrid.
One Kona variant is still lacking details, and that's the Kona Electric. Hyundai said it will have more information on that in March 2023. Odds are, it will continue to use the same 201-horsepower front-mounted electric motor as the current model, which is also in the Kia Niro. It could get a bit more battery capacity like the Niro, too.
READ ALSO: World Bank Projects Agricultural Prices To Decline By 5% In 2023, Urge International Community To Support LIC's Affected By Food Insecurity