Comfort Doyoe Ghansah, Member of Parliament for Ada, has appealed to government to investigate and arrest unidentified persons who invaded Radio Ada on Thursday, January 13, 2022, attacking its staff.
Expressing her dismay over the occurrence, she condemned the acts carried out by the attackers, requesting government to prioritise the lives of journalists in the country. The attack led to the brutal beatings of persons in the radio station leading to their hospitalization.
"I am not a happy person at all. That is the only radio station we have in the community. What is happening to journalists under this Nana Akufo-Addo administration? He is a human rights lawyer, but it is under his watch that journalists are suffering. None of them is safe now. We are calling on the President to provide security to them. What crime have they committed? Look at how they beat the receptionist. It is not the best at all for the country. Now people are living in fear in Ada. Our safety and security are non-negotiable. We are begging this government to investigate to know the perpetrators and bring them to book".

Comfort Doyoe Ghansah
Following the attack, management of Radio Ada 93.3 FM has indicated that the radio station will be shut down for a few days, starting today, Friday, January 14, to enable it review and repair the damages caused. Management revealed it has reported the incident to the Big Ada Police command for further investigation to be carried out.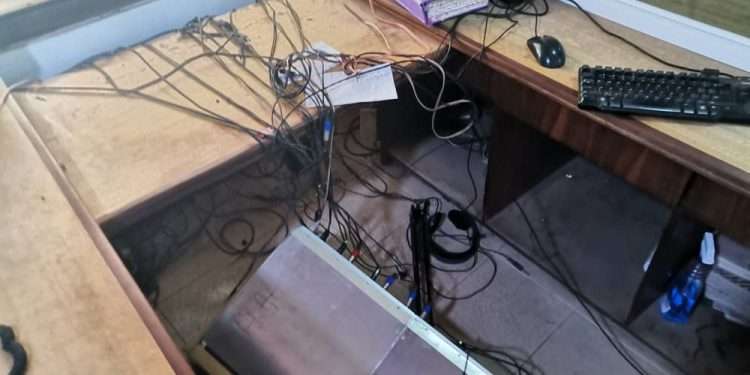 Management of the radio station in a press statement intimated that the attackers, one of whom was armed with a pistol, invaded the on-air studio by forcibly destroying its door. It revealed that the attackers beat up the presenter and vandalised the on-air studio equipment, leading to the current temporary shut-down of Radio Ada.
Attack on Radio Ada staff
Providing additional details, management of Radio Ada noted that two staff of the station were held hostage. It expressed that one of the attackers who had invaded the station revealed that the attack was due to a decision by the station to throw more light on recent development on the Songor Lagoon, hence further discussions will lead to more attacks.
"The attackers openly declared that they had come to vandalise the station because of its Manor Munyu and other programmes discussing the recent developments in Songor. They threatened to inflict further havoc should the station continue with programmes on Songor".

Radio Ada
Meanwhile, Electrochem Ghana Limited, the company contracted to mine salt in the Songor Lagoon, has detached itself from the attack on Radio Ada that occurred on Thursday.
Speaking on the issue, the Corporate Communications and Public Relations Manager of Electrochem Ghana Limited, Henking Adjase-Kodjo, emphasized that the company has no hand in the incident, describing attack on the radio station as unfortunate.
"It's news to me same as it is to you. I read it on social media a few minutes ago. Electrochem has no interest in this development. Actually, it is rather unfortunate. It is bad news to us but we have no direct or indirect link to the development".

Henking Adjase-Kodjo
READ ALSO: Ethiopia Accuses WHO Chief Tedros Of Interfering In The Country's Internal Affairs