Government's spokesperson on governance and security, Palgrave Boakye-Danquah, has advised that any statement which has the tendency to ignite a coup in the country must be prevented.
Speaking on recent concerns raised by some stakeholders on the possibility of a coup, he averred that such statements may arouse certain interest and also propel people to want to take advantage of the situation to act.
"I am of the opinion that whatever the indicators may be, it's almost always advisable to stay away from inputting such words in conversations. We are very well aware that Ghana has a history. And I am not too sure if in the midst of our history, we would want to be reminded, especially for things that are happening within the sub region and globally as it relates to coup."

Palgrave Boakye-Danquah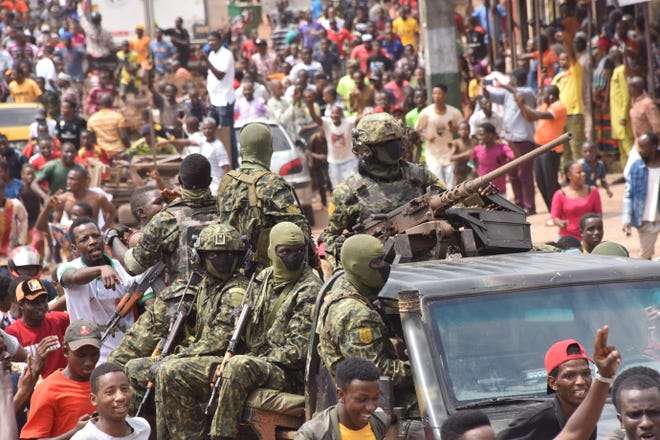 According to Mr. Boakye-Danquah, with the four attempts of Coup D'etat in the sub region of West Africa, citizens must be clearly aware that peace is not something that should be toiled with. He admonished citizens to ensure that there is stable peace in the country.
"I am very confident that as we handle the economy and move within the situations that have arisen, we as a country would manage our own affairs and with our reportage."

Palgrave Boakye-Danquah
Other indicators can ignite coup
According to Palgrave Boakye-Danquah, there are various indicators that can bring about a coup and not just economic conditions.
Touching on government's approach towards resolving the economic situation which has been linked to the purported possibility of a coup, he stated that steps are being taken to ensure there is a stable economy.
Mr. Boakye-Danquah noted that government in ensuring this, has cut down on its expenditure close to about 20 percent. He mentioned that government is also ensuring that it widens the tax bracket which is why there are conversations on the E-levy.
The government spokesperson explained that there's been conversations on the E-levy because, the wealth of transfer "on that platform is close to the tune of about GHS900 billion".
Palgrave Boakye-Danquah stated that having realized that these worth of money is going along a digital platform that government has put together, it is important that people that are doing business contribute significantly to widen the tax bracket and also ensure that they contribute to infrastructure, education and the unemployment rate.
Contributing to the conversation, Member of the NDC legal and communications team, Lawyer Godwin Edugyi Tamakloe, intimated that the recent concerns raised with regards to Coups are not "beating war drums".
Lawyer Tamakloe however, indicated that any conversation that can undermine the 1992 constitution, should be opposed.
"What I am not opposed to is an honest conversation about the things that have the tendency of undermine the constitution."

Godwin Edugyi Tamakloe
According to the legal practitioner, an honest conversation on the state of governance should be received well and the potential red flags completely looked at and where necessary resolved.
Read Also: Man marries identical triplets in Congo