Dr. Bossman Asare, Deputy Chairman of the Electoral Commission in charge of Corporate Services, has called on former President John Mahama to provide evidence to his claim of the Commission being involved in ballot stuffing during election 2020.
According to him, the former President's claim of the EC thumb printing one million ballot papers in favour of the President of the Republic "is untrue". This, Dr Bossman revealed, is a "grave matter" that undermines the credibility of the country's electoral process and should not be ignored.
Dr Bossman explained that the 2020 election has been hailed globally as "transparent and successful", as such, the Commission owe it a "duty" to Ghanaians to provide the "facts and truths" about the elections and allegations raised.
The Deputy Chairman of the EC noted that the Commission's silence on the "false allegations" could have dire consequences, as it could undermine citizen's confidence in the country.
Speaking at the headquarters of the Commission, Dr Bossman explained that the press conference is also aimed at providing an update on the 2020 elections.
"The transparency of our processes from the beginning to the end makes this impossible. Ballot stuffing cannot be done… We call on the former President in the interest of our democracy to provide evidence of the stuffing of the ballot boxes by the EC and its officials. The police should investigate this as a matter of urgency due to its potential to derail and undermine our democracy and lead to a lack of confidence in our systems and processes".

Dr. Bossman Asare
Transparency during elections
The transparency of the Commission's process, according to Dr Bossman, makes it impossible for the claim to occur. He disclosed that at the polling stations, prior to the start of voting, empty ballot boxes are opened and displayed for public view and sealed afterward.
Following this, Dr Bossman indicated that there are also serial numbers on the ballot papers for each region and constituency. This, he indicated, is made known to the agents and political parties before the elections.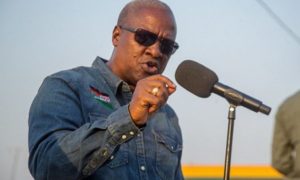 "Our ballot papers also have security features, so any trace of new material will be clearly visible. Again, at the end of the poll, the ballots cast are crosschecked against the voters who were verified and issued the ballot papers. This ensures that over-voting is detected immediately. Nationwide, we had no issue with over-voting at all the 38,622 polling stations, except in Savelugu in the parliamentary election where there was one…"

Dr. Bossman Asare
Also, Dr Bossman professed the falsehood of Mr Mahama's claim that the "military influenced the declaration" announcement of election results. He explained that the media and observers also picked their results from the collation centres and the results were no different from the ones declared.
"Nowhere did the military influence the declaration and announcement of results. It is not true. The 2020 processes were widely participatory… The results declared and announced at the polling stations and collation centres were a true reflection of the will of the Ghanaian people".

Dr. Bossman Asare
Read Also: Sudan's PM Arrested, Military Leader Declares a State of Emergency