The Finance Minister, Ken Ofori-Atta has urged Ghanaians to expect to "see significant investment in infrastructure, especially affordable housing" in 2021. Mr Ofori-Atta made this claim when presenting the '2021 Expenditure in Advance of Appropriation' to parliament for approval.
He posited that the National Housing and Mortgage Finance Scheme (NHMFS) will "provide mortgages to our working class and middle class citizens" which will among other measures "facilitate credit and investment to the private sector" in the new strengthened financial ecosystem.
Mr Ofori-Atta added that "these interventions will create more jobs and enhance artisanal skills."
The Finance Minister further mentioned the commissioning of "204 new houses at Tema Community 22," largely constructed and supervised by local contractors and consultants under the National Mortgage and Housing Fund Scheme (NMHFS).
He said the "project was completed in nine-months, amidst COVID-19 pandemic, and created over 1,500 jobs."
"We will replicate this housing model across the country and alongside the agenda 111 district hospitals programme," he added.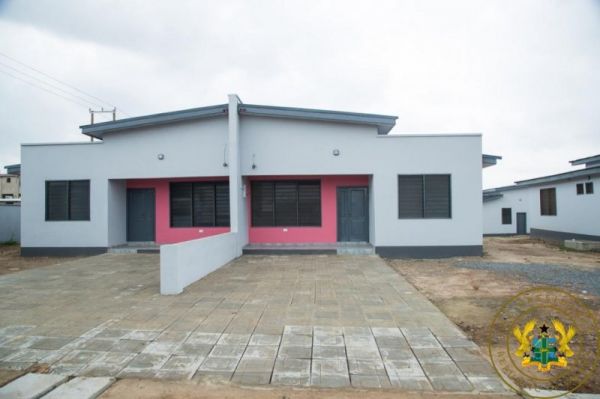 The Government had approved the establishment of a National Housing and Mortgage Finance Scheme in the 2018 Budget and Economic Policy to provide extensive construction of residential housing across the country to promote social equity and stimulate the economy.
In this regard, the Ministry of Finance designed a Scheme and set up the National Housing and Mortgage Finance Fund to address "the two (2) main constraints to home ownership by Ghanaians — access to mortgages to buy homes by low to middle income earners and high cost of financing for the construction of residential homes; and to ensure sustainability in the opportunity to own homes by large segment of Ghanaians."
The Scheme will also facilitate cheaper local currency mortgage loans to workers and construction finance to real estate developers and encourage the building of communities across the country.
The presentation by the Finance Minister is meant to seek the approval of parliament in the withdrawal of the sum of Twenty-Seven Billion, Four Hundred and Thirty-Four Million, One Hundred and Eighty Thousand, Five Hundred and Twenty Ghana Cedis (GH¢27,434,180,520) from the Consolidated Fund for the purpose of meeting expenditure necessary to carry on the services of Government.
It comes a few days after claims – already been debunked by The International Monetary Fund (IMF) – that Ghana has been categorized back under HIPC. Mr Ofori-Atta acknowledged those claims stating that "HIPC is behind us."
"Ironically, those who mismanage the economy for us to come and fix it are the one's wishing Ghana ill. My message to them is this; there is no turning back. HIPC is behind us. Economic mismanagement is behind us," he said
He added that, "The economy is stronger today than it was 4 years ago, and will continue to grow stronger and stronger…"