Gareth Bale, one of the most accomplished and talented footballers of his generation, has announced his retirement from football at the age of 33.
This decision brings an end to a career that has seen Bale achieve incredible success at both club and international level, and leave behind a legacy that will be remembered for years to come.
Bale began his professional career with Southampton, where he made a name for himself as a precocious young talent with incredible pace and skill. He quickly caught the attention of top clubs, and in 2007 he earned a transfer to Tottenham Hotspur. It was at Tottenham where Bale truly began to flourish, and he quickly established himself as one of the most exciting young prospects in the game.
Bales' performances for the club earned him a place in the PFA Team of the Year in 2011 and 2013, as well as a host of individual awards, including the PFA Players' Player of the Year and the FWA Footballer of the Year in 2013.
It was in 2013 that Bale earned a then-world record transfer to Real Madrid, where he went on to win four Champions League titles and scored over 100 goals for the club. He was a key player for the team during his time at the Santiago Bernabéu, and his performances earned him the admiration of fans and teammates alike. He was also a crucial player for the Welsh national team, where he helped guide the team to the semi-final of Euro 2016.
Despite the incredible success that he achieved during his time at Real Madrid, Bale's later years at the club were marred by injuries and lack of game time, leading to his loan move back to Tottenham on a season long loan. He had difficulty in finding his form and game time, further hampered by injuries.
Throughout his career, Bale was known for his incredible pace, skill, and ability to score spectacular goals. He had a unique ability to run past defenders with ease and was always a threat to the opposition when he had the ball at his feet. He was also a versatile player, able to play on either wing or as a central forward, giving managers the flexibility to utilise him in different positions.
Gareth Bale was also known for his stamina, allowing him to play at a high level for the full 90 minutes of a match.
One of the defining moments of Bale's career came in the 2018 Champions League final, where he scored an incredible overhead kick to give Real Madrid the lead against Liverpool.
The goal was widely considered to be one of the greatest goals in the history of the competition, and it was a fitting culmination of Bale's incredible performances throughout the tournament.
Charity Work
Off the field, Bale has also been known for his charitable work. He has supported several children's hospitals in Wales and his charitable efforts have been recognised with various awards.
As Bale hangs up his boots for the final time, football fans around the world will no doubt look back on his career with fondness and admiration.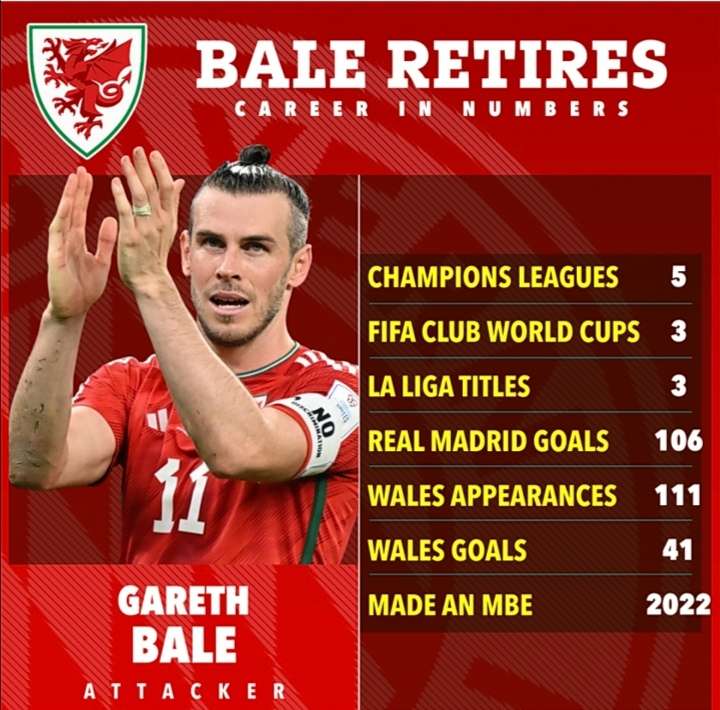 Despite the disappointment of not being able to see him play again, his legacy will live on through the countless moments of brilliance he provided during his career.
The player will always be remembered as one of the greatest Welsh footballers of all time, and his achievements at both club and international level will be looked back on as some of the greatest in the sport. He leaves behind a great impact on both Welsh and footballing world.
It is never easy to say goodbye to a player of Bale's caliber and the football world will miss him and the excitement he brought to the game. But his impact on the sport will be felt for years to come and the memories of his moments of brilliance will live on forever.
READ ALSO: President Has Justified The Appropriateness Of His Nickname 'Clearing Agent' With Exoneration of Akonta Mining- Mahama