Security Analyst, Brigadier General Ben Kusi, has called on government to deal with the current economic situation of the country and not comments which suggest that the economic conditions are right for a coup.
According to Ben Kusi, the nation wants to make progress and as such, efforts must be made in that regard for citizens to enjoy the democratic state they live in.
"You are aware that there are hardships so there is a way to talk to the people to bear the hardships. Don't just go to town attacking people because they have said something contrary to what you expect. Nobody wants a coup in this country"

Ben Kusi
The Brigadier General requested the various leaders and stakeholders to refrain from knee jerk reaction when comments are passed suggesting conditions are right for a coup. He explained that it doesn't necessarily mean a coup is being called for.
Ben Kusi urged the citizens not to pretend things are okay but rather requested the economic situation the nation finds itself is looked at objectively.
"Are the conditions there? But should that necessarily bring a coup?"

Ben Kusi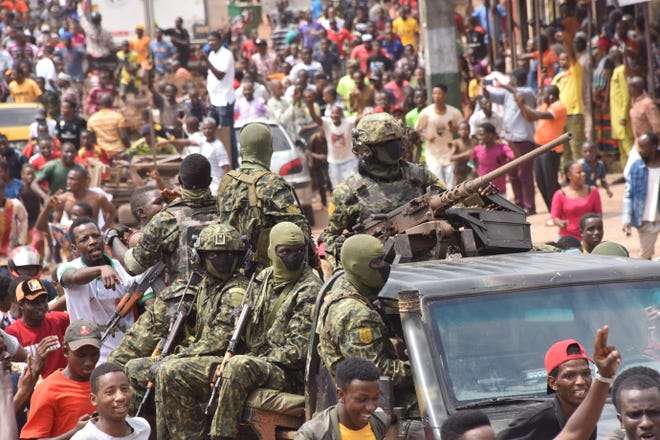 The Security Analyst intimated that since the democratic path has been chosen for the nation, authorities should be made to bring a solution to the problem urging it to be done collectively.
"Trying to bark at people for saying that the conditions are right for Coup D'etat will not solve the problem. There are conditions that bring about these coup and are those conditions here in Ghana? Yes of course!"

Ben Kusi
Take the bull by the horn
According to Ben Kusi, once the economy has a problem, people become jittery because they feel it and will normally react to it. He urged stakeholders to "take the bull by the horn and see what we can do to face the condition".
"They are making it look like, we know what is there but don't talk about it because people might be inspired to go and do it. But that is not the case. The conditions are there, so what measures can we take so that at the end of the day, they know that there are hardships but it will not inspire anybody to go and do a coup."

Ben Kusi
Ben Kusi averred that some utterances can tone down the tension in the country and as such, tension must not be toned down with tension. He indicated that if communication on the current economic situation is done properly, people will sympathize with government.
"So, if these conditions are there, what can we do to make sure that our people go along with us? It's not our fault these things are happening and as a nation we should work together and ensure that we find solutions to the problem."

Ben Kusi
Ben Kusi further indicated that fuel prices are going up and it's having a spiraling effect on other prices especially transport fares. This, he indicated, shows the people are in a dire situation.
Read Also: CHRI Calls For Decriminalization Of Petty Offences