Ranking member on the Education Committee of Parliament, Peter Nortsu Kotoe, has accused the Education Minister, Dr. Yaw Osei Adutwum, of peddling falsehood by telling Parliament that the current government has not abandoned any classroom block started by erstwhile Mahama administration.
Peter Nortsu Kotoe, on a tour of some stalled educational facilities noticed the current government has only completed classroom blocks that were funded by the World Bank and not those of the previous government.
He stated that the Mahama administration started construction of some 200 E-block day schools before the NDC left office in 2016 and indicated that, if government wanted citizens to have quality of education or have access to education, these projects must have been completed so students in these areas could have access to secondary education.
"Some were sponsored by the World Bank so that one they have no choice because it was an international funding, so they were forced to complete them. But those that were on Government of Ghana are those that have been left abandoned".

Peter Nortsu Kotoe
· Ghana Education Service to recruit 40,000 teachers and non-teaching staff this year
To that end, he said the Minister would be called before the house again when the house resumes to answer some questions. He indicated that the Deputy Ranking members of the education committee have initiated that move and he is sure when Parliament resumes on Tuesday, October 26, 2021, it is going to be part of the issues that it will handle as far as education is concerned.
Regarding Dr Adutwum's comments, Mr. Kotoe stated that he can fault him because five years down the lane, nothing has been done.
"If he says the projects had not been abandoned, why do we see this one here? It is only the first floor and that is how it has been for five years now. So, he is not being truthful to Ghanaians".

Peter Nortsu Kotoe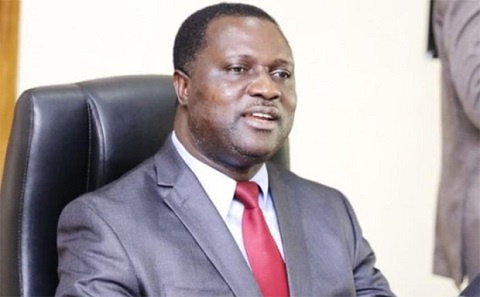 Dr. Adutwum on government education project
Dr Yaw Adutwum, had denied claims by former President John Dramani Mahama that government had abandoned the education projects he initiated. According to him, the Ministry had completed about 25 of the E-blocks since the Akufo-Addo administration came into office. He therefore accused Mr. Mahama of playing mischief.
Addressing a news conference, Dr Adutwum said the Akufo-Addo-led government single-handedly completed 14 of those projects while 11 were sponsored by the World Bank through the Secondary Education Improvement Project (SEIP).
He said it appeared former President Mahama has been ill-briefed on the matter and the Ministry wanted to clarify some things.
"Education and training as we all know plays a major role in employment. Knowing the skills needs of industry is very critical to the growth and development of the various sectors of the economy and the levels of capacities at which they can operate".

Dr Yaw Adutwum