President Nana Addo Danquah Akufo-Addo has today, Tuesday, October 17 2023 commissioned Phase 2 of the Sinotruk Assembly Plant at Golf City in Tema and cut sod for Phase 3 of the plant.
In an X formerly Twitter post, the Legal Counsel to the President, Kow Essuman Esq. indicated that the commission of the project by the President affirmed the compelling narrative of growth and transformation in the heart of Ghana's burgeoning industrial landscape that has been unfolding, which needs to be told.
According to him, this narrative has been shaped by the astute utilisation of strategic interventions such as the 1-District-1-Factory initiative, with Sinotruk, a leading name in the domain of heavy-duty trucks, standing as a prime exemplar of such a remarkable voyage.
He further noted that Sinotruk's inception in Ghana is marked by a pivotal investment in Kpone-Katamanso, a foundation that has underpinned its momentous transformation. Such transformation according to him has seen the organization evolve from its initial role as a mere importer and distributor of trucks to the establishment of a state-of-the-art assembly plant.
According to the Legal Counsel to President Akufo-Addo, Sinotruck strategic pivot has become the cornerstone of the company's forward trajectory, enhancing its annual production capacity exponentially.
"Specifically, the company's production capabilities escalated from a modest 850 trucks to a commendable 3,000 units per annum. This expanded range encompassed an impressive array of heavy-duty and light-duty trucks, tipper trucks, wheel loaders, backhoes, trailers, semi-trailers, oil tankers, and an assortment of light-duty vehicles, all meticulously assembled to conform to stringent international standards of quality and safety".

Kow Essuman
Again, Mr. Essuman indicated that in addition to the notable rise in production capacity, the strategic move by Sinotruck has precipitated a notable surge in employment opportunities.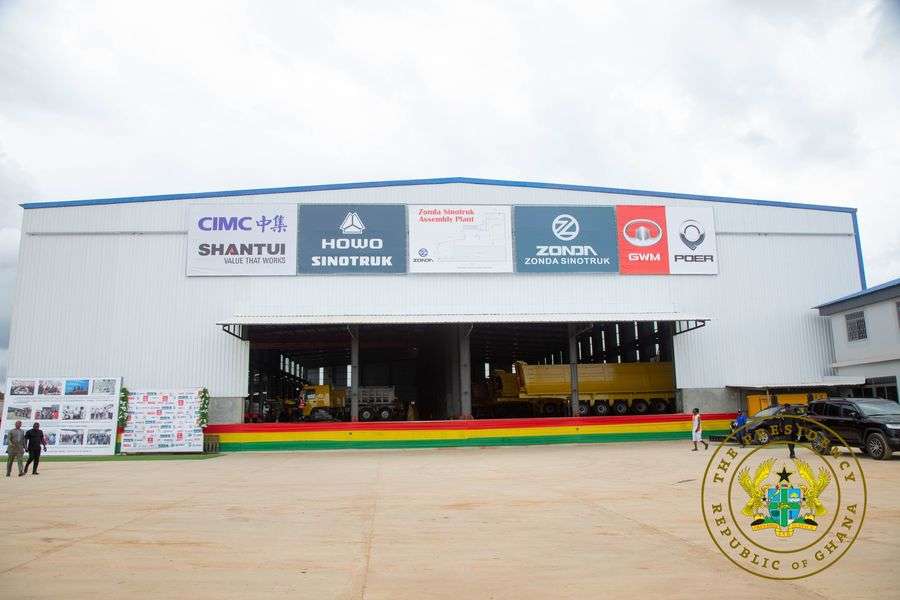 "The workforce at Sinotruk effectively doubled, elevating the number of direct employees from 356 to a substantial 700, while concurrently generating an additional 1,000 indirect employment opportunities.

Kow Essuman
Furthermore, Mr Essuman also highlighted that beyond the assembly of vehicles, the company has established a cutting-edge training centre within its premises. This specialized facility is designed to impart essential skills and knowledge to artisans, thereby augmenting their proficiency in the intricate processes of assembly, repair, and maintenance and ultimately emphasising skills development which exemplifies Sinotruk's commitment to the enhancement of local expertise.
President Akufo-Addo Commits To The Growth Of The Manufacturing Sector
Moreover, Mr. Kow Essuman asserted that the government, under the leadership of President Akufo-Addo, has demonstrated an acute awareness of the challenges that the manufacturing sector faces and has undertaken measures to restore macroeconomic stability, with the primary objective of catalysing sustained economic growth.
The fruits of these endeavours according to Mr. Kow Essuman extend not only to Sinotruk but also to the private sector in general, fostering a climate that significantly reduces the cost of conducting business in Ghana.
"The narrative takes on a more exhilarating dimension with the initiation of Phase Three of the Sinotruk Project. This phase is prominently centred on the establishment of a component manufacturing factory, a substantial undertaking situated at Golf City in Tema. Upon its completion, Sinotruk Ghana Limited will transcend to the status of a fully integrated automobile manufacturer in Ghana.

"This transformational milestone empowers the company to furnish its assembly lines with domestically manufactured components and parts, thereby affording a significant competitive edge. The culmination of this endeavour facilitates the scale of exports into the regional market, seamlessly aligned with the Rules of Origin provisions of the African Continental Free Trade Area (AfCFTA)".

Kow Essuman
Mr Essuman also underscored President Akufo-Addo's government's commitment to cultivating a resilient economy that is conducive to private sector investment.
According to him the government is firmly committed to crafting an enabling, predictable, and transparent business environment, an imperative that is central to propelling Ghana forward as an inclusive, sustainable, prosperous, and enduring democratic society.
"In closing, the journey of Sinotruk in Ghana epitomises the profound impact of strategic interventions, an unwavering commitment to excellence, and a government's resolute dedication to fostering economic growth. This remarkable tale of growth and transformation serves as a compelling testament to Ghana's ability to surmount challenges and pave the way for a brighter, more prosperous future".

Kow Essuman
READ ALSO: Democracy Forum Accuses President Akufo-Addo Of Delaying Intervention To Victims of Akosombo Dam Spillage