The ideology, "a woman's place is the kitchen" is gradually losing its essence in most societies. However, its footprints are still visible in the sand.
Women are plunged into an abyss of hopelessness just because of something they were born with – their sex. Consequently, dreams have been delayed, hopes aborted and future dimmed. It is said that some things are for men only. Opportunities, however, should not.
Equal opportunities are no longer needed; Equitable opportunities are required. With equal opportunities, each individual or group of people is given the same resources. However, equity identifies that each person has different circumstances, and the exact resources and opportunities needed to reach an equal outcome are allocated.
This year's International Women's Day was marked on March 8, 2023. The day, marked with holidays in some countries promoted advocacy for women and their rights. Some countries held seminars whiles women in other countries staged protests.
Women gathered in Pakistan's major cities to march amid tight security. Organizers said the demonstrations were aimed at seeking rights guaranteed by the constitution. In the Philippines, hundreds of protesters from various women's groups rallied in Manila for higher wages and decent jobs.
Just as the Akan proverb goes: "it takes more than one hand to cover the face of God"; There is more to be done even though steps are being made in the right direction to curb discrimination and rights abuse against women.
While a number of activists have noted advances, repression in countries such as Afghanistan and Iran, and the large numbers of women and girls who experience sexual assaults and domestic violence worldwide, depict the ongoing struggle to secure women's rights.
Afghanistan has been named the world's most repressive country for women by the UN. The Taliban rulers in the country have banned girls' education beyond sixth grade and women from public spaces such as parks and gyms. Women are also barred from working at national and international nongovernmental organizations
United Nations Secretary-General Antonio Guterres noted this week that women's rights were "abused, threatened and violated" around the world and gender equality will not be achieved for 300 years given the current pace of change.
Former AUC Chairperson, H.E Dr. Nkosazana Dlamini-Zuma, once said, "If we don't put women in history books, they get edited out of history. In light of this, mechanisms have to be put in place to quicken the pace of change.
Holding Onto The Helm Of Digitization
The UN marked this year's International Women's Day under the theme; DigitALL: Innovation and technology for gender equality.
37% of women do not use the internet. 259 million fewer women have access to the Internet than men, even though they account for nearly half the world's population.
The digital gender gap has an impact on economic and social inequalities. Protecting the rights of women and girls in digital spaces and addressing online and ICT-facilitated gender-based violence is of great essence.
If women are unable to access the Internet and do not feel safe online, it will be impossible for them to develop the necessary digital skills to engage in digital spaces, which diminishes their opportunities to pursue careers that require the use of technology.
Bringing women into technology results in more creative solutions and has greater potential for innovations that meet women's needs and promote gender equality.
Women and girls who are leading the advancement of technology and digital education are worth encouraging and celebrating.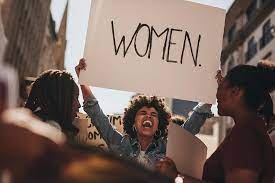 It is pertinent to note that strides are being made across the African continent to bolster equitable opportunities for women.
According to UN Women, almost all countries in Africa have ratified the Convention on the Elimination of All Forms of Discrimination against Women. More than half have ratified the African Union's Protocol on the Rights of Women in Africa. In 2019, The African Union launched a strategy on Gender Equality and Women's Empowerment.
Martha Koome, Kenya's Chief Justice, the first woman to serve in that capacity, has harnessed technology to end gender-based violence in the country.
A number of NGO's have helped to sponsor girl child education in Africa. CAMFED, a nongovernmental organization has supported children in Ghana, Tanzania, Malawi, Zambia and Zimbabwe.
According to Equality Now, non-governmental organization which advocates for the protection and promotion of the human rights of women and girls, 28 countries in Africa have enacted specific laws or specific legal provisions against female genital mutilation.
The Constitution of Ghana at article 26 (2) prohibits all customary practices, which dehumanize or are injurious to the physical and mental wellbeing of a person. Article 39 (2) states that government policy objective is to ensure that traditional practices which are injurious and harmful are abolished.
In 1994, amendment to the criminal code made Female Genital Mutilation a criminal offence. Article 69A imposes a sentence of not more than three years
In spite of these, African countries that currently have a woman as an elected head of state are few. This is very disheartening, given that there is plenty of data to prove that women are more effective leaders.
At the moment, only Ethiopia and Tanzania have female Presidents; Sahle-Work Zewde, President of Ethiopia and Samia Suluhu Hassan, President of Tanzania.
Nonetheless, it is better to see the cup as half full than half empty.
READ ALSO: International Women's Day Events Emphasize Gaps In Gender Equality