Nigeria, Africa's most populous country went to the polls on Saturday, February 25, 2023. Most people were keen on casting their ballot, come what may. The voters; old and first timers alike, were in queues, as early as 6am.
One could feel the vehement enthusiasm of young voters; a bride turned up to vote in her wedding dress and a woman who had been stabbed returned to vote with her patched face.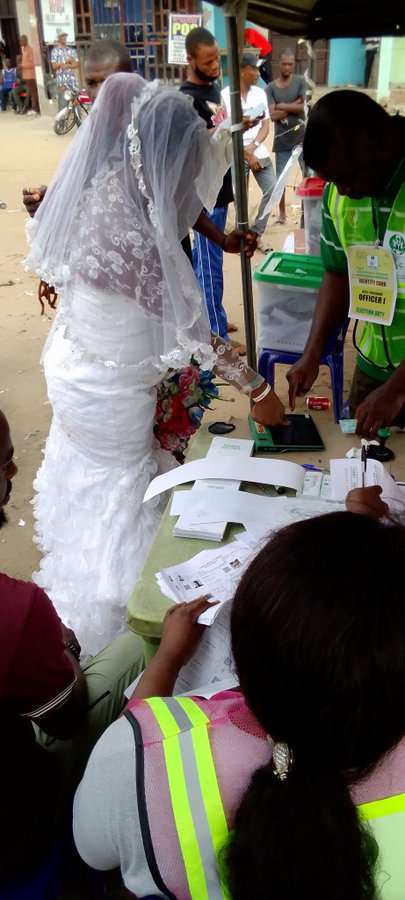 Even though voting commenced at most polling units as scheduled, a number of them were late and voting went into the evening. Security fears and logistical problems played a role in the delays.
Some voters complained to reporters that their polling stations were opened, two hours before voting was to end. Voting machines known as BVAS malfunctioned in some areas, with voters told to return later. Rivers state Governor, Nyesom Wike faced this predicament. He was able to cast his ballot later, after the issues were resolved.
At a press briefing, Chairman of the Independent National Electoral Commission(INEC), Mahmood Yakubu, apologized for the delays, but he claimed that everyone who was in a queue by 2:30pm would be allowed to vote, even though polling stations were officially supposed to close by then.
With this assurance, people stayed in queues, enduring the sun till it was their turn to vote.
Incidences of violence were reported.
The INEC Chief disclosed that armed men attacked some polling units in the southern state of Delta and the northern state of Katsina, where voter card verification machines were carted away. They were subsequently replaced and security boosted to allow voting to take place, he said.
There were also reports of violence and ballot boxes being snatched in Lagos, Nigeria's biggest city. In the north-eastern state of Borno, Yakubu said that militant Islamists had opened fire on electoral officers from a mountain top in the Gwoza area, injuring a number of officials.
Despite violence at a polling station in Lagos state, a woman who was stabbed later returned to vote with her patched up face to cheers from other voters. Security officials worked to ensure calm after the violent outbursts.
The youth in Nigeria have proved with their eagerness during the election that they are interested in choosing their leaders, thus, having a say in the democratic governance. The delays, technical hitches, violent attacks and even the rain did not deter them from casting their ballot.
Sadly, the youth in some countries have becomes apathetic, deciding not to vote at all. It is quite disheartening to see the future generations unconcerned about their country's leadership.
Technology Speeds Up Voting Procedure
The INEC has been commended for a good electoral process. Postponement of elections have consistently characterized Nigeria's political scene since 2011. However, this is the first time that elections took place as scheduled.
The introduction of the Bimodal Voter Accreditation System (BVAS) helped to smoothen the voting process, despite few technical hitches. BVAS is an electronic device designed to read Permanent Voter Cards (PVCs) and authenticate voters, using the voters' fingerprints in order to prove that they are eligible to vote at a particular polling unit.
It will be of immense benefit to elections, if electoral bodies across Africa adopted the effective use of technological devices to aid the electoral process.
Nonetheless, the ad-hoc staff of these electoral bodies must be trained to get them more acquainted with the workings of BVAS and other technological innovations employed during elections.
READ ALSO: North Korea Holds Rare Meeting On Farming Amid Food Shortage