A woman protesting for abortion rights in the US was filmed stripping naked during a service at a pro-life church (a church that is against abortion) to stand up for their right to choose.
The woman was seen standing on one of the pews with nothing but fake leaves covering her private parts as other fully clothed protesters with handprints on their breasts, stood by her side chanting: "Abortion is our policy".
The woman, who has been compared to 'Eve' from the Bible, was grabbed by both of her arms and forced to leave the premises as her other accomplice was also escorted out.
A video of the incident was shared on Instagram by @feminist, captioned: "Activists protested their right to an abortion during a Sunday Mass. The US Supreme Court is expected to make its decision on the Dobbs V Jackson Women's Health Center case. This decision will decide the fate of Roe V Wade in the US. Abortion is a human right, all people are entitled to free, safe, and legal reproductive health care".
The post has reached more than 150,000 people since it was posted but the comments were divided on the actions of the protesters.
One user wrote: "I am loving what I see. Honestly, churches need something spicier. it was like torture as a kid attending mass. In all seriousness, thank you to all these brave activists sharing an important message and taking the battle to their home when they always take it to ours".
Another added: "They love going to abortion clinics and making a scene. Oh, how the tables turn".
A third commented: "Part of me feels this is disrespectful but then again they bombard people with their message too!"
Another also said: "I'm pro-choice… but I can honestly say this isn't the way to get the message across or produce change. All this does is create more confusion and resistance".
America has been in turmoil over recent weeks after the leak of Supreme Court papers revealed that the justices were preparing to overturn the 1973 Roe v Wade, which liberalized US abortion rules.
Meanwhile, more protests are expected outside the court leading up to the decision, according to authorities.
This isn't the first-time activists have stripped fully or half-naked in a church. Recently, three pro-abortion protestors stripped down to their underwear to disrupt a service at a Texas megachurch on Sunday, June 5, 2022.
The activists from Texas Rise Up 4 Abortion Rights, wore white sports bras decorated with green hand prints under their clothes and made their way into multimillionaire celebrity Pastor, Joel Osteen's Pentecost service in protest against his remarks on abortion.
Osteen, who is conservatively estimated to have made $100million as a televangelist and author, takes a conservative line on most social issues, from the death penalty to same-sex marriage.
The celebrity Pastor, whose famous supporters include Kanye West, Mariah Carey, Kim Kardashian, and Oprah Winfrey, has made it very clear that he's opposed to abortion in almost all circumstances.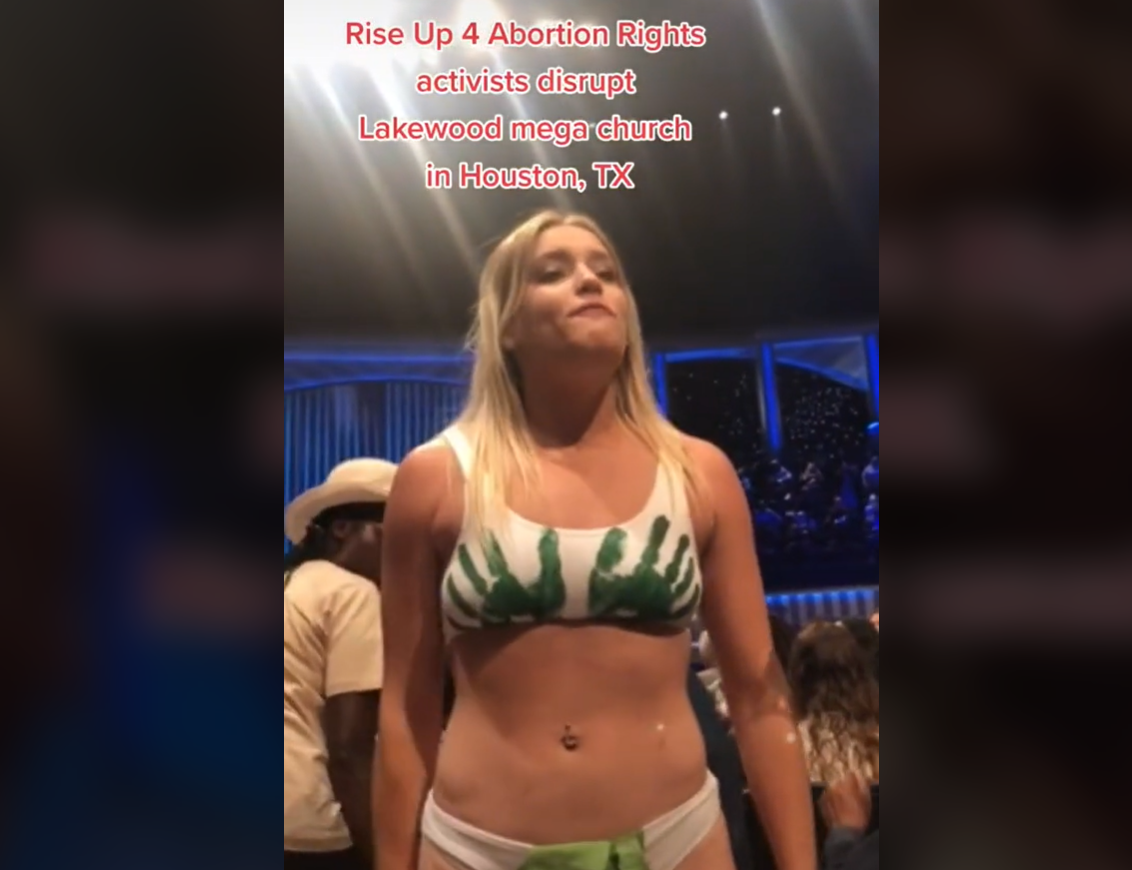 On that bizarre day, just as Osteen was finishing a prayer, and most of the congregation in Houston were sitting down, one woman stood and shouted "It's my body, my f***ing choice," before slipping out of her dress.
A second, and then a third woman joined her as they started chanting "Overturn Roe, Hell no" and also took off their outer clothing to reveal the customized sports bras.
The trio were hustled out of the 16,800-seat Lakewood Church by security guards, continuing to shout pro-choice slogans as they were ejected from the building.
Once they were outside, the three women were joined by more protestors. Some of them held up green-painted banners that read "Forced motherhood is female enslavement" and "Abortion on demand and without apology".
One of the activists, Julianne D'Eredita, told reporters afterward: "I know it seems very outrageous to do it in a church in a private space. However, the people that are enforcing these laws have no qualms coming up to women in private spaces such as doctors' offices and medical clinics to harass them and call them murderers.
"Joel Osteen has an international audience and silence is violence when it comes to things like these. We have a very unprecedented and very short amount of time to garner the attention that we need to get millions of people on the streets, millions of people doing actions like we were today".

Julianne D'Eredita
Footage of the interrupted service has been removed from the church's video channel and Osteen has not spoken publicly about the incident. Lakewood Church has also declined to respond to media requests.
Read also: Speaker Directs Defence And Interior Committee To Provide Report On Islamic SHS Incident