A Los Angeles couple has gone viral for spending just $500 on their wedding day, leaving netizens in shock at how they pulled it off.
Kiara and Joel Brokenbrough, from California, US tied the knot in an inexpensive ceremony in Los Angeles, where they cut costs by getting married in a public place with few guests and hosting their reception in a local hotel lounge.
Mrs. Brokenbrough even bought her wedding dress from a popular fast-fashion website, Shein, costing her just $47 and she has since received over one million views on TikTok for her frugal celebration.
Speaking to local media, the couple said: "Our goal was to just be as minimal as possible and to spend the least amount of money as possible".
On her wedding dress, Mrs. Brokenbrough said: "I didn't want to spend a lot of money on a dress because I had the mindset that I'm going to wear this [once] for a few hours".
The newly-weds also saved money by being gifted their wedding cake and flowers by friends and family and getting married on a public hilltop at sunset.
The couple noted that they had support from their friends and family throughout the planning process and wedding day.
"The people we had there, they understood the assignment, they understood the things that we were trying to do, and they really supported us," Mrs. Brokenbrough said. "You have a wedding, with witnesses there to witness you, vowing to your spouse, vowing to God that you guys are going to stay together for life. Then you celebrate with food, drinks, and dance, and that's exactly what we did".
The couple also disclosed that their wedding took just two months to plan and they have been applauded by TikTok users for their frugality.
One person said: "A wedding is just one day and people spend hundreds of thousands, for what? Congrats madam, you looked beautiful. I wish you both happiness".
Another commented: "This is everything! I'm not going broke to feed and entertain anyone I don't hear from on a regular [basis]".
Another added: "This is definitely possible! You don't need to spend 20k on a wedding! Congratulations, you looked stunning".
According to a wedding-planning website, Hitched, the average cost of a UK wedding is a whopping £17,300 with a wedding dress alone costing around £1,300.
Well, in Ghana, the average cost for a wedding cost about GH¢70,000.  However, would-be couples who will want their ceremony minimalist style, are expected to spend not less than GH¢30,000. From attire, decoration, and reception, which covers rental of the venue, food and drinks, accessories, make-up, photography, and videography. For those who are fans of lavish ceremonies, anything less than GH¢350,000 means that their dream ceremony will be a mirage.
Rough Cost Breakdown of Ghanaian Wedding
Research conducted indicates that while couples are spending huge sums of money for a beautiful wedding ceremony, others are also making money out of it. Event organizers and reception managers make huge sums from those who want a 'high-key' wedding and less from couples who want theirs low-key.
Information gathered also indicated that those who want the low-key wedding, the simple wedding, opt for simple decorations which cost not more than GH¢1500. Those who want modern flashy weddings opt for decorations on both their engagement and wedding, which cost not less than GH¢30,000.
Additionally, couples who want a low-key wedding just buy normal wedding gowns and suits. Some even rent those items for the ceremony at a relatively lower cost. Not much make-up is applied to the face of the bride. However, those who desire a lavish wedding spend over GH¢3,000 on wedding gowns and veils. Some even use the Kente cloth which costs nothing less than GH¢2,000. Also, the grooms spend huge sums of money on expensive suits.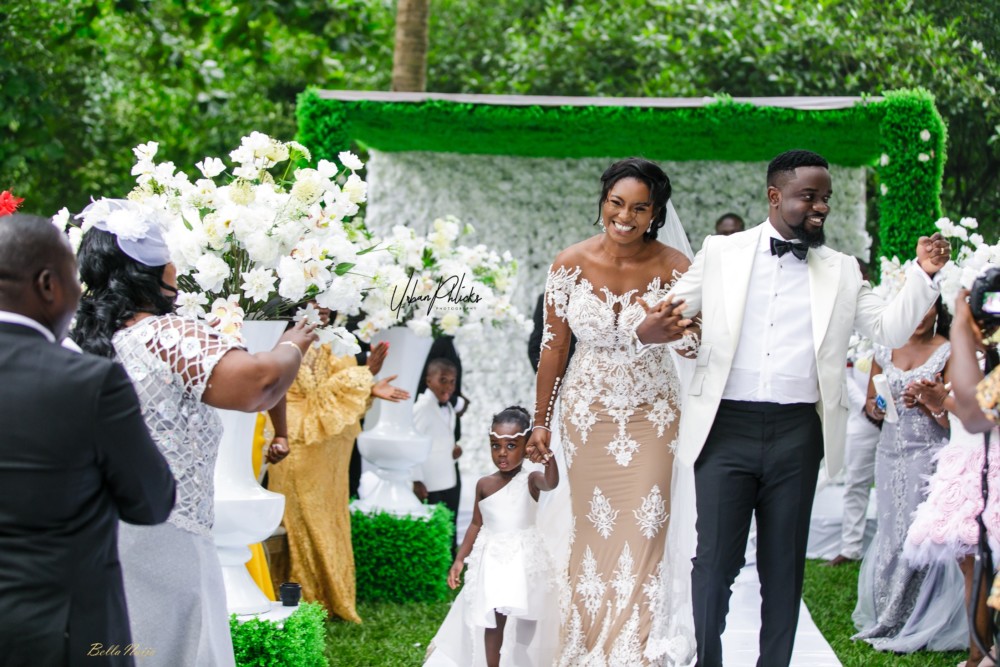 Would-be couples who are fans of lavish wedding ceremonies buy expensive accessories, including rings which could cost less than $3,000, for a set of three rings. An average of $1,000 is spent on wedding clutches and shoes, among others. Brides spend an amount ranging from GH¢3,000 on make-up while bridesmaids spend an amount ranging from GH¢300 to GH¢400 per person on make-up.
The modern marriage ceremony also sees couples who want to keep copies of their photographs spending much on pre-and-post event photo shoots normally termed exclusives. It is estimated that couples spend about GH¢5,000 on photos and videos which are taken at the event.
The new trend of wedding ceremonies has receptions where parties are thrown for family members and friends who show up at the ceremony.
There were no such receptions whatsoever after weddings some time back; the couple only refreshed both families of the bride and groom as well as a few other friends present, few photographs were taken and the ceremony was over.
Now, couples who desire beautiful and luxurious receptions spend on rentals of venues, food, drinks, and decorations. An estimated GH¢50,000 is the average expenditure for organizing receptions after wedding ceremonies in the country depending on the number of guests.
Read also: IGP Explains Why Husband of Osinachi Nwachukwu is Yet to be Arraigned in Court