In an apparent bid to counter campaigns supporting the LGBTQ+ community and same-sex relations, the term 'Fetrah', translated as Instinct in English, has recently gone viral as a trending hashtag on social media platforms in Morocco.
To exhibit their support for the campaign, social media users on social networks post a blue and pink colored flag, whose colors refer to the gender binary: male and female. The hashtag has gained ground in both the Middle East and in countries across North Africa, including Morocco.
'Fetrah' generated over 13,000 tweets in Morocco, making it one of the country's trendiest hashtags over the past few days.
The campaign was first launched by Egyptian youth and later gained momentum among other users
"There are only two genders. This is our reality," a Twitter user said, posting the hashtag and the blue and pink picture.
Another wrote that he "completely agrees and supports #Fetrah," while others have continued to encourage social network users to share the hashtag to earn more support for their anti-LGBTQ+ campaign.
Some Muslims following the trending campaign have even employed Islamic Law, known as Shari'ah, to justify the homophobic ideology, pointing to verses in the Quran to emphasize Islam's position against the LGBTQ+ community.
'Fetrah', the organization that launched the campaign, issued a communique, arguing that the goal of the initiative is to express "categorical rejection" against all campaigns and "malicious ideas that are promoted and that are contrary to human instinct".
In a bid to expand its campaign's reach, the organization has notably been commending people across the world for sharing the hashtag.
"Spread 'Fetrah' in your style and in the appropriate way with the hashtags #Fetrah and #fetrah_the_idea," the organization concluded but warned that it does not promote any forms of violence and abuse against any individual.
On Facebook, supporters of the movement are employing the blue and pink flag as the background for their Facebook profile pictures to further advance the campaign.
Morocco's penal code currently criminalizes premarital and extramarital relationships and sexual orientations that do not conform to Moroccan and Islamic values. Article 489 of the code punishes same-sex relations by imprisonment from six months to three years and a fine of up to $1,200.
Hassan Kettani, one of Morocco's most renowned Islamic scholars, supports the campaign. In a statement to Morocco World News, Kettani rejected homosexuality, emphasizing Islam's position.
"Parents have to be careful and protect their children against communication tools, which could contribute to having their daughters and sons influenced" by campaigns supporting and promoting the LGBT community," the scholar argued.
Kettani also expressed his opinion against allies of the LGBTQ+ members, arguing that whoever supports this community is doing something fundamentally "wrong and sinful."
Kettani is not the first public figure to criticize efforts seeking to normalize LGBTQ+ support in Morocco.
Counter campaign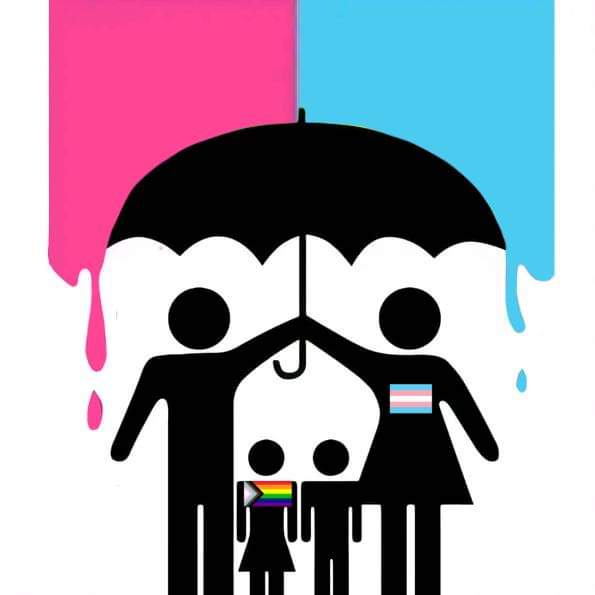 The Fetrah campaign has elicited a diverse range of opinions. While some have chosen to stand against the LGBTQ+ community, others believe their support is legitimate and necessary.
Several internet users have used the Fetrah hashtag to reject its ideology and voice their support for the LGBTQ+ community.
Describing Fetrah as a "dogmatic, homophobic and transphobic hate movement," Moroccan LGBTQ+ rights advocate Mariyem Gamar told Morocco World News that Fetrah is "trying to misinform the public by fear-mongering … and frame the LGBTQ+ movement as a criminal movement, as an immoral movement, as an unnatural movement, and all of this is wrong".
"Fetrah in its essence is not there to advocate for heterosexual rights, which already exist," said Gamar, arguing that the movement is in fact "there to oppress and to oppose the LGBT+ community and reinforce hate and beliefs that already exist in the majority of societies".
Gamar argued against Fetrah's premise that considers gender and sexual diversity to be unnatural, referring to the World Health Organization, which has disproven "their claims" alongside "medical and psychological professionals."
Commenting on the use of the binary pink and blue, Gamar said that Fetrah is not only spreading hate against LGBT+community, but it is also reinforcing gender roles and stereotypes even toward heterosexual women and men.
"The movement is trying to put us back in a box we are all trying to escape," Gamar added, arguing that "it is trying to make society one spectrum, one dimension, and it is refusing all other members of society who might have different beliefs or different interpretations of Islam".
Read also: Inflation Hits 29.8% In June 2022, Highest Since December 2003