The 2021 celebration of one of Ghana's major celebration, 'Beyond the Return', is fast approaching. Planning to embark on a trip such as 'Beyond the Return' can sometimes be overwhelming. This is because you might have a thousand and one items on your bucket list you would want to experience while in Ghana. However, a streamlined and a very feasible plan is what you need to enjoy all the splendor in Ghana. Before getting into the list of things you can do while in Ghana, first of all, what is 'Beyond the Return' all about.
Beyond the Return is a follow-up to the successful 'Year Of Return', Ghana 2019 campaign which commemorated the 400th Anniversary of the arrival of the first recorded enslaved Africans in Jamestown Virginia in 1619. The landmark campaign also celebrated the resilience of Africans over the past 400 years and welcomed all people of African origin to return to Africa, especially Ghana.
Now that you are privy to this information, here is a detailed list of things you can do while in Ghana celebrating 'Beyond the Return'.
Visit Cape Coast Castle
Start the heritage celebration right by visiting the Cape Coast castle. Now a UNESCO World Heritage site, Cape Coast Castle was one of around 30 "slave forts" built by Dutch, Portuguese and British traders along the country's coastline.
The huge white stone building offers knowledgeable guards who take visitors down to the bleak dungeons where slaves were once shackled, and the Door of no Return, the point they would have been crammed into ships heading for America.
It is worth mentioning that previous visitors include the Obamas, who visited during their first visit to Africa after the former US President was sworn into office. Michelle Obama's roots have been traced back to slaves taken from this castle.
Visitors can also head to Kakum National Park and swing across the rainforest on its 350-meter-long canopy walkway.
Check out the coastline
Ghana has a chunk of tropical coastline, over 335 miles (560 kilometers) of it, and along this coastline, many beautiful beaches with different sand and rock features hug the Atlantic Ocean. There are several beaches around however, one that is a must-go-to beach is the Labadi beach. Labadi beach is the most popular beach in Ghana, located in the capital Accra. It is well patronized by locals and foreigners for its night-time parties by bonfires. Enjoy horseback rides, delicious street food, and live band music without traveling out of town.
Discover local artisans and craftspeople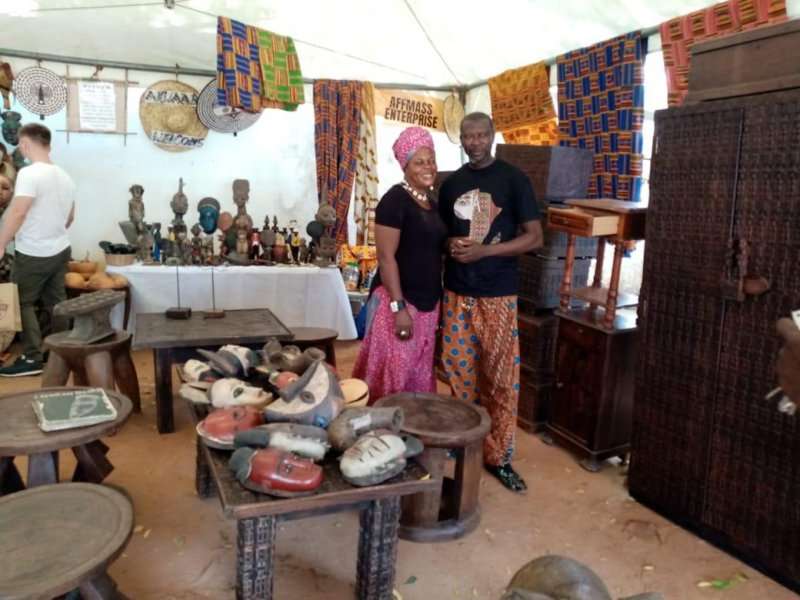 One of Ghana's national clothes, Kente, was once reserved for kings and queens, but it's now far more widespread. Traditionally associated with the Ashanti people, the interwoven material with abstract designs is often mass-produced, but folk weavers can be found all around the country. Adinkra, another traditional cloth, is decorated with symbols, each signifying a proverb or tradition. Kumasi, the capital city of the Ashanti Region, is the best place to buy traditional clothes.
Another place to find various and diversified arts men is Osu, Oxford street. There are several local kiosks in every little space on the street. These shops usually sell local artifacts and paraphernalia to exhibit the rich culture of Ghana. You can get some of these artifacts as souvenirs for your friends and family who couldn't make the 'Beyond the Return' trip.
Try out local foods
There's a lot to learn from a group of people by the way they put together their meals. As such, experiencing and experimenting with local traditional foods provides an education of the culture too. With the prominence of tropical produce like corn, beans, millet, plantains, and cassava, most ethnic groups creatively employ these foodstuffs to make mouth-watering dishes for their nourishment. Try out foods such as the popular jollof rice, waakye, beans and plantain, banku and tilapia, kenkey and pork chops, fufu and goat light soup, and many more.
Follow this simple plan and you will be assured to experience Ghana in every sphere and aspect.
Read also: Police Acted Unprofessionally in Attempt to Arrest Madina MP- Dr. Ateku