Ahmed Yahya, the head of the Mauritanian Football Federation, has announced his candidacy for the Confederation of African Football (CAF) presidential elections in March 2021.
"Committed to promoting African football, and after much thought and discussions, I have decided to present my candidacy for the Presidency of the Confederation of African Football," he tweeted.
He becomes the fourth candidate for the top job in African football.
Incumbent Ahmad Ahmad from Madagascar is running for another term while Jacques Anouma from the Ivory Coast and South African billionaire Patrice Motsepe is also in the race.
Yahya is considered to be close to Ahmad, who is seeking re-election despite having faced questions over financial irregularities, all of which he has denied.
A businessman in the fishing sector, and co-founder of local club FC Nouadhibou in 1999, Yahya was elected president of the Mauritanian federation in 2011 at the age of 35.
Mauritania qualified for the Africa Cup of Nations for the first time in 2019 but failed to advance beyond the group stage.
Yahya has served as a member of the CAF's Executive Committee since 2017.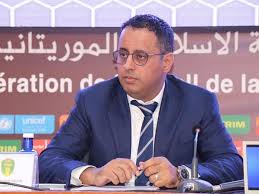 The CAF is scheduled to hold presidential elections in Morocco in March next year. CAF also released a timeline of events leading up to the elections. Interested individuals will be allowed to submit their candidature between September 11 and November 12.
On January 11, CAF is expected to communicate the names of the successful candidates to all the national associations ahead of the vote in March.
Ahmad, CAF's seventh president, was elected in March 2017 after defeating long-serving president Issa Hayatou, who had been in office for 29 years. He took over with a promise to modernize the confederation and make it more transparent.
Since its inception in 1957, there have been 7 CAF presidents including the incumbent, Ahmad Ahmad. Interestingly out of the 54 member states in the confederation, only 5 nations have had the chance to lead one of the biggest federations in the football fraternity.  
These countries include Egypt, Sudan, Cameroon, Ethiopia, and Madagascar. West Africa is yet to have a candidate taking up the top job in the continent's football governing body. A victory for Ahmed Yahya will be much celebrated by Mauritania and the West African sub-region as a whole.