US golf legend, Tiger Woods has suffered "multiple leg injuries" in a serious car crash in California.
Woods was reported to be conscious and responsive when he was removed from the wreckage by the local fire department before he was rushed to hospital in a "serious condition".
Although his injuries have been described as "non-life-threatening", it was reported that he was undergoing surgery at the nearby Harbour-UCLA Medical Centre for multiple compound fractures in both legs and a shattered ankle. Medical authorities are expected to provide an update on the extent of his injuries following surgery.
His agent, Mark Steinberg, said, "Tiger Woods was in a single-car accident this morning in California where he suffered multiple leg injuries. He is currently in surgery and we thank you for your privacy and support."
The LA County Sheriff, Alex Villanueva also stated there was "no obvious sign" that Woods was impaired by drugs or alcohol in his system at the time of the accident, although this could not be confirmed until tests were performed by investigators at the hospital.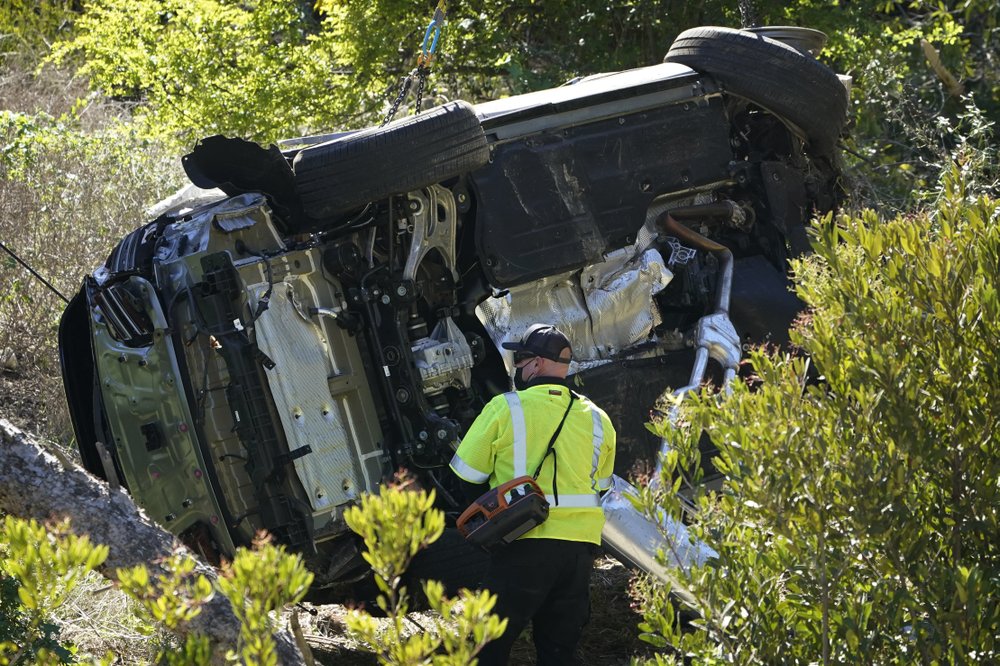 Sheriff Villanueva said Woods' car was traveling at a "relatively greater speed than normal" descending down a hill in an area notorious for a "high frequency of accidents." The Sheriff's department had earlier confirmed that Woods' vehicle had rolled over and sustained "major damage", while also clarifying that no other vehicle is believed to be involved.
The Sheriff's statement read, "LASD responded to a single vehicle roll-over traffic collision on the border of Rolling Hills Estates and Rancho Palos Verdes. The vehicle was traveling northbound on Hawthorne Boulevard, at Blackhorse Road, when it crashed. The vehicle sustained major damage.
"The driver and sole occupant was identified as PGA golfer, Eldrick 'Tiger' Woods. Mr Woods was extricated from the wreck by Los Angeles County firefighters and paramedics, then transported to a local hospital by ambulance for his injuries."
Woods has been in Los Angeles as tournament host for last week's Genesis Invitational at Riviera Country Club, but the 15-time major champion is currently unable to play, or even practice, following further back surgery towards the end of December.
After presenting Max Homa with the winners' trophy on Sunday, 21st February, Woods had agreed to two extra days in Los Angeles to take part in media shoots with Golf Digest and GolfTV at Rolling Hills Country Club, where he gave tips to celebrities and accompanied former NBA star Dwayne Wade during a round of golf.
He was heading back to Rolling Hills CC for day two of the shoot when the accident happened.
Woods was also forced to sit out last month's Farmers Insurance Open, and in an interview earlier this week, he confirmed he had not yet set a date for a return to competitive golf, with the Masters just seven weeks away.
"There is no timetable, that's one of the more frustrating things. I'm just waiting for another MRI to see if the annulus has scarred over and sealed. Once that happens, then I can dedicate to start doing more."

Tiger Woods
Read Also: Kobe Bryant's pilot flew into clouds despite being 'legally prohibited'- Investigators